Room Review Beach Club Studio
Who wouldn't want a beach day, even when you're at Walt Disney World? The Disney Vacation Club has understood this bit of wisdom for decades now.
In 1990, Disney introduced a new resort to its hotel inventory. Then, in 2002, it added a DVC option onsite.
Over the years, Disney's Beach Club Villas gradually became one of the most popular resort destinations in the DVC program.
Frequently, this property qualifies as one of the most challenging to book due to its high demand. Does a hotel stay here live up to the hype? Here's a review of a DVC Studio at Beach Club Villas.
About Staying at Beach Club Resort
You'll know that you're near Beach Club when you can see the big silver golf ball in the sky.
Beach Club's proximity to the International Gateway at EPCOT remains its single best amenity, in my opinion, although others would vote for something else.
The other main reason to stay at Beach Club is now and always shall be Stormalong Bay, the ginormous mini-water park that management calls the hotel pool.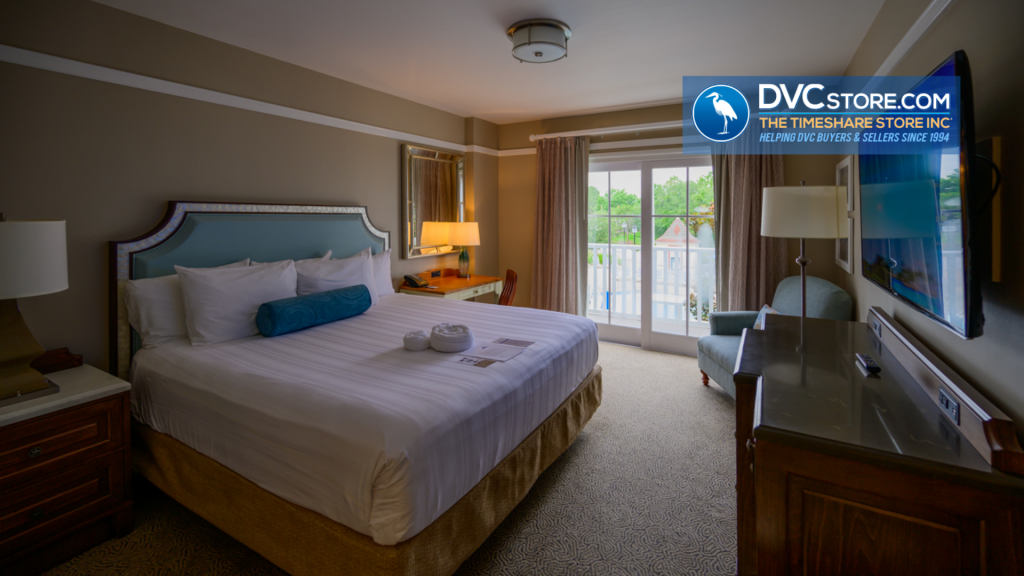 Stormalong Bay covers three acres of land and contains 750,000 gallons of water. That is a LOT of pool ground to cover when you're swimming!
Of course, you may prefer to take the lazy river approach instead. This pool proves so massive that Disney adds raft tubes so that you can lounge around rather than swim.
So, deciding which amenity you prefer comes down to relaxation versus convenience. To Beach Club's credit, it offers both.
You'll also enjoy the fine dining options here. Cape May Café serves a delicious character meal buffet in the mornings called Minnie's Beach Bash Breakfast.
Minnie and other members of the Sensational Six wear their adorable beach outfits and work the room, delighting children of all ages with their antics.
At night, Cape May Café switches to be a seafood buffet, and I can assure you that you'll smell the place well before you arrive there.
Beach Club Marketplace holds a soft spot in my heart as well. I've grabbed many a quick dinner here when rain forced the cancellation of my in-park dining plans. It's also an ideal place to eat breakfast before you depart for EPCOT.
Finally, please remember that Disney's Yacht Club Resort shares the same location. This knowledge provides you access to that hotel's amenities, including Yachtsman Steakhouse.
Navigating Beach Club Resort
I just wanted to offer a word of warning about the Beach & Yacht Club area. It can get confusing, and you may lose your way a few times during your first couple of days at the hotel.
The twists and turns on each floor may prove disorienting. We once stayed here for a week and didn't realize there was a door directly beneath us until the fifth day. Nobody else used the door, so we just assumed it was for staff.
Meanwhile, my other embarrassing confession involves the unified nature of the two resorts. We have wandered the grounds before, only to discover that we had roamed into the Yacht Club lobby rather than Beach Club.
Suffice to say that the dress codes at these two buildings are somewhat divergent, and we immediately felt underdressed. It happens.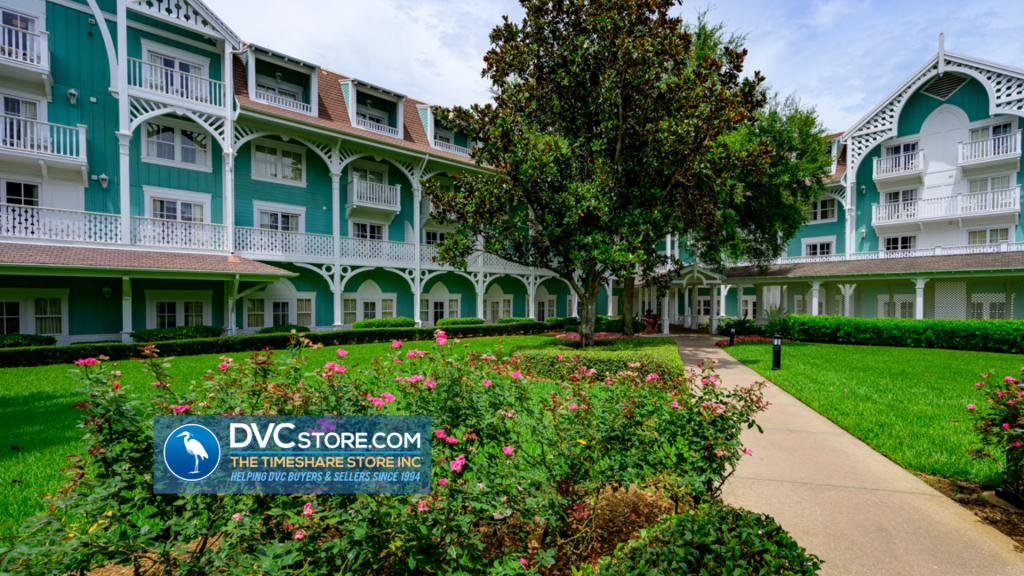 Disney has done a brilliant job in maximizing the space at Beach & Yacht Club while keeping the vibe quaint and laid back.
You will acclimate yourself to the hallways over time. It can just feel overwhelming at first. As such, I strongly encourage you to ask a cast member for help when you don't know your way.
I speak from experience when I say that you'll get extremely lost if you don't.
On the plus side, some of the DVC rooms reside even closer to the International Gateway than Beach Club's main lobby.
DVC doesn't allow you to select an area of the resort where you want to stay, but you're always entitled to make such requests.
If you want to stay as close as possible to EPCOT and the Disney Skyliner, ask for it. The worst that can happen is that the cast member informs you that no rooms are available.
Similarly, take full advantage of your surroundings when you stay here. Disney's BoardWalk sits in plain sight across from your hotel room.
You can walk here in five minutes and dine at all the delightful spots like Flying Fish. Conversely, you can hop on the monorail and head to other resorts to dine and/or hang out.
Staying at Beach Club opens up a plethora of entertainment, shopping, and dining options.
About the Studio at Beach Club Resort
Bright and airy are the magic words when you enter Beach Club's DVC buildings.
These Studios cover an average amount of space at 356 square feet. However, the efficient design makes them feel significantly roomier.
When you walk into the room, the kitchenette sits on the left. It's got a toaster, kitchen sink, microwave, mini-fridge, and coffeemaker.
Across this area resides the bathroom, which includes an exterior dressing area. You'll appreciate that option when someone else in your party needs to use the facilities.
You can continue to freshen up rather than wait for the person to finish doing their business. That's a lifesaver on vacation, especially in a room that sleeps up to five.
There's also an adjustable mirror attached to one side of the sink. It's perfect for primping. Across from this mirror, you'll find the closet, which contains an in-wall safe.
The Studios come standard with one Queen bed plus a foldout couch. I appreciate this option because the couch proves quite comfy during the day.
Sometimes, you just want to sit down and catch your breath. These couches are ideal because they're so soft.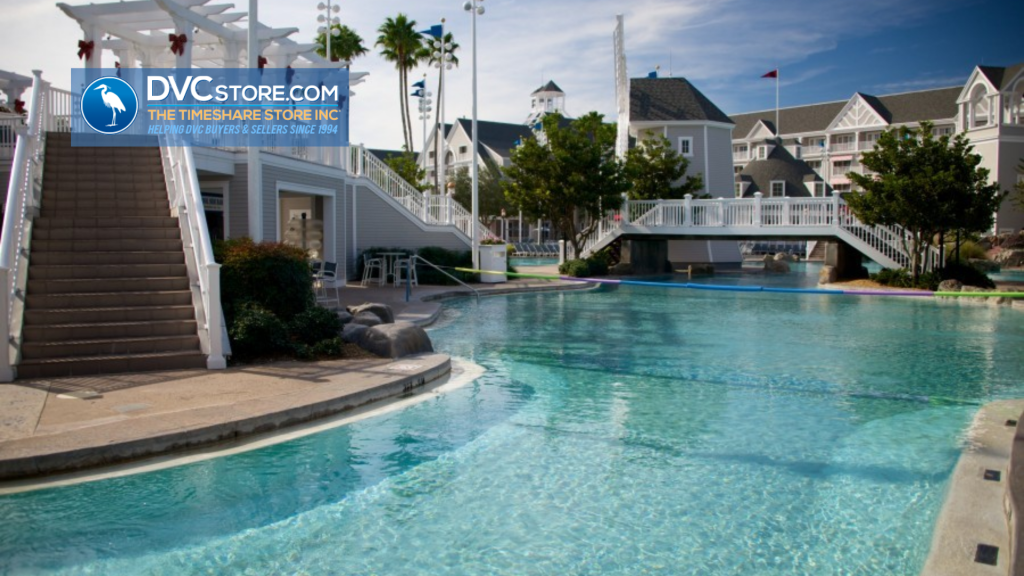 You'll also find a patio overlook just outside the sofa area. It's spectacular when you have a view of the Quiet Pool or the BoardWalk.
This view is also pretty great when you have a view of the lush vegetation behind the resort. I swear that some parts of it look like Pandora: The World of Avatar!
Across from the sofa, you'll discover a more formal seating area if you want to do some work in a more comfortable setting.
Then again, you can just turn on the television above it like a normal person does while on vacation. As a workaholic, I fully understand the temptation to work rather than play.
Final Thoughts
You should also pay attention to the space across from the Queen bed. That bit of artwork hides a secret.
There's a bed there that children especially adore. They can sleep beside a picture of Donald Duck!
Beach Club Studios sprinkle in lovely touches like this throughout the room. Everything adds up to a happy place to spend time in between park visits.
We've set up shop at Beach Club for as long as ten days in the past. During our visits, we've generally fallen into the same pattern.
Their twisting hotel corridors require a couple of days to acclimate. Then, once we've settled in, the thought of leaving the place breaks our hearts.
I don't currently own any Beach Club DVC Points. However, I look at contracts frequently because I adore staying here.
While the Studios don't attain the same heights as the ones you'll find on the monorail, they come with their own style, one that just feels right.
These Studios are like a long hug of a hotel stay. You will definitely feel as if they've welcomed you home!