What to Expect When Staying at the Saratoga Springs Resort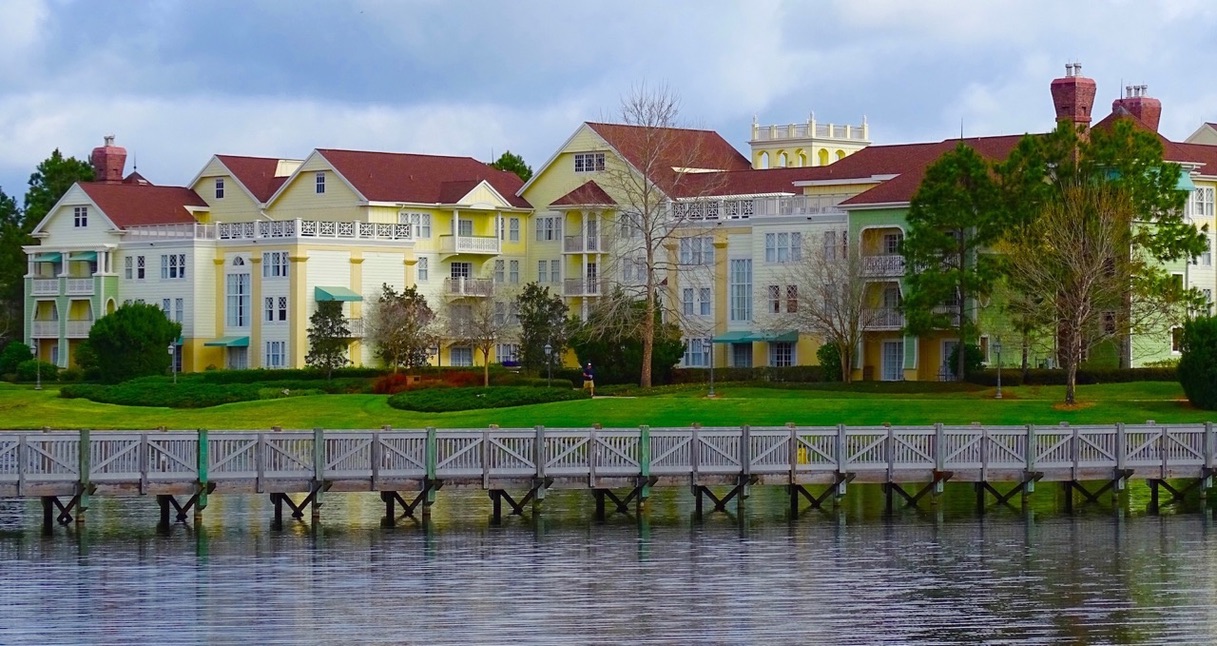 Anyone who buys into the Disney Vacation Club (DVC) will eventually stay at Disney's Saratoga Springs Resort & Spa. It's inevitable. Let me shed some light on what to expect if you've never visited this resort before. First off, it's a Disney DVC resort, which means you'll love it, however it does have a unique flavor compared to the other DVC locations.
So first impressions are that this resort is HUGE. It is the largest of all DVC properties and features the most villas at Walt Disney World. The resort spans over 65 acres with 1260 Vacation Club Villas and 60 Treehouse Villas. The rooms range from single room studios to three bedroom extended family suites with two floors (known as the Grand Villas)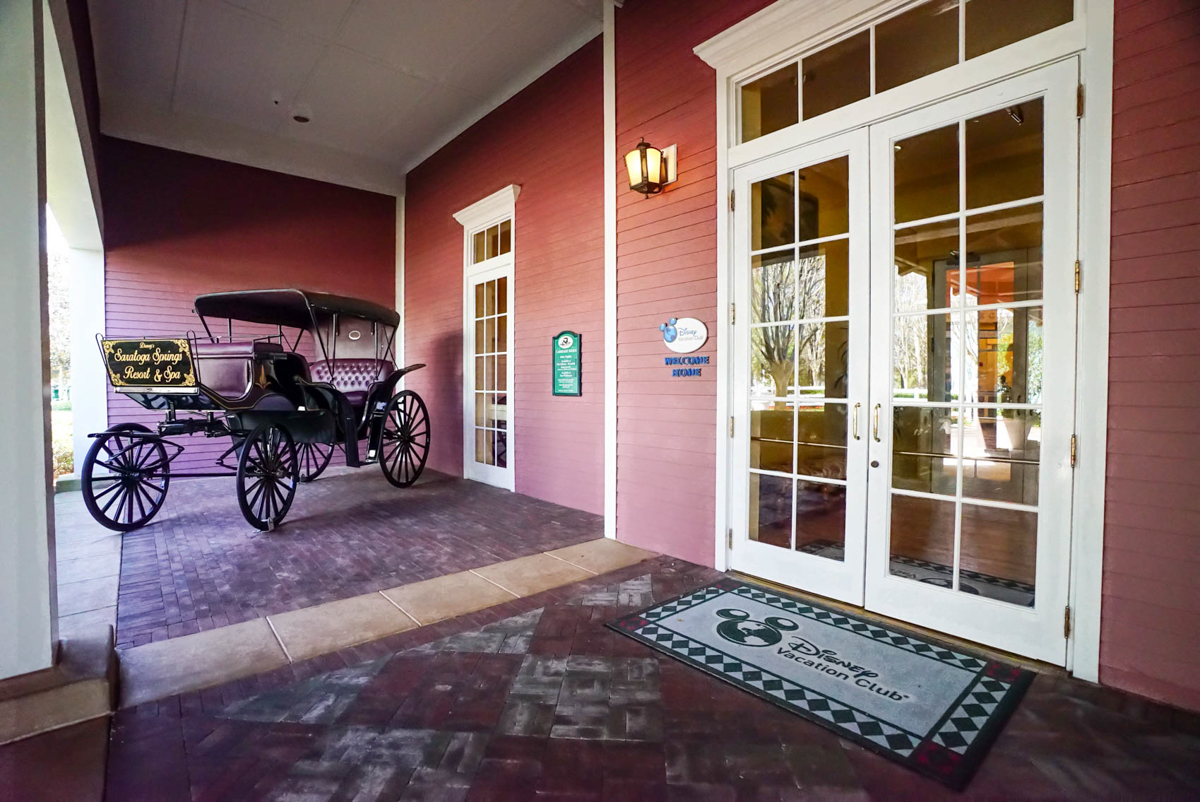 Arriving at Saratoga Springs
You may feel like you've entered a maze when you first arrive on Saratoga Springs' grounds. But, thankfully, you still have Magical Express through the end of the year. The Magical Express bus driver will kindly drop you off close to the hotel lobby, aka the Carriage House. If you're driving, lean heavily on your GPS as it's easy to make a wrong turn.

Note: At the time of publication, Disney is renovating the Carriage House area. So, parts of it may be inaccessible, depending on when you visit.

Again, The Saratoga Springs campus is "Shaq-sized" compared to most DVC properties. You can, and will, get lost…in the beginning. However over time, you'll get used to the resort's layout, which is surprisingly logical.
For starters, the Carriage House area will cater to all your immediate needs and the gorgeous lobby embraces the horse racing theme of the resort.

Saratoga Springs (the real one) is home to Saratoga Race Course and The National Museum of Racing and Hall of Fame. Famous Disney horses are featured in some of the paintings around the property. There are jockey and horse statues across the Saratoga Springs campus as well.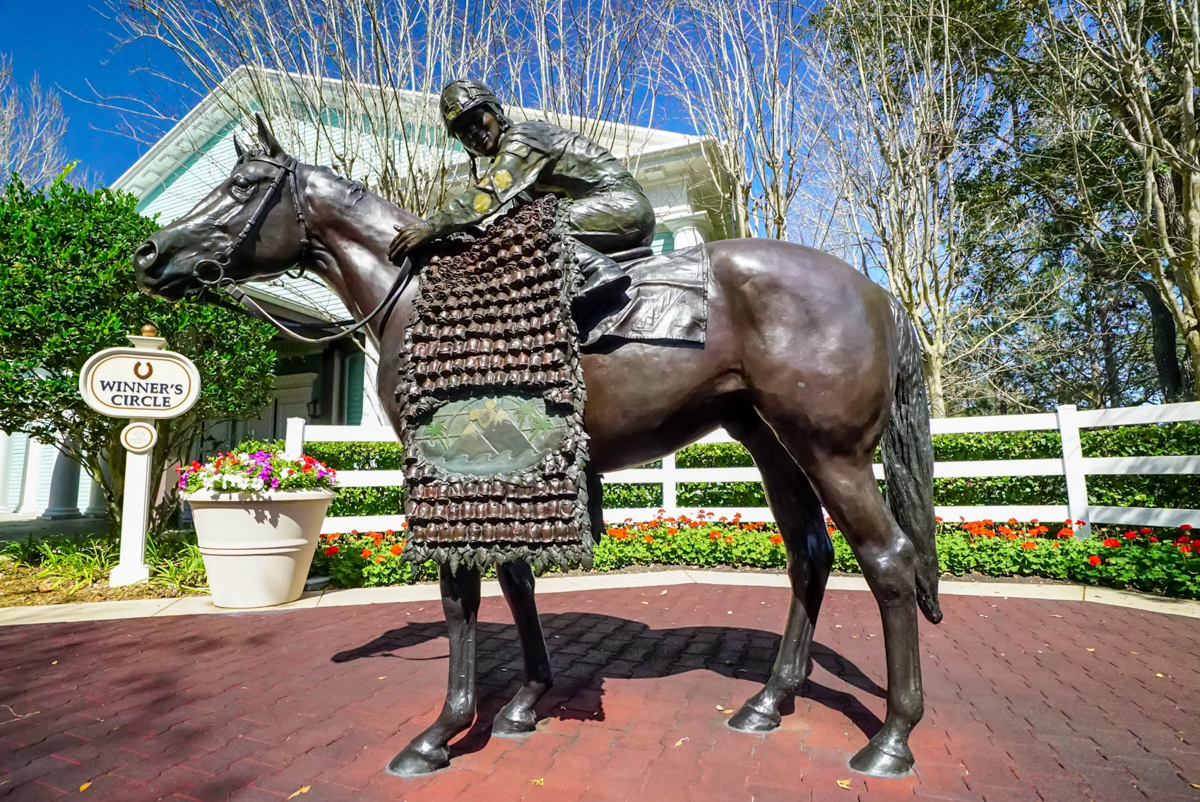 Okay, here's where the situation gets complicated with the resort. Saratoga Springs encompasses five different sections. They are:
• The Carousel
• Congress Park
• The Grandstand
• The Paddock
• The Springs
"The Springs" and "Congress Park" are in Disney's "Preferred" category, which means you'll spend a few more points for these prime locations.
The Congress Park buildings reside close to the bridge to Disney Springs. "The Springs" buildings are closer in proximity to Carriage House, The Artist's Palette, and the High Rock Spring pool (main resort pool).
There is one path from the Carriage House to The Artist's Palette, which is an impressive combination of Quick Service restaurant and general store. The reasonably extensive menu is likely to provide a good variety of choices for your family during your visit. The general store is large and features a line of DVC clothing and other possible necessities. I love shopping in the lobby shop at Saratoga Springs as you can find some nice goodies and souvenirs.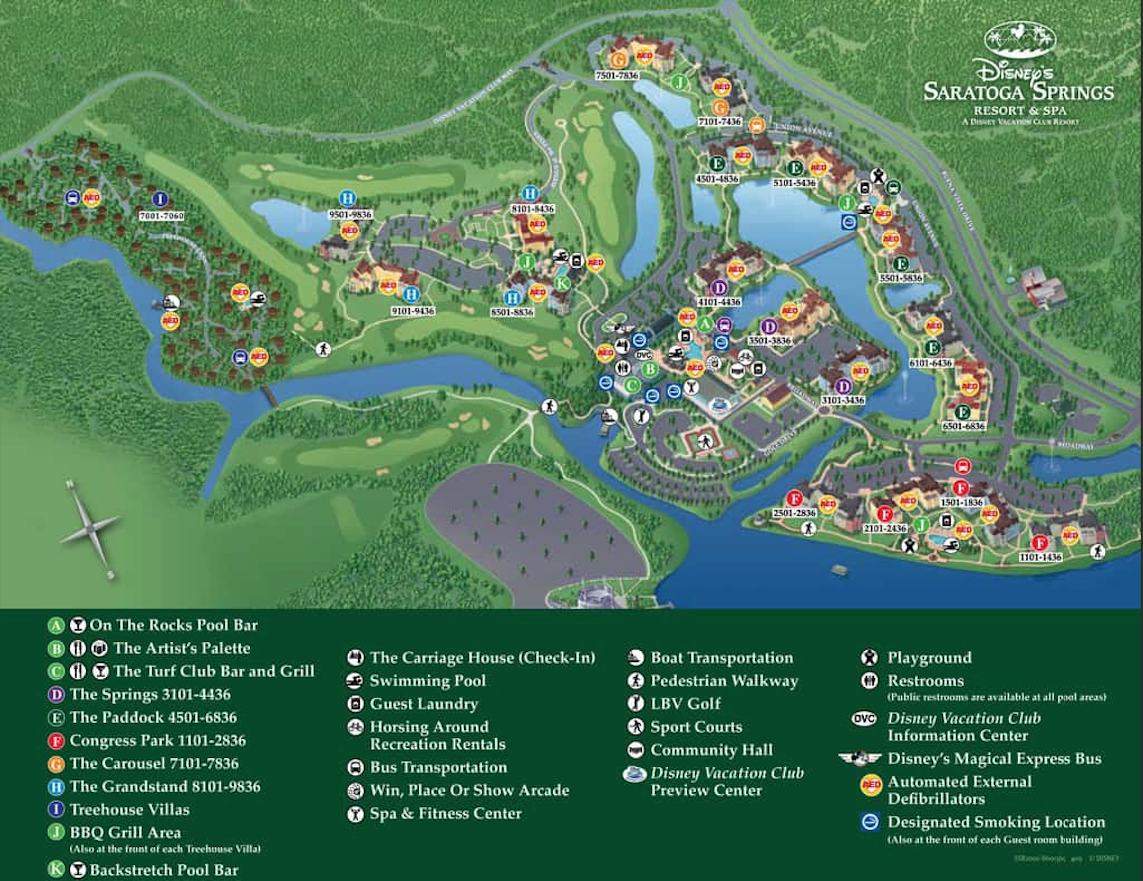 If you're wondering whether these "Preferred" locations are worth the extra point costs, the answer is YES. Some of the other buildings can feel like they're in the middle of nowhere, and I say that as someone who stayed at The Carousel last year (in the boonies).
When you are staying at Saratoga, you can vacation on your vacation. You have unlimited dining and shopping options being so close to Disney Springs, which means you can shop and dine to your heart's content. Plus, there's golf!
Also a major perk enjoyed when staying at Saratoga Springs is being minutes from World of Disney a monsterous gift shop full of everything Disney.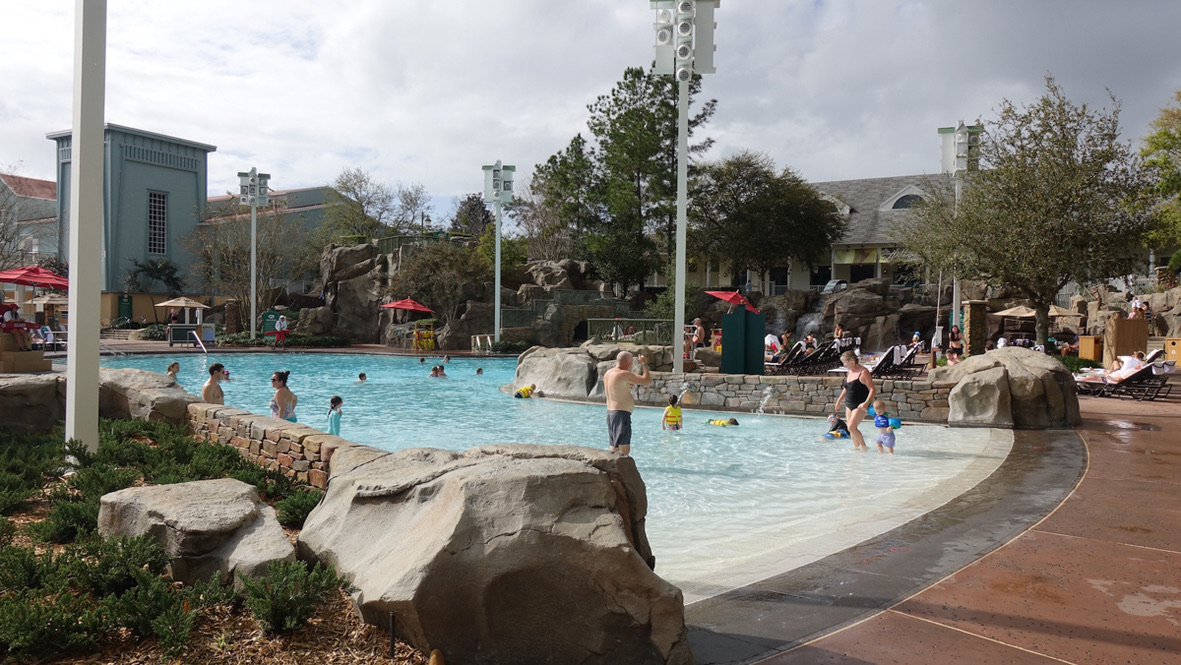 The High Rock Spring Pool should not be missed either. The High Rock Spring Pool is expansive inside yet somehow tucked away due to clever architecture. You'll likely walk by it on your way to check in at the Carriage House, if you check in the conventional/old school way, rather than using My Disney Experience.
Also, you should know that the area includes a pool bar named On The Rocks. When it's not a pandemic, this place will bring your food and drinks to your poolside seat!
A great steakhouse called The Turf Club Bar and Grill is another great place to satisfy your foodie needs, however it's currently closed.
But, here's why you won't care that The Turf Club Bar and Grill is currently closed. As I mentioned, Saratoga Springs is merely a walk across a bridge away from Disney Springs.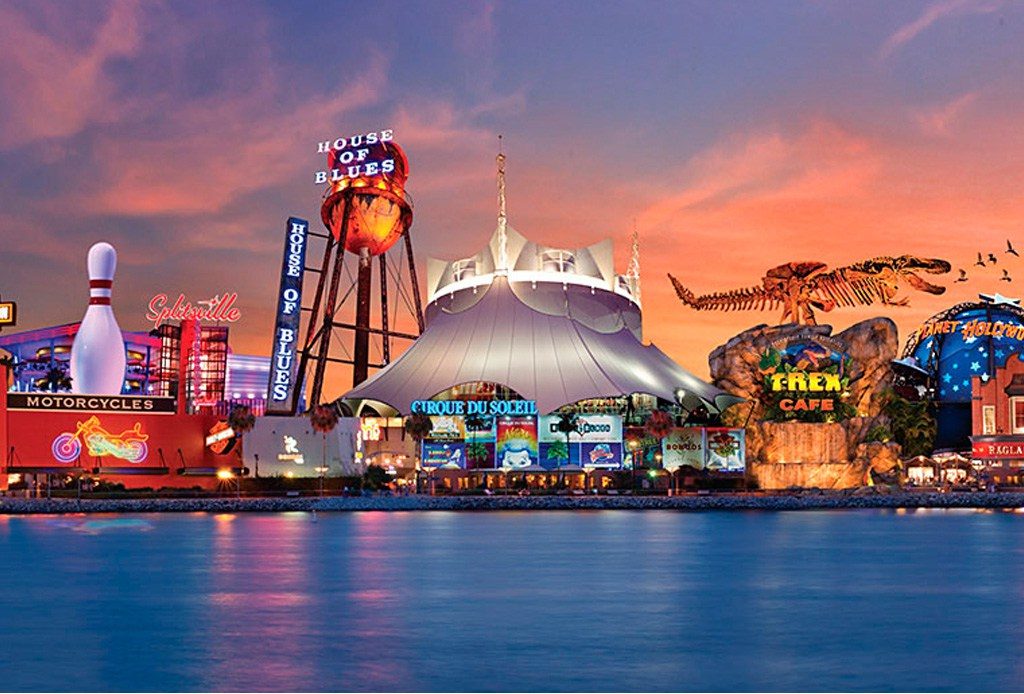 Guests staying at Congress Park can and probably will walk. It's that close. If your room is on the far side of Saratoga Springs, then you don't have to walk, you can take a boat or bus.
Disney Springs has the finest dining and shopping options in Orlando. That's the reason why the locals hang out here on the weekends.
Food choices and prices vary. Cheaper alternatives includes the food truck section D-Luxe Burger, and The Daily Poutine. Table Service restaurants can run from $15 to $115 per person. Your only concern at Disney Springs is feeling overwhelmed by all the choices available.

If you are a golfer? The one thing that matters the most about Saratoga Springs is how close you are to a fantastic golf course. I'm talking about Disney's Lake Buena Vista Golf Course. This place operates adjacent to Saratoga Springs and provides discounts to DVC members or you can find a deal on Golfnow.com! You should book golf reservations early, as this place does book up each day. Also, if you love a nice spa treatment and you need to detox or relax for a few hours, you can book a treatment at the luxury spa called Senses, it's currently closed due to the pandemic but hopefully will be opening soon.

What else is close to Saratoga Springs?
Boats… you can take them to Disney's Old Key West or if you're in the mood, one of the Port Orleans properties at no cost to you, just a leisurely ride along the peaceful canal systems that connects the different resorts. Boat service runs from Disney Springs to all these places, and the scenery is exquisite. You'll appreciate how well Disney has protected the beauty of Florida while building its resorts. If you really want to try something unique you can pay for a boat ride at Disney Springs in a Amphicar right outside the Boat House Restaurant.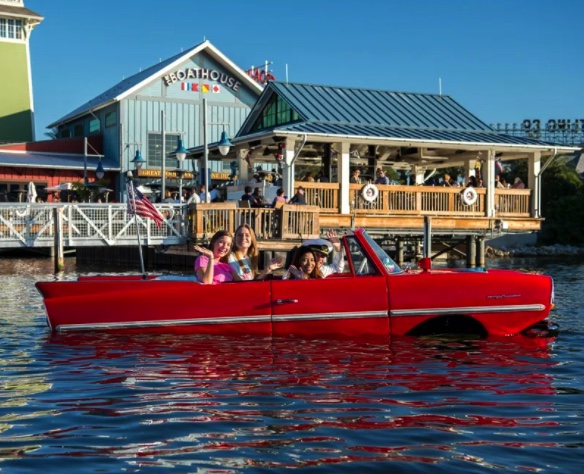 And finally, water park fans should know that Disney's Typhoon Lagoon is only two miles away from the entrance to Saratoga Springs. So, you may want to splurge on mulit- park tickets that include water park access.

How's the Park Access at Saratoga Springs?
Okay, this is where the conversation takes an uncomfortable turn. When you're staying at Saratoga Springs, you're accepting less convenient theme park logistics.
According to Google, here's the travel time to each park:
• Eight minutes to Magic Kingdom
• Eight minutes to EPCOT
• 12 minutes to Disney's Animal Kingdom
• 13 minutes to Disney's Hollywood Studios
Please be aware that these times are ambitious for reasons beyond your control. Remember how large the Saratoga Springs campus is?
The internal bus route here can take 15 minutes on its own. In other words, depending on when you board, you may not even leave Saratoga Springs for 15 minutes.
Obviously, that fact could (more than) double your transportation time to and from theme parks.
On the plus side, this aspect can work to your advantage. Should you narrowly miss a bus at one Saratoga Springs stop, you could feasibly catch the same bus elsewhere. I've done this before. I want to stress that travel to and from this resort is something of a mixed bag. Buses are unpredictable, but the boats are more reliable and also provide serenity.
What Else Is There to Know about a Saratoga Springs Visit?
Saratoga Springs caters more to older, more experienced DVC members, the ones who have seen and done it all by now.
You're at Disney, but it's eerily similar to vacationing at a tourist destination like Hilton Head, South Carolina, in that it feels secluded. At Saratoga, your close to all the major attractions, but your not that close (with the exception of Disney Springs).
Of course, if you desire even more privacy, Saratoga Springs offers something even better than regular DVC rooms. They have Treehouses… Yes, You can try one of the legendary Treehouse Villas!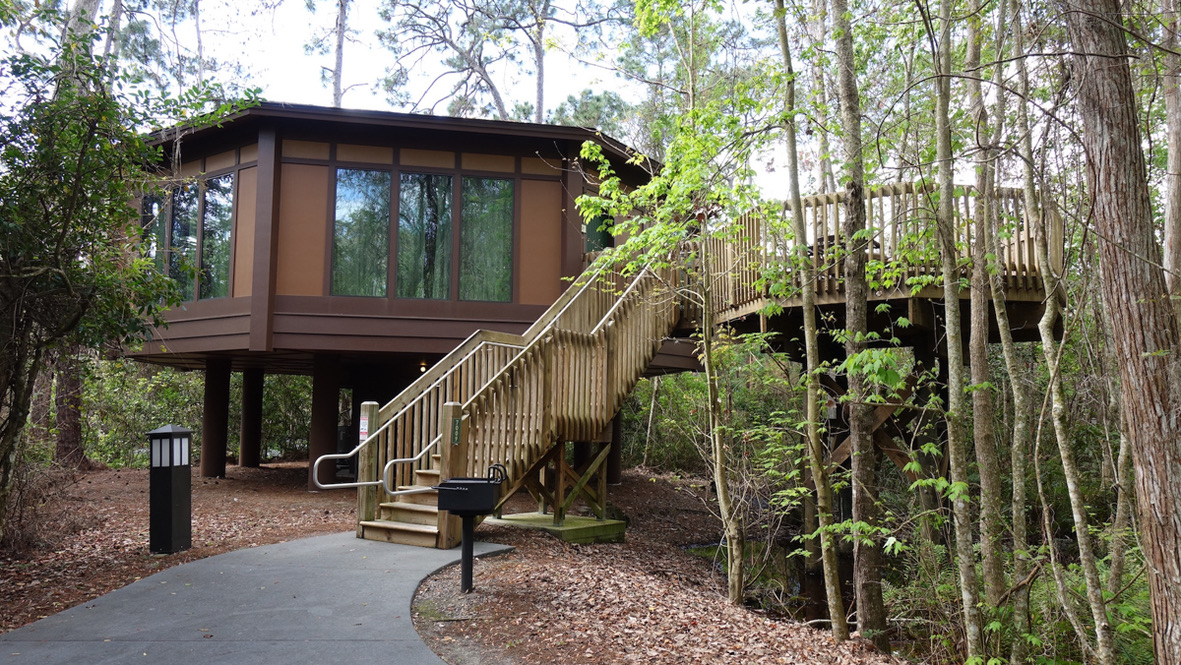 These octagonal three-bedroom standalone suites reside in a different part of the Saratoga Springs campus. They're off in the woods. To stay here feels like an escape from society, although you're only minutes away from Disney theme parks.
Overall, a Saratoga Springs vacation differs somewhat from other DVC properties at Walt Disney World. You're off in your own little world and prioritizing Disney Springs over the parks. It's a lovely change of pace from regular Disney trips.