Best DVC Contracts for Young Adults and Singles
Hello and welcome to the first in a new series of articles! Our subject is the best DVC contracts you should buy depending on your age!
Today, we'll start with young adults, the under-30 crowd that's either single or married without children.
You're always on the lookout for big fun at Disney. Here are the DVC contracts you should target!
Bay Lake Tower at Disney's Contemporary Resort
Let's start with an obvious one. Bay Lake Tower isn't the optimal choice for fans of immaculate theming. Instead, Disney designed it for functionality.
The space in the studios is tight and ruthlessly efficient. For families, it's a problematic place to stay.
When you're unattached or looking for a romantic visit, it's cozy. Better yet, it's close to everything.
You're 5-10 minutes away from Magic Kingdom's entrance. Plus, all the entertainment at the Contemporary's Grand Canyon Concourse is only a short walk across the bridge.
Also, when you stay at Bay Lake Tower, you may gain access to the Top of the World Lounge – A Villains Lair, an excellent lounge for drinking and hanging out.
Disney's BoardWalk Villas
How can I say this politely? When you're carefree and don't answer to anyone, you might like to drink a lot.
Do you know the best place to drink at Walt Disney World? The answer is either Disney Springs or the World Showcase.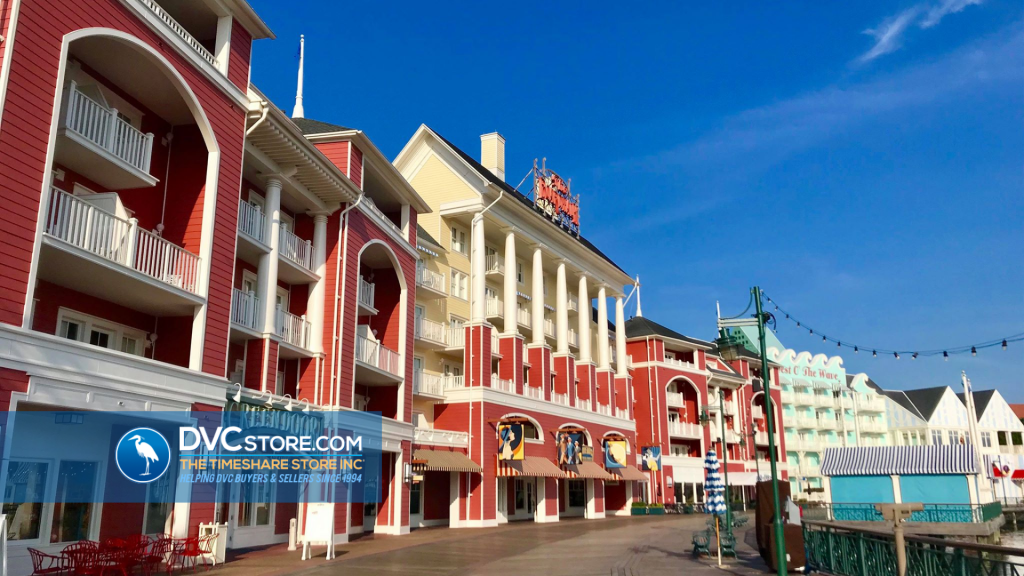 As such, two ideal places to buy contracts are the ones close to Disney Springs and the World Showcase.
At BoardWalk Villas, you're only a five-minute walk away from the International Gateway at EPCOT. That places you six minutes from the France pavilion.
Do you know what you'll find at the France pavilion? Wine. Lots and lots of wine. The same statement applies to the Italy pavilion.
I'm not joking when I say that some people I know will only stay at BoardWalk Villas during EPCOT festivals.
They've adopted this strategy because they know they'll overindulge. So, the short walk home to BoardWalk makes sense.
In case you're wondering, Disney's Beach Club Villas isn't quite as good an option, at least if you don't want to hang around children as much.
Stormalong Bay works as catnip for them. However, the pool bar at Stormalong Bay is divine. So, the choice is yours…
PS: Remember that Disney's BoardWalk includes occasional nighttime entertainment and even a couple of places where you can dance!
Disney's Saratoga Springs Resort & Spa
What I just said about the World Showcase applies here as well. You're exchanging proximity to EPCOT for a short walk to Disney Springs.
While the restaurants and food booths at World Showcase offer higher quality cuisine (in my opinion), Disney Springs makes it up in volume.
You'll find dozens of restaurants to satisfy your eating and drinking needs. As for the shopping, well, there's no better place in Orlando.
Plus, you can engage in all sorts of other activities here, like bowling, watching movies at the cineplex, or even Cirque du Soleil!
Sure, the walk to Disney Springs is substantially longer than the one from the International Gateway to BoardWalk Villas, but it's still easy enough.
After all, if you've had too much to drink, you probably shouldn't take a boat…
Disney's Riviera Resort
Contracts here come with three primary selling points.
First, you're right by the Disney Skyliner. Seriously, when you walk out of the hotel lobby, you're 90 seconds from a gondola.
That means you're only a few minutes away from the front gate at Disney's Hollywood Studios and the International Gateway at EPCOT.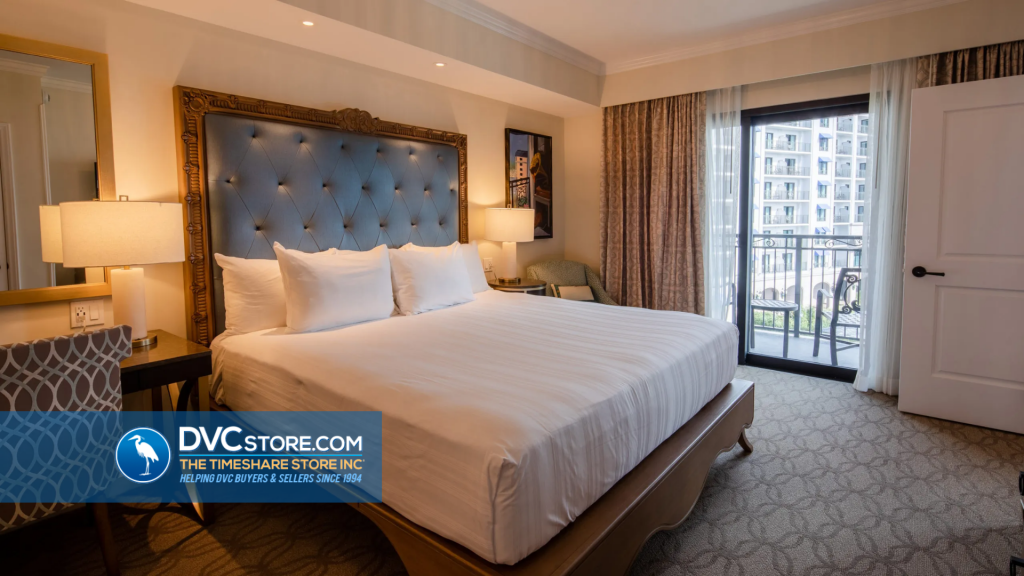 You can also ride the gondola system to other Disney resorts, something you may discover you enjoy for dining and shopping purposes.
Second, the amenities at this resort are top-notch. Disney has themed the Riviera with a European flair, complete with restaurants, lounges, and cafes.
In Europe, meals can take hours because you're there for the social engagement as much as the sustenance. And that vibe translates at the Riviera.
Finally, the rooms here, especially the Tower Studio, cater to a younger demographic. You don't need the extra space, which saves you precious DVC Points!
Aulani, Disney Vacation Club Villas
You don't need an explanation here, right?
Any parent will tell you they wish they'd traveled more before they had kids.
Once you've got children, your vacation options dwindle as you must prioritize someone else's needs over your own.
So, now is the time to go to Hawaii! It's Hawaii! Go to Hawaii as much as you can! I shouldn't need to tell you this.
DVC is doing you a favor by selling contracts for an award-winning resort in O'ahu, Hawaii.
Disney's Grand Californian Hotel & Spa
While DVC skews heavily toward Walt Disney World, you may prefer Disneyland.
Alternatively, you may simply want to keep your options open. After all, we all love Orlando, but let's be honest.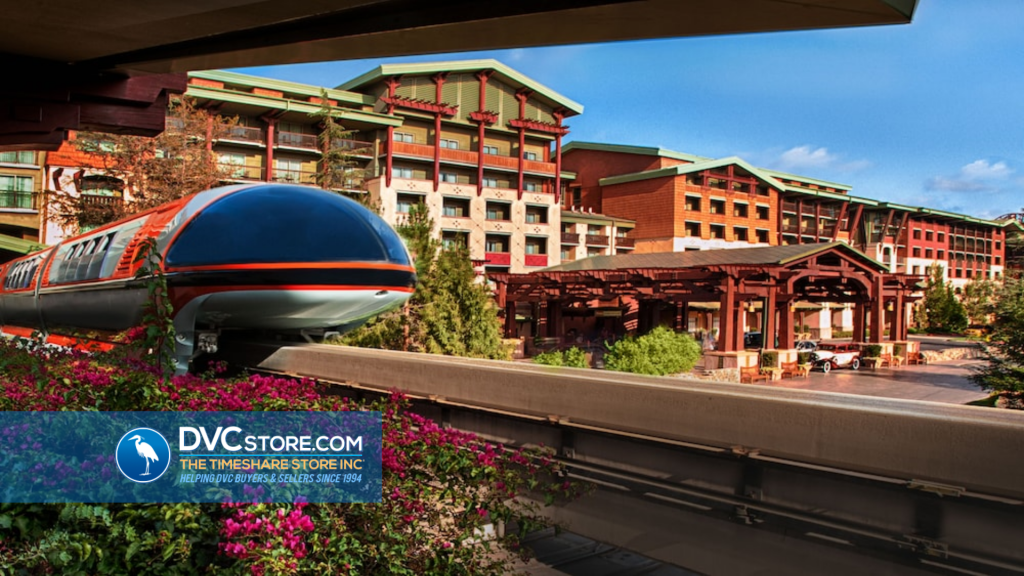 The superior entertainment options are in the greater Los Angeles area.
A Disneyland visit won't require as much of your time as Walt Disney World. So, that will leave you with more time to play in the rest of the metropolitan area.
In those instances, you'll vastly prefer Southern California to Central Florida.
Also, this hotel has a spa. Everyone loves a spa day.
Disney's Hilton Head Island Resort
You could swap in Disney's Vero Beach Resort if you prefer that beach to the one in South Carolina.
Personally, Hilton Head is my one particular harbor in the Jimmy Buffett vernacular. So, this one's a no-brainer for me.
Still, Vero Beach does offer one positive over Hilton Head Island. The Vero Beach hotel is actually at a beach.
Hilton Head resides in a swamp. Yet, somehow, the entire area is still lovely – Disney planners are geniuses – but you'll drive a short distance to the beach.
Thankfully, Disney owns the land here, making it a private beach. So, both DVC resorts will satisfy all your beach vacation needs.
As for Hilton Head, the area is gorgeous. Forward-thinking city officials prevented neon signs in the town charter.
So, this place is somehow developed but still surrounded by untouched nature. You won't believe how breathtaking it is.
This is the type of place you'll love to know that you can visit (at least) once a year while you're young.
Secret Option – Star Wars: Galactic Starcruiser
Okay, you obviously cannot purchase a contract for the Star Wars Hotel near Disney's Hollywood Studios.
However, you CAN exchange your DVC Points for three-day/two-night stays at Star Wars: Galactic Starcruiser.
Effectively, any large DVC contract will provide you with access to the most in-demand resort in the DVC program.
Make no mistake on the point, though. You WILL need plenty of DVC Points to take advantage of this option.
According to the DVC Points Chart, double occupancy stays start at 590 points and could cost as much as 748 points.
In other words, this option isn't for everyone. However, you're young, and DVC is an excellent investment!
You can buy a 250-point contract, save your points for next year, and then borrow from the following year.
You'll have enough points to enjoy a dream vacation on a Star Wars luxury cruise!