DVC News for November 2023
This past month, Disney celebrated a momentous occasion.
Also, we learned the dates for 2024 after-hours events and a bit more about some upcoming EPCOT activities as well. Plus, we gained plenty of park information about what's happening in 2024.
There's a lot happening in the latest DVC News.
Disney Announces Several After-Hours Event Dates
To the surprise of no one, Disney After Hours will return in 2024.Park officials announced next year's dates. Also, we learned which parks will participate. Walt Disney World will host events at every park but Disney's Animal Kingdom.
Here are Hollywood Studios' dates and prices:
Wednesday, January 10th — $155 ($125 for DVC members and annual passholders)
Wednesday, January 24th — $165/$135
Wednesday, February 21st — $175/$145
Monday, February 26th — $175/$145
Wednesday, March 13th — $175/$145
Wednesday, March 20th — $175/$145
Wednesday, March 27th — $175/$145
Wednesday, April 3rd — $175/$145
Wednesday, April 10th — $175/$145
Here are EPCOT's dates and prices:
Friday, February 2nd — $149 ($119 for DVC members and annual passholders)
Thursday, February 8th — $149/$119
Thursday, February 15th — $159/$129
Thursday, March 7th — $159/$129
Thursday, March 28th — $159/$219
Thursday, April 4th — $159/$219
And here are Magic Kingdom's dates and prices:
Thursday, January 11th — $155 ($125 for DVC members and annual passholders)
Monday, January 15th — $165/$135
Monday, January 22nd — $165/$135
Thursday, February 1st — $165/$135
Monday, February 5th — $165/$135
Monday, February 12th — $175/$145
Thursday, February 29th — $175/$145
Monday, March 4th — $175/$145
Monday, March 18th — $175/$145
Monday, April 8th — $175/$145
Meanwhile, DVC members learned the dates for multiple 2024 Moonlight Magic events. EPCOT hosts Moonlight Magic on January 25th and March 1st. For Animal Kingdom, the dates are February 27th and April 23rd. Hollywood Studios is only hosting one event in 2024. It occurs on August 27th. Similarly, Disney California Adventure gets a Moonlight Magic date on January 29th. Finally, Disney's Typhoon Lagoon will host Moonlight Magic on June 4th and July 11th.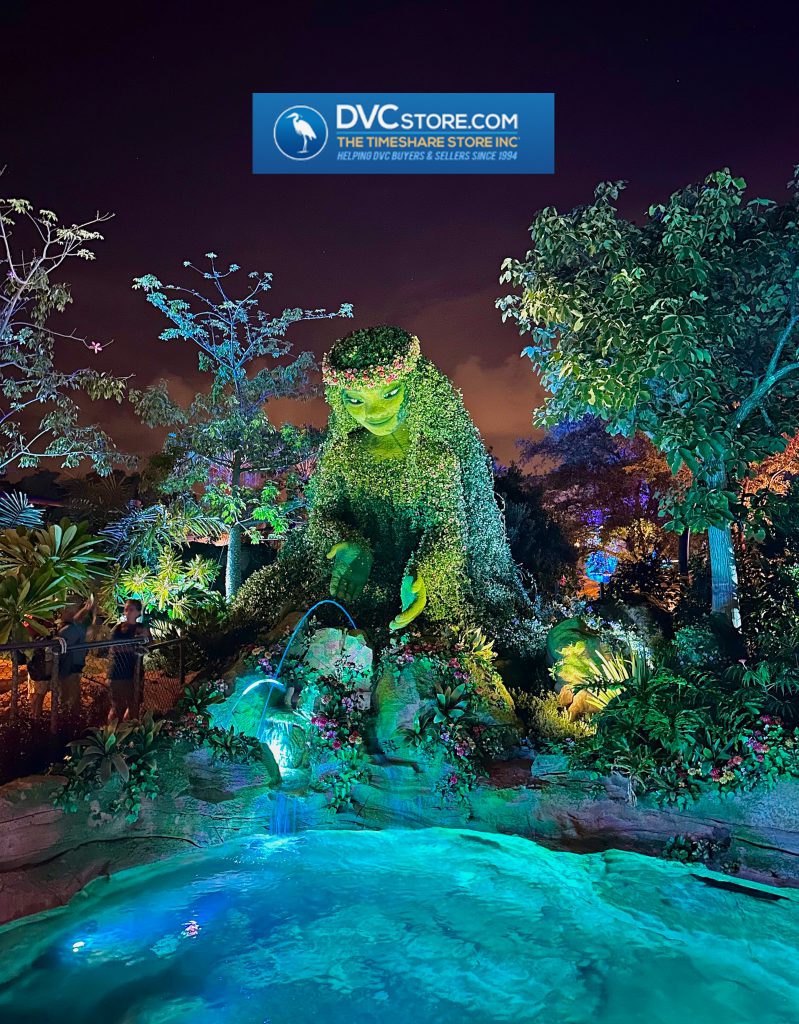 Disney Turns 100 – The EPCOT Update
On October 16th, Disney managed something that few businesses accomplish. Your favorite company turned 100 years old. Disneyland has hosted most of the Disney100 proceedings, an event it started in January.
However, EPCOT joined in time for Disney100 and has become the hub for Walt Disney World's celebration. As part of the festivities, Disney timed the opening of a new attraction, although it's really been available since September. Still, on October 16th, Journey of Water | Inspired by Moana officially opened at EPCOT.
Simultaneously, Disney debuted the Moana character greeting, a permanent offering in the Journey of Water area.
The best way to describe Journey of Water, is tt feels like something that belongs at a water park or Animal Kingdom or both.
Here's a video you can watch of this interactive attraction:
While you can visit during the day, this clip exemplifies why Journey of Water proves superior at night.
What's Coming Next
As a reminder, EPCOT isn't done with the fun and surprises, either. The park just announced the return of the EPCOT International Festival of the Arts. You can experience the park's most unique festival from January 12th through February 19th. Before then, the EPCOT International Festival of the Holidays will begin. That happens later this month.
Disney just revealed the Celebrity Narrators for this year:
Chrissy Metz (NEW): Nov. 24-25
Luis Fonsi (NEW): Nov. 26-27
Ann-Margret (NEW): Nov. 28-29
Simu Liu: Nov. 30-Dec. 2
John Stamos: Dec. 3-5
Neil Patrick Harris: Dec. 6-8
Marlee Matlin: Dec. 9-11
Brendan Fraser (NEW): Dec. 12-14
Eva Longoria (NEW): Dec. 15-16
Joey McIntyre (NEW): Dec. 17-18
Sterling K. Brown (NEW): Dec. 19-20
Jordan Fisher (NEW): Dec. 21-23
Steven Curtis Chapman: Dec. 24-26
Audra McDonald (NEW): Dec. 27-28
Lisa Ling: Dec. 29-30
As a reminder, you can purchase a Candlelight Processional dining package, which we recommend doing ahead of time, otherwise, the event sells out.
This year's participating restaurants (with prices) are:
Akershus — $71/$45 for breakfast/$83/$53 for lunch/dinner
Biergarten Restaurant — $65/$37
Coral Reef Restaurant — $78/$32
Garden Grill Restaurant $63/$40 for breakfast/$78/$50 for lunch/dinner
Le Cellier Steakhouse — $104/$42
Regal Eagle Smokehouse — $41 for all meals
Rose & Crown Dining Room — $66/$29
Spice Road Table — $55/$24
Also, please remember that the World Celebration Neighborhood officially opens in December.
So, we've got more debuts ahead before the end of 2023, followed by DISNEY ON BROADWAY when the Festival of the Arts begins.
Disney Miscellany
Let's start with a topic dear to the hearts of DVC members. Conventional Park Hopping will return on January 9th, 2024! Yes, as of that date, you can leave one theme park and head to another whenever you want. The only rule change from the pre-pandemic era is that you must show up at your announced park first if you have a Park Pass.
Thankfully, most tickets are date-based. On January 9th, few guests will need Park Passes anyway. So, we're basically back to the old system! A more pressing update involves Walt Disney World's water parks. On November 4th, Disney's Typhoon Lagoon will close for refurbishment. The following day, Disney's Blizzard Beach will reopen. There's no word on whether Disney plans to operate both water parks simultaneously in 2024, though. Disney hasn't done that since before the pandemic's start. Nobody has ever bothered to explain why, either.
In other park news, Disney performed its annual batch of price increases. You'll likely notice the change the most with annual prices. Here are the updated price tiers at Disneyland Resort:
Imagine Magic Key: $499, up $50
Enchant Magic Key: $849, up $150
Believe Magic Key: $1,249, up $150
Inspire Magic Key: $1649, up $50
And here are the updated price tiers at Walt Disney World:
Disney Pixie Dust Pass: $439, up $40
Disney Pirate Pass: $799, up $50
Disney Sorcerer Pass: $999, up $30
Disney Incredi-Pass: $1,449, up $50
Disney also increased the prices of some character meals. Overall, most of the price increases were in the single digits percentage-wise. So, at least Disney has ditched the Bob Chapek pricing model of raising prices until our wallets bleed.
Disney Miscellany Part II
Ordinarily, we'd speak at length about some changes coming to Disneyland Resort, but it borders on overkill this time. Still, you should know that Adventureland Treehouse opens on November 10th. Then, Pixar Place Hotel debuts on January 30th, 2024. At Walt Disney World, Narcoossee's has finally reopened, hopefully for good this time. The first reopening didn't stick due to an equipment malfunction that Disney has since repaired.
We'll cover the other big story in a standalone update, but in case you haven't noticed, the holidays have arrived at Disney theme parks and resorts. In fact, Disney didn't wait until November 1st this year. We started noticing Christmas decorations at Disneyland and Walt Disney World in October. Even the prestigious Gingerbread House at Disney's Grand Floridian Resort & Spa started its construction early.
Disney no longer respects the Gregorian calendar. Holidays happen when Disney says they do.
Finally, we have this coming to the Disney Treasure:
We dunno about you, but that might be enough to make us book a cruise.
Please let us know if you have any questions or if you'd like any additional information. If you'd like to rent a DVC Villa for your next Vacation or purchase a Disney Vacation Club property at a reduced price, our agents will be happy to assist you with any questions or information.
You can reach our office at 800-550-6493 or email sales@dvcstore.com.
Written by David Mumpower
David Mumpower is the author of Behind the Ride and the Disney Demystified series. He's written more than 25 million words and been quoted as a subject matter expert by CNN, the Washington Post, USA Today, CNBC, and countless others. A DVC member for more than a decade now, his favorite resort is the Polynesian, his favorite park is EPCOT, and his favorite ride is Spaceship Earth.