During the pandemic, Disney chose to end the beloved FastPass program.
In its place, Disney offered a new service, one that comes at a cost. So, you're paying for what used to be free.
While longstanding Disney Vacation Club members will always feel salty about this change, it's the reality in which we live.
So, we might as well get used to it and identify the best ways to maximize the service.
Here's how DVC members should approach Disney Genie+.
About Disney Genie+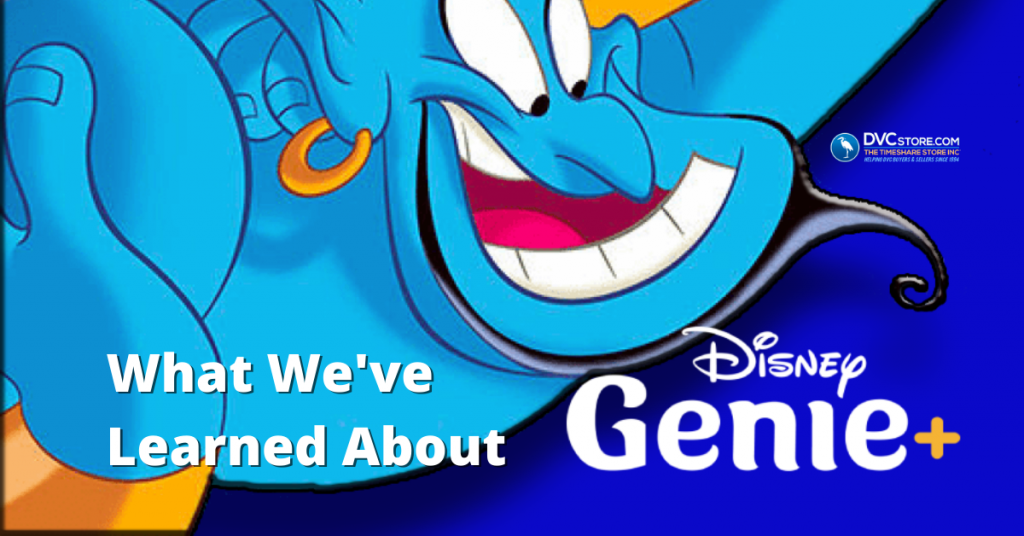 The easiest way to describe Disney Genie+ is as paid FastPass. It really is that simple, as Disney barely even altered the program.
With Disney Genie+, you'll use My Disney Experience to track attractions with available Lightning Lane reservations.
When you see one you like, you'll reserve the booking and then proceed to the attraction at the appropriate time.
Again, you'll pay for the privilege, though. In a way, that aspect helps as much as it hurts.
When FastPass was free, every park guest could use it. Not all of them did, as some people found the system aggravating to use.
Still, let's say that nine out of every ten park guests were using FastPass.
Contrast that to Disney Genie+, which is nearly identical to FastPass…but for a fee.
Obviously, that aspect immediately rules out plenty of customers…but not as many as you might expect.
Before the debut of Disney Genie+, even the most optimistic analysts doubted that a high number of guests would pay for something formerly free.
Those people were wrong. During Disney fiscal earnings reports, Bob Iger and Christine McCarthy, Disney's CEO and (former) CFO, have provided hard numbers.
According to them, half of Disney guests purchase the service on many dates, especially during high-traffic periods like holiday weeks.
So, you're now competing with about half of the people at the park for Disney Genie+ reservations, whereas you'd formerly fought 90 percent of them.
Your odds of booking the attractions you want have greatly improved, but they should. After all, you must get your money's worth from the service.
Pricing and Recent Changes
One of the aggravating parts of Disney Genie+ is that its pricing works similarly to theme park tickets.
Disney initially sold the service for a set daily fee. Since then, it has evolved to dynamic pricing based on expected guest attendance.
In 2023, Disney Genie+ has cost as little as $15 per person per day plus tax or as much as $35. Obviously, that's a wide range.
Narrowing the discussion to this summer, the price range from June 1st through today is $20-$29.
However, that statement comes with further explanation needed. At the end of June, Disney Genie+ changed its rules again.
Thankfully, you'll like this change, as it favors guests and encourages fairer pricing.
Two of Walt Disney World's parks, Disney's Animal Kingdom and EPCOT, simply aren't as popular as the others in terms of attendance.
Disney has taken that into account by offering a new pricing structure.
Each individual Walt Disney World park now includes individual Disney Genie+ pricing.
When you purchase this kind of Disney Genie+, you can only book Lightning Lanes at the park you're visiting. And that's fine because it saves you money!
About the New Disney Genie+ System
Thus far, Animal Kingdom has consistently priced Disney Genie+ the cheapest, and EPCOT has been second-least expensive.
Magic Kingdom takes a different approach. Disney understands that many guests Park Hop here during a park visit.
For this reason, the price of Magic Kingdom's Disney Genie+ is the same as the "Park Hopper" version.
What's Park Hopper? Well, you can still buy Disney Genie+ for all four parks via Park Hopper. It's basically the same Disney Genie+ we'd had before June 2023.
I've tracked Disney Genie+ pricing under the new system, and it works as expected.
Animal Kingdom's pricing is typically $9-$11 lower than the Park Hopper option. Thus far, Disney Genie+ at Animal Kingdom has cost $15-$18.
At EPCOT, the range has held steady at $17-$21. Meanwhile, Disney's Hollywood Studios costs a bit more at $21-$26.
Finally, as you'd guess, Magic Kingdom costs the most, with a range of $23-$29 thus far. Not coincidentally, Park Hopper's range is also $23-$29 to date.
In fact, through July 16th, 2023, the price of Disney Genie+ at Magic Kingdom has remained the same as Park Hopper every day!
Once you know that, you better understand what Disney wants to accomplish here.
How Should DVC Members Approach Disney Genie+?
Park officials have recognized that guests find the least value at Animal Kingdom, which hosts the fewest conventional attractions.
This park emphasizes the experience more than the rides, which somewhat negates the value of Disney Genie+. Therefore, you shouldn't pay as much for it.
During a park visit at Animal Kingdom, you will only need Disney Genie+ for a handful of rides.
Most guests determined that the advantages of Disney Genie+ didn't justify the price under the old system.
Even with the adjusted price, I still believe that's true on most dates. DVC members are park pros. We can experience all the attractions here without paying extra.
Similarly, EPCOT's odd attraction structure makes Disney Genie+ a bit irrelevant here.
Yes, you can skip the longer lines at Frozen Ever After, Test Track, Remy's Ratatouille Adventure, and Soarin'. That's just four rides, though.
Everything else at EPCOT generally averages a wait of 30 minutes or less, often MUCH less.
Realistically, you shouldn't need to spend $20 to experience everything at EPCOT, most of which you're intimately familiar with by now anyway.
The conversation changes at Disney's Hollywood Studios, though. On many dates, seven (!) attractions require a wait of 60+ minutes.
When you don't purchase Disney Genie+, you're unlikely to accomplish everything you want during a park visit.
At Walt Disney World, I consider a Disney Genie+ purchase at Hollywood Studios the slam dunk choice.
With Magic Kingdom, there's an argument to be made for both sides. With Disney Genie+, you'll definitely experience more.
However, DVC members know enough about Magic Kingdom by now that you shouldn't need the service. You'll still do plenty!
Personally, I buy Disney Genie+ at Magic Kingdom, but I fully appreciate why others skip it.
What about Park Hopper?
I suggest a kind of flowchart analysis for a Park Hopper decision.
First, if you're visiting Magic Kingdom that day and purchasing Disney Genie+, it's a no-brainer. The price is the same either way.
If you're on the fence about getting Disney Genie+ for a Magic Kingdom day and think you might Park Hop, I'd go ahead and do it.
I say this because you'll value Disney Genie+ more at multiple parks than you do at a single one.
Let's presume that you exit one park in the afternoon, as many DVC members do, and eventually head to another.
You won't have as much time to experience attractions at the second park. So, the line-skipping helps mightily when you Park Hop.
Even so, the price increase from single-park to Park Hopper is significant at Animal Kingdom and EPCOT.
Since I realize that a Disney day can veer off-course quickly, you should only buy the more expensive option if you're certain you'll use it!
The change in price structure from FastPass to Disney Genie+ impacts all of us, especially large families.
So, you'll want to ensure that you're staying within your travel budget. Since guests don't know the price of Disney Genie+ until that day, it's challenging.
Thankfully, DVC members have accumulated park knowledge that the average park visitor lacks.
Use that wisdom to your advantage to make good decisions. Personally, my recommendations are:
Animal Kingdom – don't buy
EPCOT – don't buy
Hollywood Studios – must buy
Magic Kingdom – depends on the date
Park Hopper – depends on how aggressively I'll attack the parks
Please let us know if you have any questions or if you'd like any additional information. If you'd like to rent a DVC Villa for your next Vacation or purchase a Disney Vacation Club property at a reduced price, our agents will be happy to assist you with any questions or information.
You can reach our office at 800-550-6493 or email sales@dvcstore.com.