The Three New Shows at Walt Disney World
On October 1st, Walt Disney World debuted not one, not two, but three new daily exhibitions.
Each of them features pros and cons, and you likely have questions about them all.
Here's everything you need to know about the three new shows at Walt Disney World.
Disney Enchantment
Happily Ever After has earned a dubious distinction. It's one of the shortest-lived Magic Kingdom fireworks presentations ever.
In its place, the park has introduced Disney Enchantment, a show featuring similar projections on Cinderella Castle.
These visuals coincide with fireworks that burst into the sky, just as you've come to expect over the decades. Here's a YouTube 4K video of the entire show:
From this perspective, you can tell what's new about Disney Enchantment compared to Happily Ever After.
The digital projections extend beyond the castle! Yes, they're now a part of Main Street, U.S.A. as well!
Disneyland has exhibited a show with similar technology for a while now, but this is a first for Magic Kingdom.
Park officials have indicated that at least one of these three new shows will remain after the 50th-anniversary celebration ends at Walt Disney World.
We don't know yet whether Disney Enchantment will last or not. As such, you should prioritize a trip here before the end of March 2023.
Best Places to Watch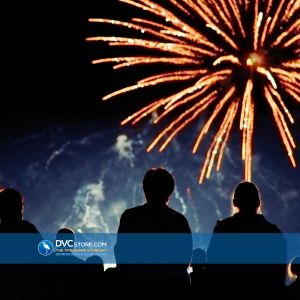 You can tell by the crowds in that video that Disney Enchantment has proven wildly popular during its early days.
So, your options for ideal viewing spots here come down to whether you're willing to pay or wait. If not, it's gonna be a potluck.
Guests who don't mind waiting can stake out a spot in the Castle courtyard. Bring a blanket and maybe even make a picnic out of it.
This strategy will require a wait of at least an hour, though. In fact, you should walk through the courtyard some to get an idea of how many people are waiting.
Sometimes, even an hour isn't enough. We're seeing pre-pandemic crowds on some nights.
If you want to avoid this, you can spend $99 per adult ($59 per child) for a Disney Enchantment dessert party.
Your dessert spread resides at the Tomorrowland Terrace Restaurant's sitting area. When you're facing the castle, that's on the right side.
As such, you're getting a marvelous view of everything plus some sweet treats. However, you may struggle to notice parts of the Main Street, U.S.A. projections here.
Disney also offers Ferrytale Fireworks: A Sparkling Dessert Cruise on Wednesdays and Saturdays if you prefer that. Unfortunately, it's also $99 per adult.
Finally, if you don't care about the digital projections, the area between Prince Charming's Regal Carrousel and Seven Dwarfs Mine Train provides a good view.
Few people are willing to miss the projections. So, this section isn't as crowded at night. It's still got a terrific view of the fireworks, though.
Disney KiteTails
The weirdest new presentation at Walt Disney World is unquestionably Disney KiteTails at Disney's Animal Kingdom.
Park officials wanted to do something to commemorate the event. But, unfortunately, the previous nighttime show here, Rivers of Light, was kind of a bust.
Disney rebooted Rivers of Light several times before canceling it for good.
Now, starting at 11:15 a.m. (times subject to change), cast members perform in a kite show once every hour through 5:15 p.m.
You'll find the presentation at Discover River Amphitheater, which means there are no "Best Places to Watch" section here. You're sitting at that theater.
You can arrive a few minutes early to guarantee a good seat. However, Disney KiteTails doesn't have the same crowd issues as the other two new presentations.
That's due to Disney KiteTails running six times a day (it skips 2:15 p.m. for some reason).
In other words, you can more easily fit this one into your schedule. That might cause you to wonder whether it's worth the effort.
The answer depends on what you're expecting here. Disney KiteTails plays out like something akin to a mini-Thanksgiving parade.
Some of the flying objects are closer to Macy's Day Parade balloons than they are to kites.
Animal Kingdom hosts two versions of this event. Here's the Jungle Book performance of Disney KiteTails:
And here's the more popular version, The Lion King:
I'll link a third thing, partly because it's funny and partly because it tells a different story:
This show is prone to some hijinks and mishaps. For example, during the first week, a kite literally got stuck in a tree. Also, a jet ski crashed.
So, Disney KiteTails offers some escapism, but it's not the smoothest of presentations each time.
Harmonious
Here's the show that is here to stay. Harmonious represents the long-promised replacement to IllumiNations: Reflections of Earth.
That nighttime presentation proved so timeless that the Themed Entertainment Association (TEA) retired the Best Outdoor Night Production category.
The TEA set a precedent that anything that wins the award 10 straight times retires it, something IllumiNations did.
As such, expectations soared for the new show, Harmonious. Thus far, reception appears mixed, although part of that stems from the unreasonable expectations.
Here's a video of the show:
What you'll notice is that Disney music features heavily in the show elements. Also, fittingly for the World Showcase, the soundtrack is multilingual.
Of course, you don't need to understand other languages to know the familiar Disney musical notes accompanying the lyrics.
The presentation occurs on a central barge among a series of five of them. The supporting barges contain massive arms that hide many of the spotlights.
Imagineers have deftly integrated some water projections into the story. It's similar to something that Universal Studios Florida fans have with Cinematic Celebration.
Disney fans on the West Coast will recognize these elements from World of Color. However, Harmonious has raised the bar for this technology.
Fireworks accompany the breathtaking visuals, although I have to be honest that I forgot about them during my first viewing.
I was all about those water projections on the main barge. They're mesmerizing.
Best Places to Watch
You once again have your choice of paying to guarantee seating or scoping out a spot on your own.
The Harmonious dining packages include dinner and reserved seating for the show. This option isn't cheap, but at least you get a meal out of it.
Your two choices are Spice Road Table and Rose & Crown Dining Room. The Morocco pavilion open costs $72 per adult and $31 for children ages 3-9.
Rose & Crown charges $89 per adult and $39 per child ages 3-9.
However, long-time DVC members know that this place is probably the best place to watch something at World Showcase Lagoon.
If you'd rather pick your viewing area for Harmonious, don't sleep on the Port of Entry Shop area, especially if you arrive early!
The main barge of Harmonious functions as a central stage. So, you're looking for a spot with a clear view, which the Port of Entry Shop's area includes.
Other pavilions with solid seating options include The American Adventure, Japan, and Italy.
The rest of the World Showcase should have good seating available. However, your view will primarily focus on the side barges and angled looks at the main one.
Does that matter? You can decide while you're there. I'd strongly suggest that you think about it before you settle down for an hour or so.
You can move if you believe your current view isn't good enough.