DVC Trip Planning: Devising a Way to Track Our Points
While anxiously awaiting our next Disney trip, I started thinking about our future trips. After all, the best cure for the Disney blues is planning the next trip, right? In the past, things were fairly simple since the dashboard on the DVC website showed how many points were used and how many were remaining for our BoardWalk contract. However, now that we have added our Bay Lake Tower contract, I realized that planning future trips was going to be a little more complex. It was time to actually plot out how many points we would need from each contract in 2020 and 2021. I'm no Excel whiz, but I felt like a spreadsheet was the place to start.
First I looked at our dashboard on the DVC website to view the current status of our points from both contracts. I then compared that with the trips that we hoped to take over the next 2 years and made a small chart that would summarize the points we have today versus where we will land by the end of our Use Year. Since the 2021 point charts have not yet been released, I estimated our 2021 trips based on the 2020 point charts for now.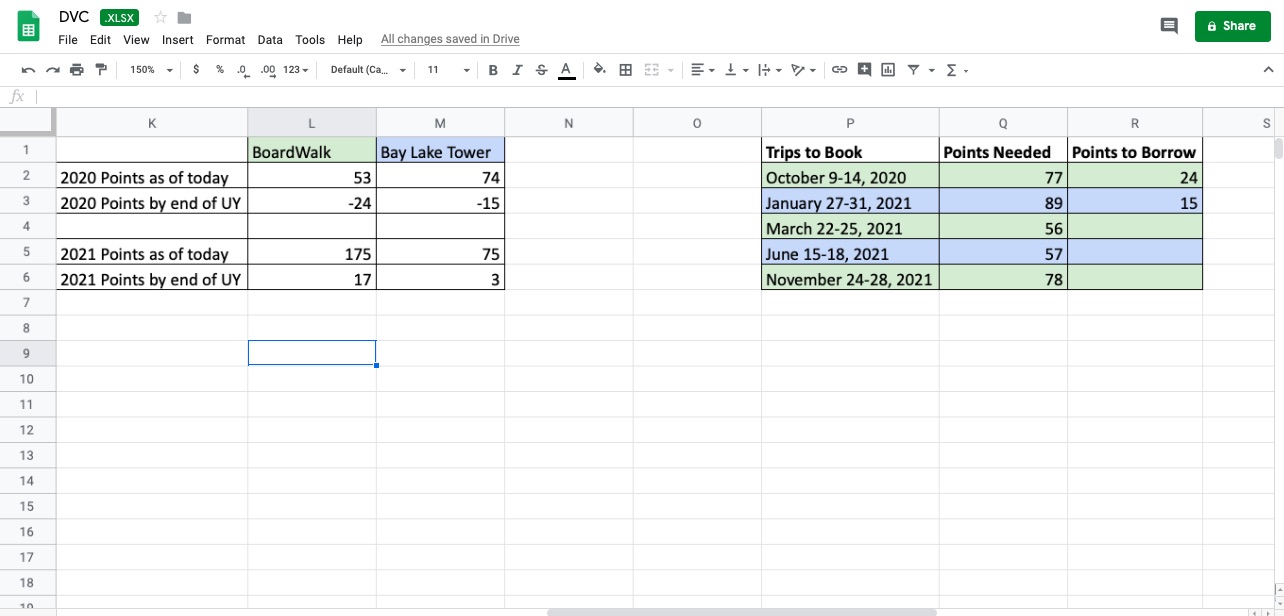 After working with this simple chart, I realized that it still didn't quite capture everything I wanted. I was essentially looking to create something that would track the points used after each anticipated trip, but I was unsure of the best format. Then while I was paying bills the other day, it hit me: why not treat my point tracker like balancing a checkbook? This led me to version 2 of the chart that featured a revised format and greater detail.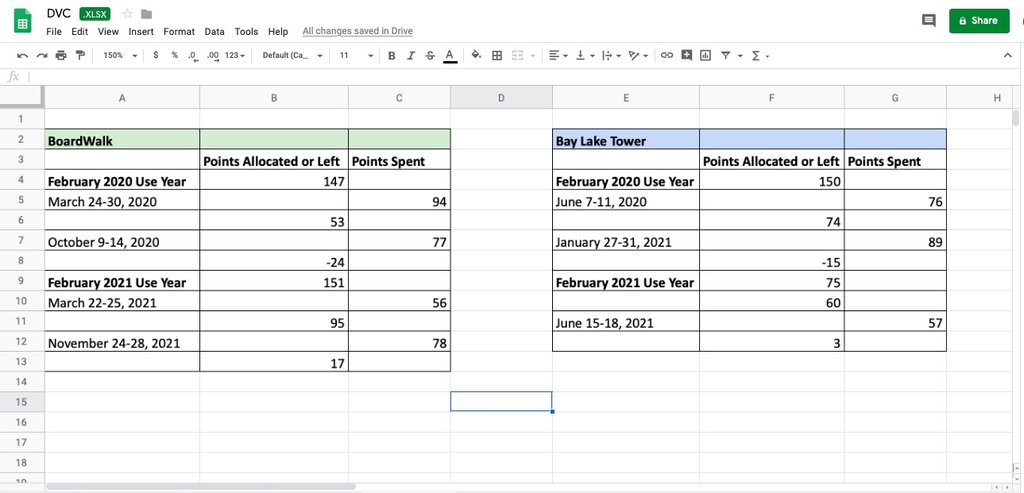 As you can see, I created two charts–one for the BoardWalk contract and one for the Bay Lake Tower contract. Starting with the February Use Year, I plotted out how many points we would start with for the year. Then there are columns to track the points spent on each trip and the points leftover. This allows me to better track how many points are needed for each trip and then anticipate where we may need to borrow or bank as we approach the end of our Use Year.
I'm hoping that this chart will help us clearly see which contract we should use for any given trip and ensure that we never lose any leftover points. It's a simple system, but I think it suits our needs.
I'm curious to know: how do you keep track of your points? For those of you with multiple contracts, have you created your own system for point tracking?