Four DVC Rooms You Must Try! – IV
Not all rooms in the Disney Vacation Club (DVC) library are created equal, and I mean that in the best possible way. Many resorts come with special accommodations so impressive that a single night's stay may cause you to purchase a contract there. Here are four DVC rooms you simply must try. Add them to your Disney bucket list!
Lake View at Bay Lake Tower at Disney's Contemporary Resort
I didn't specify a studio or suite here for a reason. It really doesn't matter. This room type is available for rooms of all sizes at Bay Lake Tower. And which one you pick isn't as important as the view.
As the name suggests, Bay Lake Tower overlooks Bay Lake. With Lake View, you'll look out the window and witness its beauty whenever you want. The way that the hotel design works, you'll also face the main pool here. You can watch kids frolic in the pool or ride down the water slide.
Alternately, you can look past the pool to waters beyond, where boats frequently circle Bay Lake. You'll even receive a select view of the Electrical Water Pageant each night. It's a serene backdrop for your hotel stay.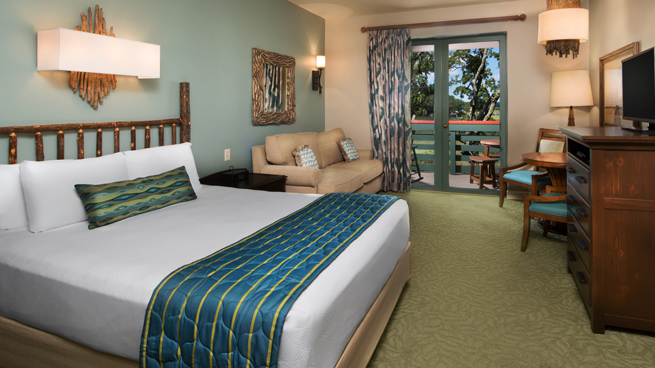 Studio at Disney's Hilton Head Island Resort
As indicated earlier, I place a lot of value on hotel room design. Whether a room is large or small, its efficiency is how I judge it. For example, Bay Lake Tower's studios are small in square footage, but I like them because the design maximizes the space. Other DVC properties I won't name are ones that I feel waste some of the hotel room space.
Overall, the two studios that I believe utilize their square footage the best are the studios at the Polynesian and the studios at Hilton Head Island. For whatever reason, Hilton Head doesn't receive as much attention as the other three non-Walt Disney World DVC properties. That's regrettable since it's a marvelous place to visit.
When you book a studio here, you'll feel amazement as you enter the room. You'll immediately notice a kitchen counter on one side. A kitchenette with microwave, mini-fridge, coffee maker, and sink is right by the door. The sink works well as a second place to clean up when someone is in the bathroom. Although that's true of all DVC studios, it seems especially useful here.
Once you're fully inside the studio, you'll appreciate the space. The room is 455 square feet in size, and the exterior seating adds even more. You'll enjoy a view of the bogs, woods, or waters here. All of them provide entertaining distractions, even the bogs. The marshes in this area are oddly serene. I can give you any number of reasons to stay at Hilton Head Island, but the intelligent room design is definitely near the top of my list.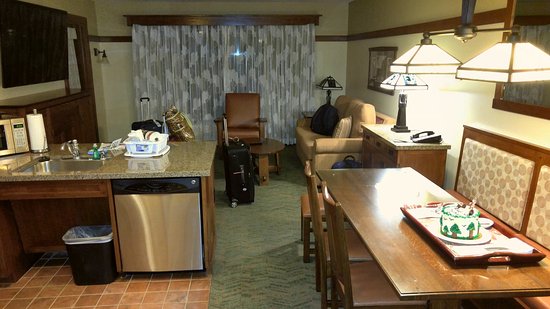 One-Bedroom Villa at Disney's Grand Californian Resort & Spa
I'm not really married to any particular hotel room at the Grand Californian. Instead, it's the hotel itself that I believe should be on your DVC bucket list. This resort is the newest one at the Happiest Place on Earth. Even better, it's the only property that Disney actually built there. Disney's Paradise Pier Hotel and, yes, Disneyland Hotel weren't originally Imagineering projects. Only the Grand Californian claims that honor.
A stay here also includes one of the most exceptional DVC amenities of all-time. The hotel's lobby sits at a spot close to a private entrance to Disney California Adventure. Your hotel room is never more than an elevator ride and a few steps away from Grizzly River Run.
I recommend the one-bedroom because I believe you should stay here for a week. There's always plenty to do in Southern California. You might as well hole up at the Grand Californian and enjoy it. You'll want a washer/dryer in your room to keep your stuff clean during the extended trip. So, a suite is the best choice.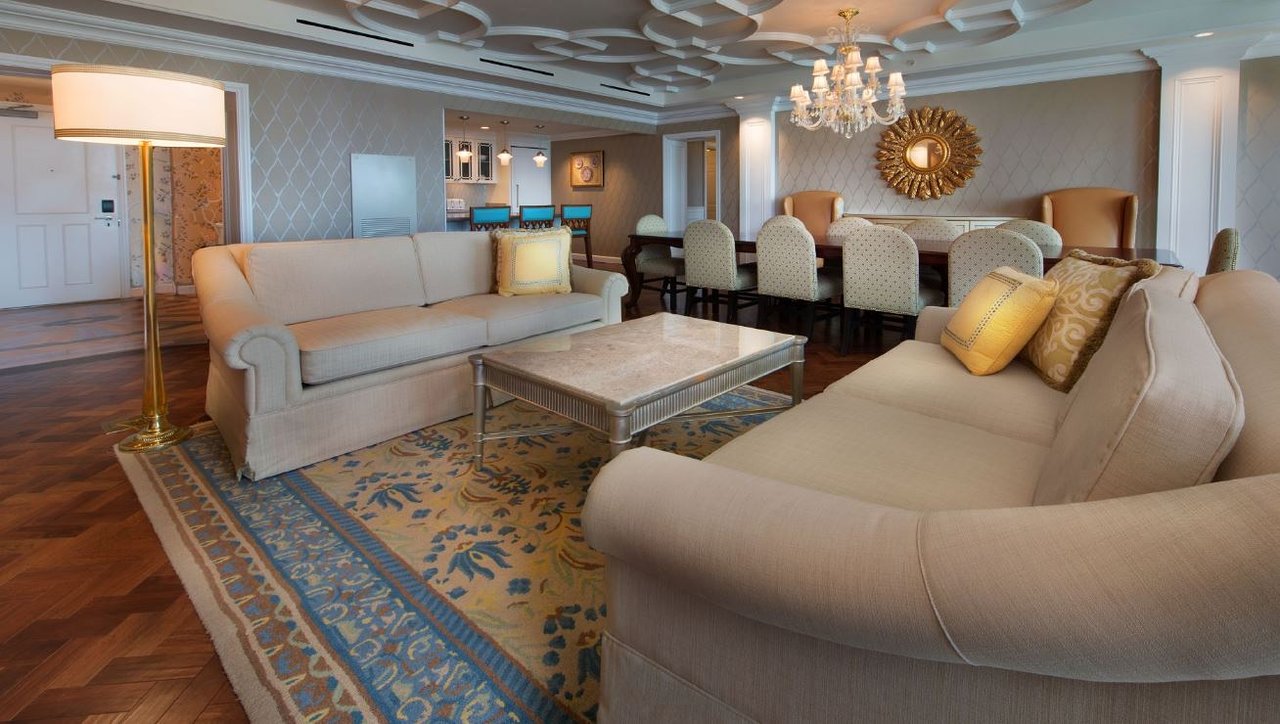 Grand Villa at Disney's Grand Floridian Resort & Spa
Last time, I suggested two different options for DVC members with an endless supply of points. I'm doing the same this time. I started with the exquisite Cascade Cabins, which are lovely standalone facilities. However, let's be real here. Disney's Wilderness Lodge is no Grand Floridian.
When you want the best that Walt Disney World has to offer, you'll pick a monorail resort. While I rank it third out of the three, Grand Floridian is the consensus choice as the highest caliber DVC property in Orlando, possibly anywhere. So, when you want to go all-out on your Disney vacation, it's the clear choice.
Since you're already selecting the best, you might as well double down on the concept, right? Yes, I'm encouraging you to spend at least one night in a Grand Villa, the stunning three-bedroom suite that's generally reserved for royalty, internet tycoons, and professional athletes.
True story: I saw one of my favorite baseball players ever at the Grand Floridian. And he looked tubby. That's what retiring with hundreds of millions of dollars will do to a person.
Anyway, the point is that the Grand Villas at Grand Floridian are usually reserved for Hall of Fame baseball players. When you have enough DVC points, you can feel like you're a member of the elite. Haven't you always wanted to stay in a 2,800-square foot villa overlooking Seven Seas Lagoon? Given the modest cost of 112-227 points per night, what's stopping you? Live a little, my friends!