Halloween in Central Florida
Mickey's Not-So-Scary Halloween Party has returned for another glorious run.
Now that we've had a few nights' worth of parties, we can discuss this year's highlights. Oh, and we'll throw in some Halloween Horror Nights info, too.
Friends, we've made it to fall. Let's talk about Halloween in Central Florida!
Mickey's Not-So-Scary Halloween Party
This year, Magic Kingdom started its annual Halloween festivities earlier than ever.
For nearly a month now, the park has hosted Mickey's Not-So-Scary Halloween Party (MNSSHP), along with several other Fall events.
Summer still had more than a month left, and school wasn't even back in session when this year's MNSSHP began.
So, we've had plenty of time to discover what's good this year. Short answer: A LOT!
For the first time since 2019, park officials had plenty of time and a full staff to plan and execute its Halloween event.
Not coincidentally, several new offerings are available, while many of your favorites have returned as well.
Let's start with the returning amenities. You'll find all of these options for 2023:
Disney's Not-So-Spooky Spectacular
Hocus Pocus Villain Spelltacular
Mickey's "Boo-to-You" Parade
I presume you're familiar with all of them, but here's a quick reminder. The parade provides the emotional core for this party.
The Hocus Pocus show allows Disney fans to hero-worship the Sanderson Sisters and several other popular Disney Villains.
Finally, Disney's Not-So-Spooky Spectacular provides the fireworks for MNSHHP. This trio and their variants have entertained guests for many years.
Similarly, one of the essential aspects of the Halloween party returns in the form of character greetings, especially rare ones.
You'll find unusual Disney character interactions with Elvis Stitch, Tweedle Dee and Tweedle Dum, the Queen of Hearts, Jafar, and the Country Bears.
As a word of warning, these character greetings often require the longest waits at the park during MNSSHP. Several take more than an hour.
The Halloween Staples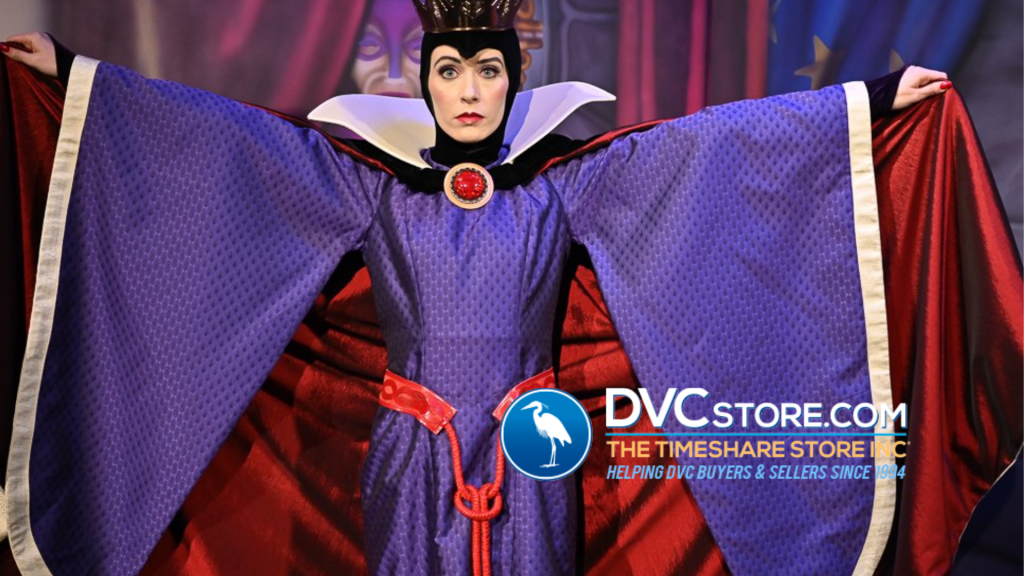 As usual, you'll find unique merchandise, food, and beverages available ONLY during MNSSHP.
However, once you buy a ticket, you don't need to spend another dime during your visit.
That's because Disney hosts nearly fifteen Trick-Or-Treat stations throughout the park.
When you enter Magic Kingdom, you'll receive a wristband. Then, you'll show it to a cast member, who will hand you a bag.
You'll throw all your candy in this bag, and it'll add up quickly. Some of the themed lands host four or five candy stations.
You're never more than a five-minute walk away from a sugar rush if so inclined.
Disney has also added allergy-friendly Trick-or-Treating as well.
If you have food allergies, the Liberty Square Ticket Office and Chamber of Commerce on Main Street, U.S.A., will satisfy your sweet tooth.
Three of the ride overlays will operate during this event as well.
Mad Tea Party, Monsters, Inc. Laugh Floor, and Space Mountain will all look different during MNSSHP.
Sadly, the live actors aren't back at Pirates of the Caribbean, though. Bummer!
Also, you should know that Tron Lightcycle / Run DOES operate during the party.
Disney will offer a third virtual queue on MNSSHP dates. That queue will open at 6 p.m. and doesn't sell out as quickly as the other two.
So, you should have a good chance at riding Magic Kingdom's newest roller coaster if you want.
This Year's Live Entertainment
The 2023 party emphasizes live entertainment, which makes sense.
Disney can host musical performances anywhere at the park. By spreading these out, park officials can distribute park traffic evenly.
This tactic assures that even though most MNSSHP events have sold out, none of the parties ever feels crowded.
That's important since you're paying for exclusive park access at a time when Magic Kingdom is ostensibly closed to regular guests.
For this reason, you'll find live entertainment in most themed lands. As an example, the Cadaver Dans sing their spooky tunes at Frontierland.
You'll find the oddly harmonious undead performing at 7 p.m. and every 45 minutes afterward on most nights.
There is a pause from 8:30 p.m. to 9:45 p.m. to allow people time to watch the fireworks and parades, though.
As usual, you'll find a Tomorrowland dance offering as well. This year, it's back at Cosmic Ray's Starlight Café, where the Disney Junior Jam takes place.
For adults traveling without children, Zom-Beatz is also available. It includes a deejay and appearances by Disney characters!
However, the new offerings are the ones you'll love the most. Max Goof appears on Main Street, U.S.A. before the parade.
Max wears his Powerline Max outfit while he and some dancers go into the crowd, getting them bumping to the beat.
Also, an old favorite from Adventureland has returned. Rusty Cutlass is once again performing a heady mix of sea shanties and pirate staples here!
We hadn't seen Rusty Cutlass for several years, so this show is definitely drawing crowds of loyal Disney fans.
Overall, this year's Halloween party emphasizes live interactions more than any I can recall, and I view that as a fantastic improvement!
Halloween Horror Nights Arrives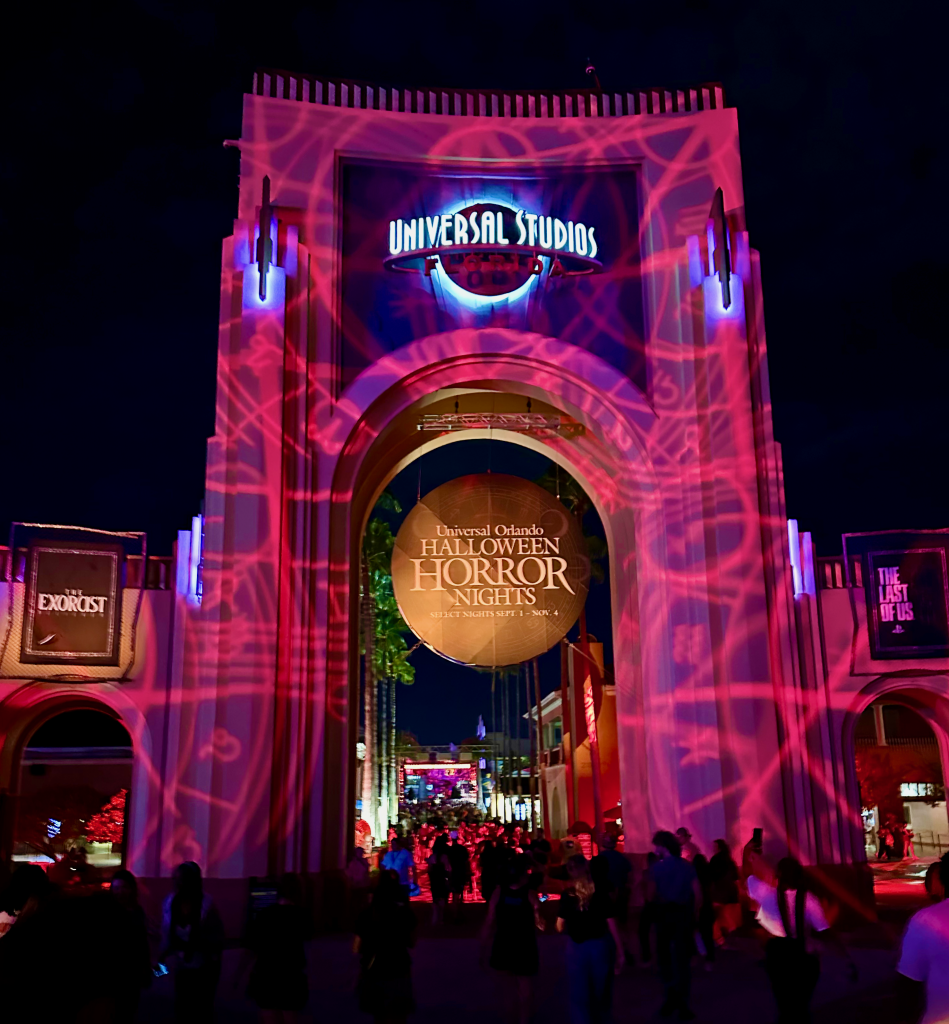 On September 1st, Universal Orlando Resort hosted the first night of its annual Halloween Horror Nights (HHN) event.
Over the years, HHN has morphed from a silly bit of escapism into the signature part of the annual theme park calendar.
Fans are so passionate about HHN that a Las Vegas tourist attraction, Area15, recently signed a contract to host a year-round HHN gathering at the upcoming Area16.
Since the pandemic disrupted recent years, 2023 signifies the first time since 2019 that park officials have gone full throttle with HHN.
Not coincidentally, this year's event is shaping up to be the best ever, thanks in large part to some of the Ten entirely new Houses.
Here's a list of this year's offerings:
Blood Moon: Dark Offerings
Chucky: Ultimate Kill Count
The Darkest Deal
Dr. Oddfellow's Twisted Origins
Dueling Dragons: Choose Thy Fate
Exorcist: The Believer
The Last of Us
Stranger Things 4
Universal Monsters: Unmasked
YETI: Campground Kills
I don't want to spoil anything, but you can watch all the Houses in their entirety in this video (if so inclined):
You can figure out the content of most of these, but I want to highlight a few.
First, Disney fans should pay attention at the start of the YETI House. Yes, that's a reference to Expedition Everest in that cave projection!
Meanwhile, Dueling Dragons: Choose Thy Fate represents a departure from most Houses. This one takes a fantasy tone and allows guests to choose an ending.
Of course, the biggest Houses this year are the ones with brand recognition.
If you've watched Stranger Things season four – and you really should have by now! – you'll feel right at home in this House, which embraces the rise of Eddie Munson.
Please let us know if you have any questions or if you'd like any additional information. If you'd like to rent a DVC Villa for your next Vacation or purchase a Disney Vacation Club property at a reduced price, our agents will be happy to assist you with any questions or information.
You can reach our office at 800-550-6493 or email sales@dvcstore.com.