How A DVC Stay Works – Part 2!
Pick up from last time, we go a little more in depth about the process of actually staying at a DVC resort.
Staying at Your Resort
As a DVC member, your vacation habits will evolve over your time. To an extent, you've committed to spending a lot of time at Walt Disney World and other DVC resorts. As such, you'll become intimately familiar with all of the attractions on the Disney campus. After a few trips, many DVC members fall in love with their resorts. Rather than spending all of their time at the parks, they begin to become homebodies, even on vacation.
The luxurious amenities at DVC resorts encourage this behavior. No matter where a guest stays, the restaurants and stores at that place are among the best of any theme park hotel in the world. It's addictive. I say all of this to mention, the way that you vacation at first won't be the way that you vacation in a few years. During your initial stays, I strongly recommend that you select DVC resorts close to theme parks.
However, make sure to book a few restaurant reservations at DVC hotels. And always try out the pool at your resort. In fact, that brings up another vital topic…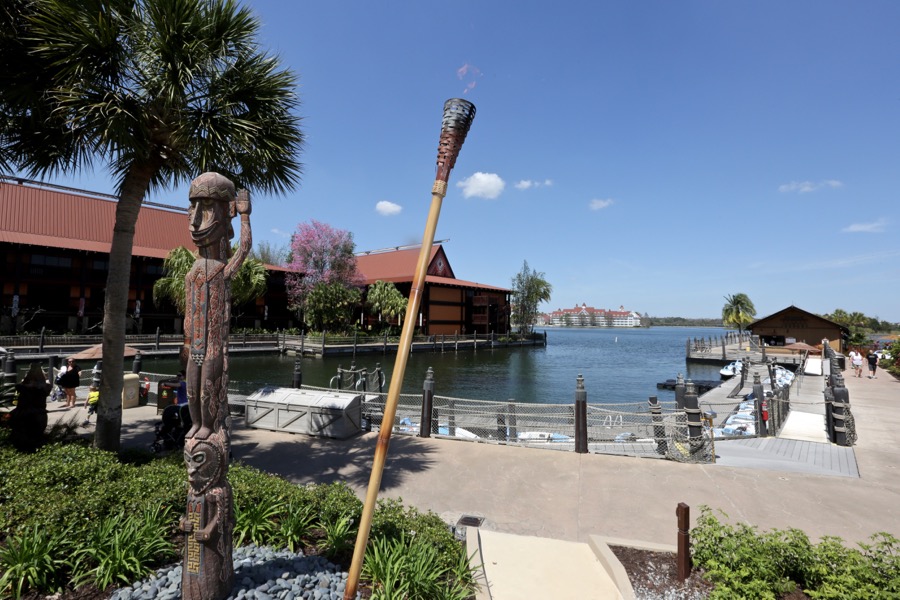 Understanding the Amenities
First of all, many of the best amenities are in your room. DVC functions like the world's greatest timeshare, which means that it comes with all of the best parts but none of the negatives. The most important of these is room size. You're staying in a studio villa. Unless you book the Value Accommodations room type at Disney's Animal Kingdom Lodge, your room will be around 350 square feet…or possibly much larger. Those of you who reserve a suite will have 700-900 square feet of space. No matter the size of your family, you'll have plenty of room to maneuver.
The other great amenities at the resort are outside your room. No matter where you stay, you'll find that your DVC hotel offers at least one Table Service restaurant, one Quick Service restaurant, a general store, and a pool. Many of them have more than one in some of these categories. In other words, you'll be able to set up shop at your resort because it can cater to your every need.
The general store is where you'll go for sundries. If you forget a toothbrush or run out of sunscreen, it's got your hookup. And some of the Disney merchandise here is exclusive to the resort, too!
Meanwhile, the restaurants attached to standard resorts and DVC resorts are legitimately some of the best at Disney. 'Ohana, Boma – Flavors of Africa, California Grill, Artist Point, and Victoria & Albert's are all beloved eateries. However, DVC members will also unearth hidden gems like Beaches & Cream Soda Shop, Grand Floridian Café, Kona Café, Whispering Canyon Café, and Olivia's Café may/should become staples of your regular DVC trips. You'll feast like royalty as a DVC member.
The pools are similarly decadent. Aulani Waikolohe, Uzima Springs, and Copper Creek Springs Pool are all among the best Disney resort pools in the world. And the greatest of them all is unquestionably Stormalong Bay at Disney's Beach Club Villas. You'll want to swim in as many of these watering holes as you can. I say this for two reasons. The first is that no family vacation is complete without some swimming. The second is that Disney allows a modest amount of pool hopping.
Some resorts allow DVC members staying elsewhere to swim at their facilities. Others only provide pool admission to guests staying onsite, and Disney enforces this via Magic Bands. Yours will only open the entrance gate at the pools where you can swim. Over time, you'll develop favorite pools. Since some of them are exclusive, your love of them may inform your decisions about where to stay/buy. For example, the appeal of Stormalong Bay explains why Beach Club contracts are in high demand.
So, my advice here is simple. Pool hop and try out the restaurants at many DVC resorts during your first few stays. Learn what you like the best while you're a new owner. It'll improve your vacations on the lifetime of your DVC contract!
Remember the Kitchenettes!
Speaking of amenities, I'd be negligent if I didn't highlight one key point. Since you're staying in a villa, your room comes equipped with a kitchenette. You can stock any supplies that you want in the cabinets, and you'll also notice that your room comes with plates, glasses, a microwave, coffee maker, and silverware.
Thanks to the quality of these rooms, you can get your coffee fix in the mornings. Later in the day, you can munch on a snack, even a frozen treat that you've stored in your mini-fridge. As a Coca-Cola addict, I'm deeply appreciative of this amenity. DVC members who stay in suites have it even better. You'll find a full kitchen in your room. It has a working stove, oven, and sink. Yes, you can save a ton of money as long as you're willing to cook in your hotel room. Many DVC owners book suites specifically because they can save money on food. It's a hidden benefit of ownership!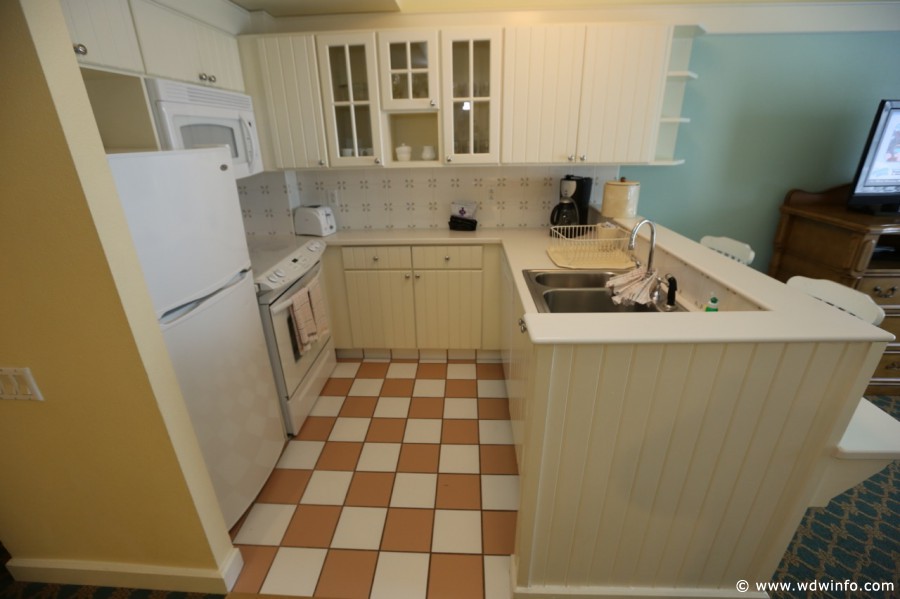 The Towel Situation
The question that I get asked the most about DVC involves the towel situation. Some people stress out about the fact that the rooms don't get maid service each day. I understand that, but I feel like the entire discussion is entirely overblown.
Before you check in, your hotel room gets thoroughly cleaned. You'll receive enough towels and other supplies to last for three days. On day four, a cast member will perform Trash and Towel Services for your room, which is to say that they'll:
· Add fresh towels
· Empty the trash
· Give you more coffee supplies (you junkie)
· Replace empty soaps, shampoos, and lotions
· Replace paper towels and toilet paper
· Replace sponges, detergents, and other cleaning supplies for suites
Those of you staying longer will receive a full maid service on day eight. At this time, they'll treat the room as if you have left and another guest will arrive soon. So, it's an incredibly detailed cleaning, although Disney won't touch any of your stuff.
Should you need any of the sundries before day four, you simply ask a helpful cast member for more. Technically, Disney could charge you for the towels, and this does come up from time to time. Trash & Towel Service costs $10 a day for studios, $15 for one-bedroom suites, $20 for two-bedroom suites, and $30 for grand villas. To a larger point, if any of this bothers you, the resort does provide daily maid service for a fee. It starts at $30 for studio and goes up for $15 for each level of suite. So, you could simply factor in maid service in your vacation budget if you're worried about the lack of towels.
Again, Disney will have an option that fits your needs. Really, that's what DVC is all about. You'll notice that everything listed here combines convenience with luxury. Disney wants its most loyal customers to be happy, and they demonstrate this through the exceptional hotel stays that you'll enjoy as a member.