How Many Points Do You Really Need?
A common question from those who are new to DVC is how many points should you buy? In all honesty, there is no single number that works for everyone, and that's what makes things tricky when determining the number of points needed. While your travel needs may shift over the lifetime of your DVC contract, you can at least project what you will need annually by asking yourself the following questions when looking at the point charts:
What Time of Year Do You Travel?
Each point chart is divided into 5 seasons. For 2019, these dates are:
Adventure (January 1-31, September 1-30, December 1-14)
Choice (October 1-November 26, November 30, December 15-23)
Dream (February 1-15, May 1-June 10, August 16-31)
Magic (February 16-April 13, April 28-30, June 11-August 15, November 27-29)
Premier (April 14-27, December 24-31)
Adventure season has the lowest point values, followed by Choice, Dream, and Magic while Premier has the highest.
What Type of Room Do You Need?
DVC resorts have studios, 1-bedrooms, 2-bedrooms, 3-bedroom grand villas, cabins, bungalows, etc. The larger the room type, the more points you will need. If you are traveling as a couple or small family, a studio may suffice. However, with a larger family or simply a desire for more room to sprawl, you may need to bump up to a 1-bedroom or 2-bedroom. Note that capacities are not always equal by room type. For example, 1-bedrooms at Bay Lake Tower can accommodate 5 people. By contrast, 1-bedrooms at the Beach Club Villas can accommodate 4 people.
Where Do You Want to Stay?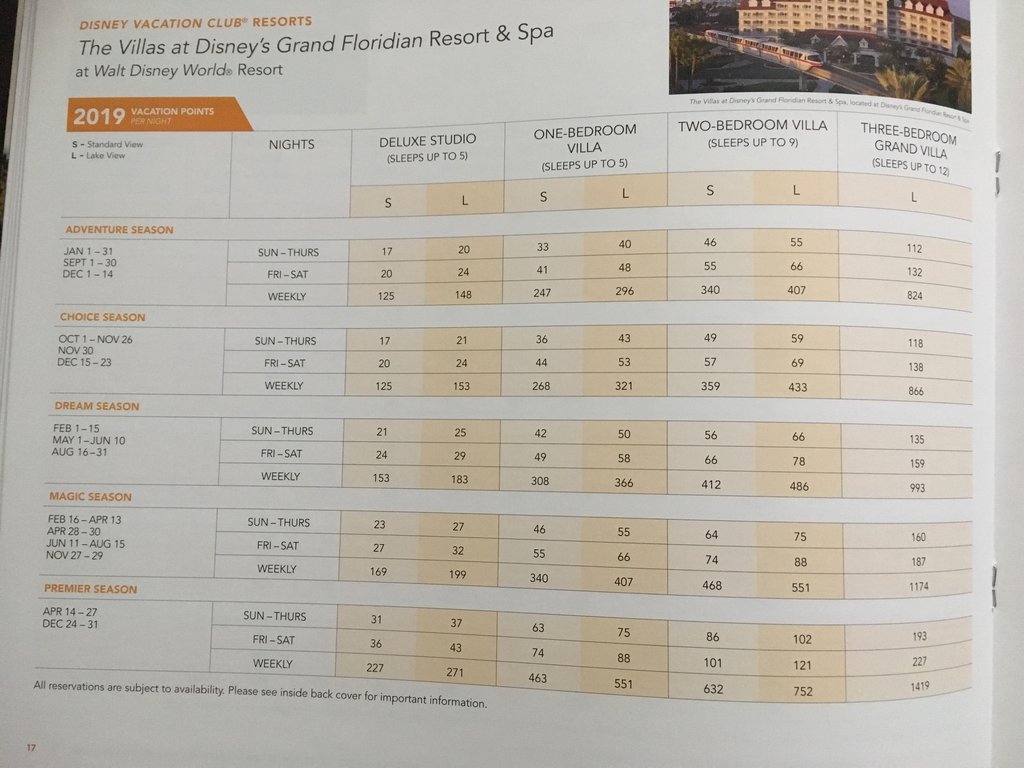 Point charts differ from resort to resort. In general, newer resorts have higher point charts than the older ones. Resorts also have different categories or views available, such as Value, Standard View, Lake View, etc. Point values will vary depending on these categories. Many DVC members suggest that you budget for more than just the point value of Value or Standard View rooms. While these are easily the cheapest rooms point-wise, they are also some of the hardest rooms to book based on availability. It's smart to have enough points for preferred view categories just in case those are the only rooms available. It never hurts to have that buffer when planning for trips during peak DVC seasons (Food & Wine, RunDisney events, holidays).
How Long and How Often Do You Visit?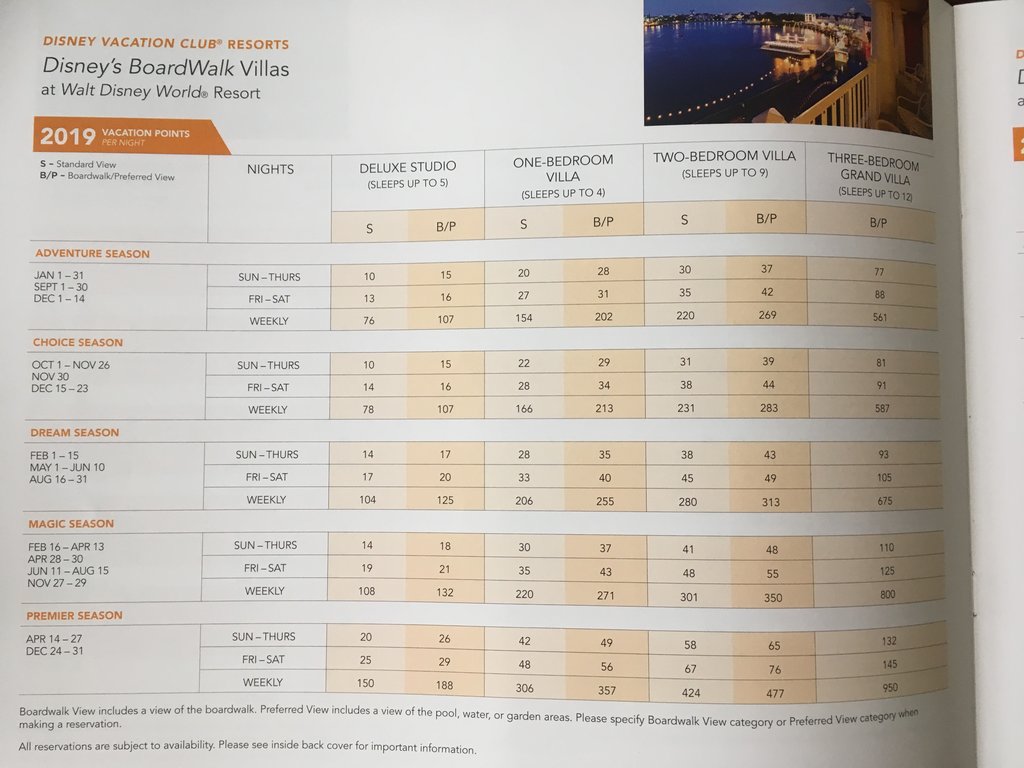 Clearly the longer and more frequent your stays, the more points you will need. For my fiancé and me, we knew we would mainly be staying in studios but agreed to get extra points to take multiple trips within a year. However, if you have more discipline than we do and plan on taking trips every other year, you can get away with a smaller contract. For example, if you wanted to stay in a Boardwalk Villas – Boardwalk View or Garden/Pool View studio during Dream season, you would need 125 points for a weeklong stay. If you plan on doing that every other year and you had a 75-point contract, you can either bank or borrow your points to get to a total of 150 points in one year. That would more than cover the weeklong stay.
By taking these questions into consideration when reviewing the point charts, you can get a better idea of how small or large a DVC contract you will need.