Let's Talk about DVC's Next Three Resorts…
Disney recently announced its 17th Disney Vacation Club resort, which is remarkable because the 16th property hasn't even opened yet.
We're living through an exciting time for DVC members. Let's get you even more hyped by talking about the next three DVC resorts coming soon.
The Villas at Disneyland Hotel
We know the most about the Disneyland Hotel's DVC expansion because it arrives in less than five months.
Disney officials have spoken about this project for a long time, and it sounds like a dream come true.
Longtime DVC members understand the inventory shortage – some may say crisis – at Disneyland Resort.
The Happiest Place on Earth hasn't been the happiest for DVC members because of limited room availability.
Disney's only property here, The Villas at Disney's Grand Californian Hotel & Spa, books a low volume of DVC rooms. Those go very quickly, independent of the date.
In short, we've needed more options at Disneyland for a long time. Now, Disney has given us one in an expected way.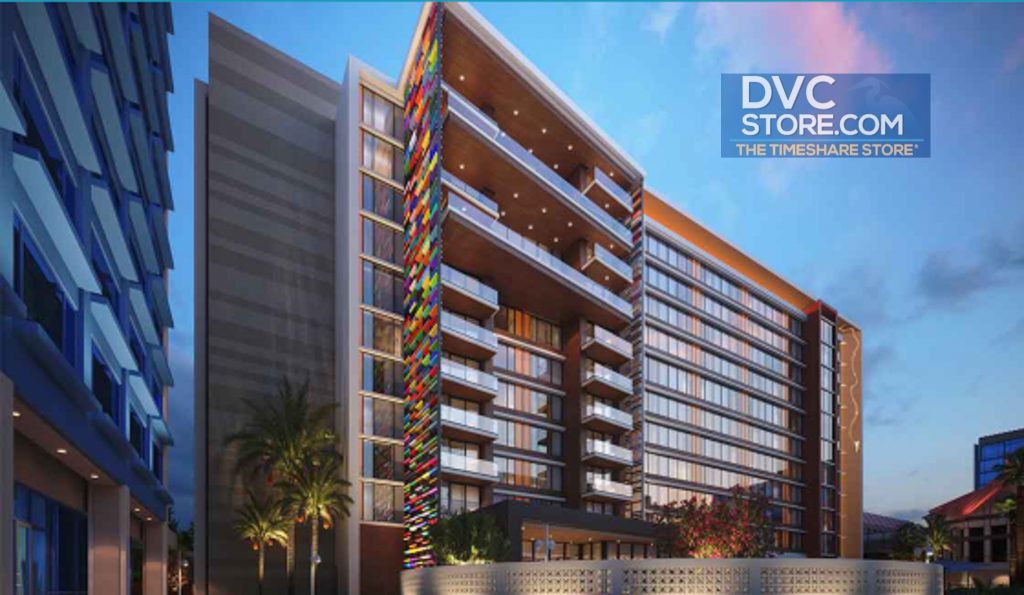 Management has reclaimed land from Disneyland Hotel's surrounding area. Now, it's building a gorgeous expansion tower on this land.
Even better, DVC members can accurately claim that they own at the world's first theme park hotel. Even Walt Disney couldn't claim that when he was alive!
Uncle Walt couldn't afford to build Disneyland and an accompanying hotel. So, he persuaded an oil baron named Jack Wrather to create Disneyland Hotel instead.
Disney (the company) wouldn't purchase its namesake hotel until 1988…and now you can purchase a part of theme park history!
Remarkably, this hotel will feature 2023 amenities, though. After all, that's when Disney completes construction and opens the resort to the public.
The official debut occurs on September 28th, but Disney is already selling ownership interests to current members as of May 2nd. Everyone else can buy a contract starting on May 30th.
The Villas at Disneyland Resort will offer 38 Duo Studios, the equivalent to the Tower Studios at Disney's Riviera Resort.
Also, Disneyland's new DVC property will include 253 standard Studios and 59 villas. It sounds perfect.
The Expansion Tower at Disney's Polynesian Village Resort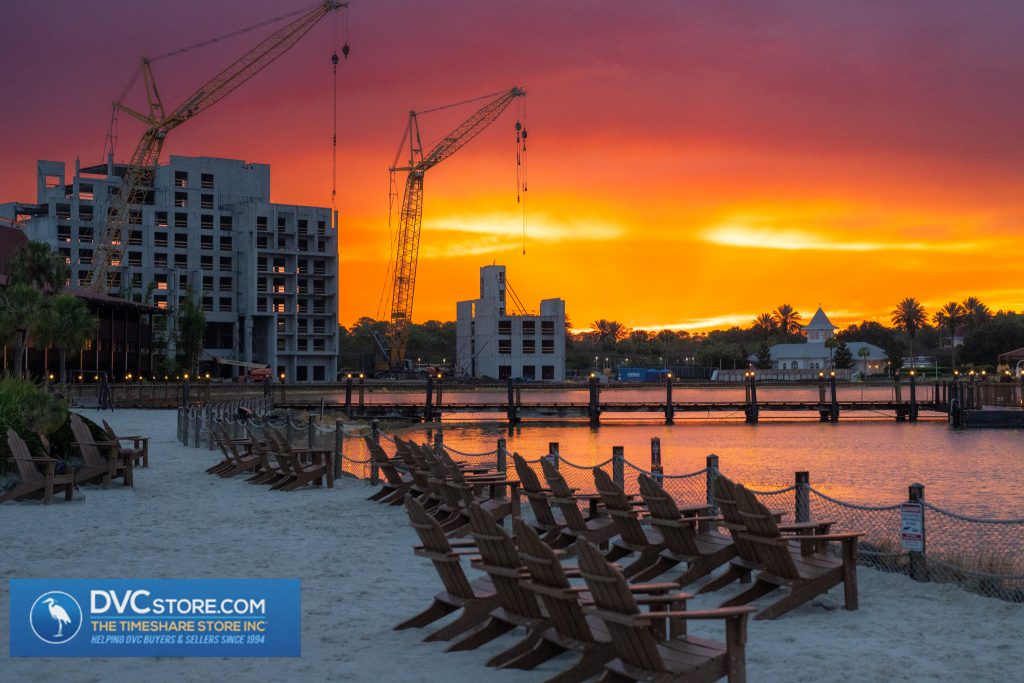 As the song says, every new beginning comes from some other beginning's end.
For DVC members like me, the end felt especially painful, as Disney has torn down Luau Cove and thereby ended the Spirit of Aloha dinner show.
On the old land, Disney is currently building a DVC expansion tower. It'll become part of Disney's Polynesian Village Resort.
However, we don't know yet how Disney will approach this expansion.
If the company follows the same strategy as with the Grand Floridian, the new rooms will fall under the existing Condominium Association agreement.
Conversely, Disney could adopt the same approach as with Disney's Wilderness Lodge, which hosts two different DVC properties.
DVC probably won't announce its intent until some point in 2024. That's the currently scheduled opening date for the new expansion tower at the Polynesian.
This new building will reside by the water, and it'll feature an uneven number of floors.
What I mean by this is that illustrations suggest a set of six adjoining buildings that range from six to eight stories high, give or take a couple of stories. There's an odd amount of debate on this point.
Five of the six buildings will face the lake that connects the Polynesian to Magic Kingdom. The sixth will include a view of a new pool instead.
The tower's proximity to Magic Kingdom factors heavily here. Disney is promising some of the best park views anywhere.
Also, the new space will offer a breathtaking way to watch Magic Kingdom's nightly fireworks.
While Disney isn't talking, the initial announcement suggested a 2024 debut. It just didn't say when.
For this reason, there's some debate about which will come first, the Polynesian expansion or…
The Cabins at Disney's Fort Wilderness Resort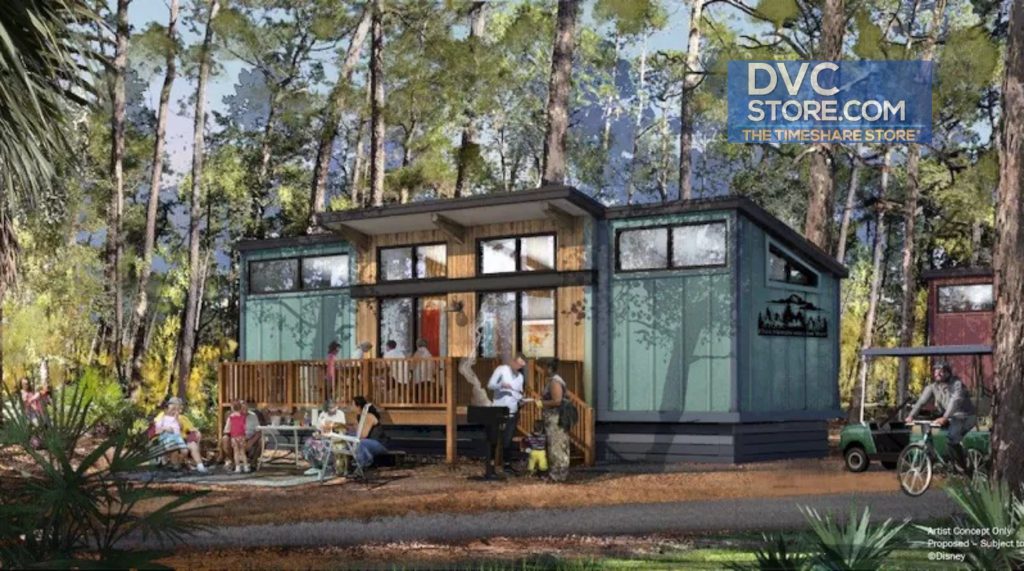 The lack of a firm timeline for either 2024 DVC opening is understandable.
The company hasn't even broken ground yet on the "new" property, The Cabins at Disney's Fort Wilderness Resort – A Disney Vacation Club Resort.
Yes, the name's a mouthful, but the premise itself is marvelous.
Also, Disney isn't starting from scratch here. Technically, when I say the company hasn't broken ground yet, that's a bit of a misnomer.
Instead, will repurpose existing Cabins in an odd way. I don't even know the term for this, but Disney more or less demolish the current structures.
Then, Disney will use the same framework to start anew with more modern, energy-efficient buildings.
In this manner, Disney has quietly acknowledged that some of the Fort Wilderness buildings are long in the tooth.
As a reminder, Disney's Fort Wilderness opened less than six weeks after Walt Disney World itself.
Some of those campsites haven't received the same attention that typical Walt Disney World hotel rooms would.
Don't get me wrong here. Disney hasn't done anything untoward. It's more that the Cabins play directly into the rustic theme of this campground.
Disney hasn't updated as much because excessive modernization would have ruined the theme before now.
The company must effectively start from scratch on the designs. However, Disney also wants to honor its past and not wreck the history of its third-oldest resort.
The compromise here is brilliant. It's a set of entirely new, stylish Cabins in the existing space.
These Cabins will sleep six, include full kitchens and even offer dog-friendly options in some instances. What's not to love here?
Since Disney doesn't need to change much else at the property, the timeline at Fort Wilderness likely won't be that far behind the Polynesian!