Pros and Cons of Renting and Transferring Points
If you ever run out of points, you can always rent or transfer them from another DVC member. By renting points, you are having another DVC member book your trip for you. With transferring points, you are having another member's points placed into your account, so you can book your own trip. The DVC Store can help with both types of transactions, and they each can provide greater savings compared to booking cash stays at villas directly through Disney. However, there are some pros and cons to both methods:
Renting Points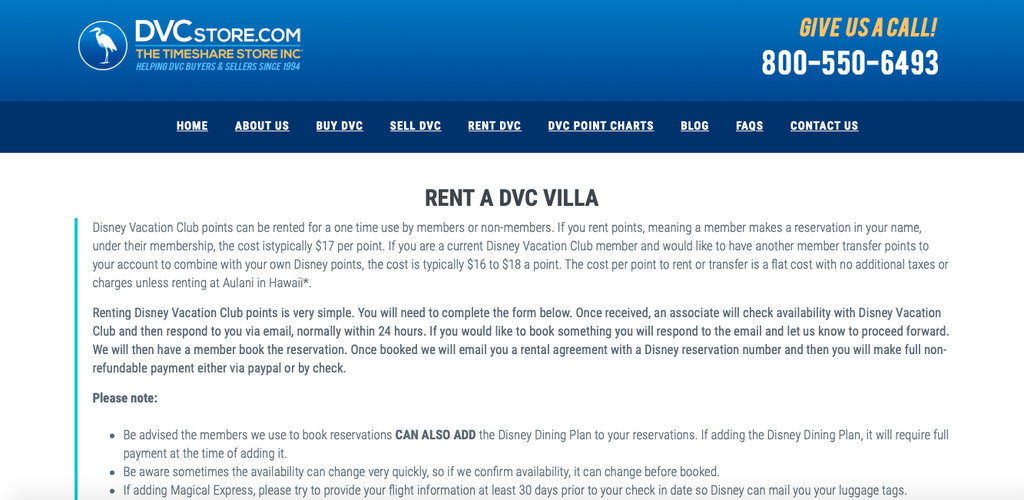 Pros
Rented points retain their home resort advantage, so renting points is a good way to get the 11-month booking window for a non-home resort. Unlike with transfers, there is also no limit to the number of times that you can rent points, so you can rent multiple times in a year if needed. In addition, anyone can rent DVC points, even non-owners. This can be a great way for prospective DVC members to try before they buy.
Cons
Since the owner of the points makes the DVC reservation for you, and the points will not show up in your account, you have less control over that reservation. For example, you would need to go through that owner to make any modifications to the reservation, book the Magical Express, or add the Disney Dining Plan. Some people may also worry about that lack of control with renting when trying to book a trip during a popular travel period or a hard-to-get villa like a Standard View one. However, in my experience renting from the DVC Store, the owner was very prompt. He was able to book me a Beach Club Deluxe Studio Villa for the week of Thanksgiving even though it's a popular time for a DVC reservation.
Transferring Points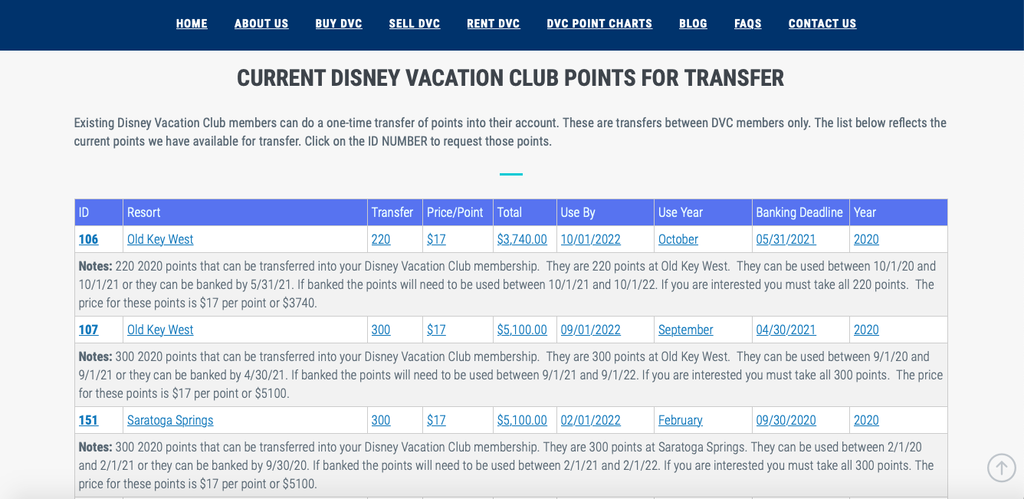 Pros
By transferring points into your account, you have more control over your reservation. You can book a DVC reservation yourself, set up Magical Express, or add the Disney Dining Plan. The only difference is that you may need to call Member Services for these transactions rather than completing them online. As with rented points, transferred points retain their 11-month home resort advantage. This can be helpful when you are looking to book somewhere other than your home resort.
Cons
If you transfer points into your account that are of a different home resort and Use Year than your own points, they will not show up in your online account; you will need to call Member Services to make a reservation with those points. This means that you have to wait until 9am ET to book instead of being able to book online as early as 8am, which may pose a challenge if you want to book a reservation during a popular travel period. If the Use Year and home resort match yours, you may be able to view the points in your account and book online.
Keep in mind that you can only have one transfer within a Use Year per membership ID; that includes transferring in or out of your account. Due to this restriction, you may find that points available for transfer may be harder to find than rental points. In addition, if you choose to transfer points, you must take all of the points being offered rather than just the amount you need. The flip side to this is that you can bank your unused transferred points as long as it is before the banking deadline. This deadline will depend on the Use Year of the transferred points. One final con is that transfers can only be done for existing DVC members. That is, non-members cannot book a trip by transferring since there wouldn't be an account into which the points could be transferred.
If you're interested in renting or transferring points, contact the DVC Store! Also be sure to join the email list for postings of available transfers and rental points.