Room Review Tower Studio At Disney Riviera Resort
Until The Villas at Disneyland Hotel open, Disney's Riviera Resort will maintain its claim as the newest Disney Vacation Club property.
While DVC has expanded since then, most famously at The Villas at Disney's Grand Floridian Resort and Spa, the Riviera remains the latest entire resort.
Since its inception, the Riviera has garnered acclaim for its most unique offering, an intentionally tiny studio for single and couples travelers.
Here's a review of the Tower Studio at Disney's Riviera Resort.
About Staying at Disney's Riviera Resort
DVC knew what it was doing with the introduction of the Riviera. It's a reverential property that pays tribute to Disney's storied legacy.
However, the resort also fills a niche as well. This location took some poorly used space from Disney's Caribbean Beach Resort and turned it into a luxurious hotel.
You'll appreciate all the amenities, some of which are visible before you reach the hotel.
The artistry on display in the walkways leading to the Riviera's lobby will take your break away.
Specifically, a Tangled mosaic towers above you as you approach the hotel grounds.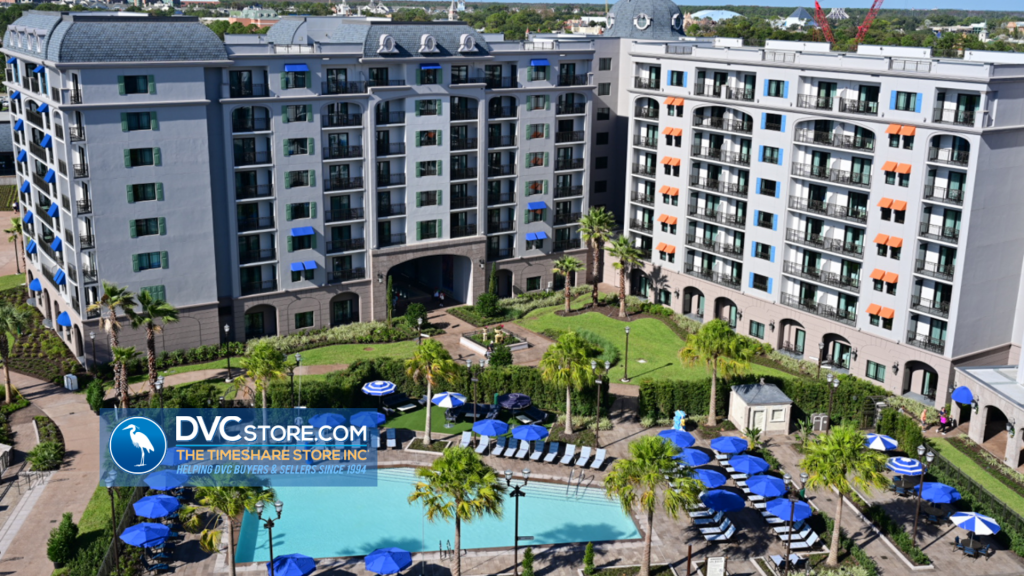 The mosaic's visual splendor captivates a dear friend so much that I once had a jigsaw puzzle made of the mosaic for his family.
Once you enter the hotel, you'll discover a relaxing lobby with a decidedly European aesthetic.
Disney chose a Mediterranean look and feel as a tribute to its founder. Walt Disney loved taking his wife, Lillian, on grand European vacations.
Similarly, Walt and his older brother Roy would often travel to Europe on business.
So, the Riviera has posted wall art that's akin to a public collection of Disney family photos. You'll feel as if you're experiencing the same vacation as Walt did!
Why People Love Disney's Riviera Resort
DVC members have become quite passionate about the Riviera. It's a favored choice due to its look, style, and amenities.
Many of the DVC rooms overlook the Riviera Pool, a gorgeous tribute to the French Riviera. The pool's highlight is a multi-story fort shaped like a castle.
This area embraces some of the stories and characters from Disney's Fantasia. Kids, in particular, relish the playground, S'il Vous Play.
This playground uses interactive water cannons and other splash effects to ensure that kids can tease one another or torment their parents.
If you don't want to get wet, stay far away from S'il Vous Play!
Of course, the best part of the Riviera is neither its restaurants nor its shops, although both are exquisite.
The reason why many DVC members adore and even prefer the Riviera is its ready access to the Disney Skyliner.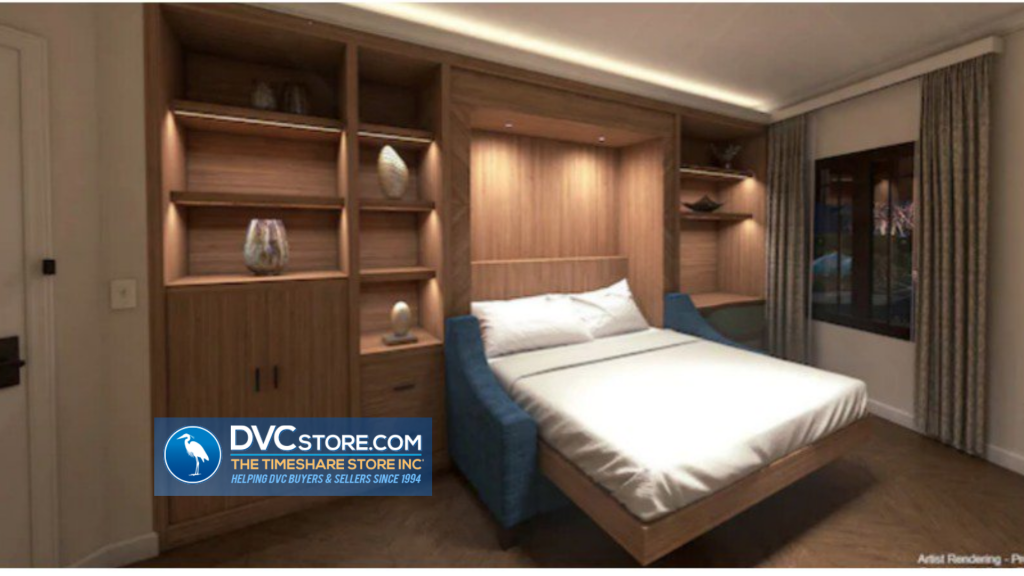 Disney designed the new gondola system in tandem with the hotel. So, you'll find a Skyliner station right outside the hotel.
Seriously, you'll walk 100 steps from the Disney Skyliner and be in the Riviera.
For this reason, guests staying at the Riviera can reach EPCOT or Disney's Hollywood Studios within 15 minutes of leaving their rooms.
That kind of scheduling certainty borders on unprecedented for Disney fans, and it's definitely impossible via Disney buses and boats.
Plus, the gondola rides will bring out your childlike sense of wonder as you admire Disney landmarks from an entirely new bird's-eye perspective.
About the Tower Studio at Disney's Riviera Resort
When Disney designed the Riviera, its architectural ambitions came with a limitation. Some odd angles led to truncated hotel room space.
Disney strategists quickly turned a negative into a positive by inventing an entirely new room type, the Tower Studio.
These hotel rooms sleep two guests, and that's it. In fact, depending on the size of the guests, even two might be stretching it. I'm mostly kidding, but…
A Tower Studio covers 255 square feet of space, which is smaller than the master bathroom suite of many of the people reading this.
I'm saying the negatives right off the bat so that you will calibrate your expectations. It's a small room type, folks. There's no getting around that.
However, the Tower Studio also comes with some advantages. For starters, solo travelers often pay for extra space they're never gonna use.
If your Home Resort is Disney's Polynesian Villas & Bungalows, you're getting two different bathroom areas for one person.
That's a waste of your hard-earned DVC Points, and I'm speaking as a Poly superfan. You don't need 447 square feet of space. Period.
An active tourist who books at the Tower Studio will save many DVC Points for a one-week vacation.
As long as you don't plan to spend much time in the hotel room, you'll never care.
Then, we have the romantic vacation aspect. If you're very much in love and want to be near someone all the time, the Tower Studio caters perfectly to your needs.
You'll find out a LOT about your relationship if you can spend several nights in a 255-square-foot room with someone. It's like that Tiny House commercial:
Reviewing the Tower Studio
So, I'll start by saying that I'm about 6'2" and 225 pounds. Think of the mountain man cliché, and you have a good idea of my physical build.
My wife is a foot shorter than me and about half my overall body mass.
We're also one of those couples in that we've been together 20 years and still spend every second together. In fact, we both work from home.
In a way, the Tower Studio fits our needs perfectly. My wife has designed our unused extra bedroom with a Disney French theme.
This room type works so well for her that she's already used it at home! Then, there's the wall art of kittens playing yarn for me, a full-fledged cat person!
As such, we have plenty of positives for a Tower Studio. Alas, we're also people who spent hundreds of days of our lives at Walt Disney World.
For this reason, we spend more time in a hotel room than the average consumer would.
I'd be lying if I said that I never felt a bit claustrophobic in this room. In fact, I knew this the first time DVC gave me a tour of the place.
Just by walking around the entire room, something I could do in four steps, I could tell I'd have problems.
Still, I'm a Hallmark movie kinda guy and thought it'd be romantic to try the Tower Studio. In truth, it was mostly a positive experience.
Our view overlooked Spaceship Earth, my happy place. Also, the bathroom shower here is stunningly decadent for a room this size. In fact, the bathroom itself is a nice size overall.
Meanwhile, whenever I felt a bit too overwhelmed, I could sit outside on the balcony and people-watch or landmark-watch. Not bad.
Other Options at Disney's Riviera Resort You May Prefer
Then again, when I say "not bad," that's a low bar for a DVC property. As you know, almost all the rooms fall somewhere between luxurious and decadent.
The Polynesian Studio I mentioned makes soooo much more sense for two people than a Tower Studio, in my opinion.
You can add your own romance in a hotel room. Unfortunately, you cannot make a small room bigger, though.
As such, my suggestion at the Riviera involves evaluating the other, bigger room types instead.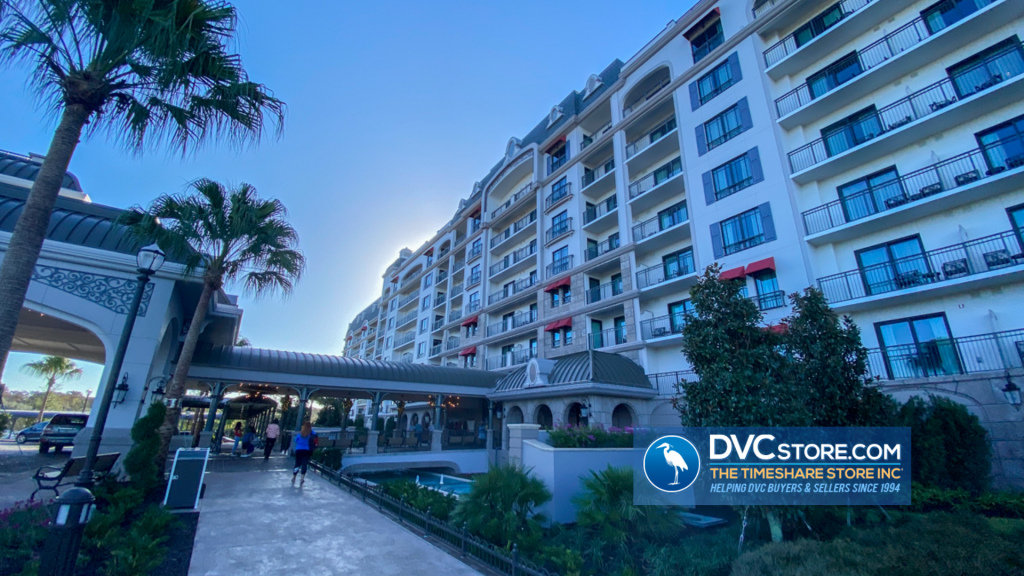 The Deluxe Studios and One-Bedroom Villas may suit your purposes more than a Tower Studio.
During 50 weeks out of the year, the Studios cost only three or four more points per night than the Tower Studios anyway.
Please keep in mind that I am a large man. If you're a traveling couple on the smaller side, my issues wouldn't impact you in the least.
Similarly, while I'm not claustrophobic on the whole, I can get cranky in small spaces.
Those of you who are perfectly comfortable in tight quarters will love the Tower Studio.
To a larger point, no matter which room type you pick, you should definitely try the Riviera. I strongly suspect you'll fall in love.
In fact, we have a running joke in our family. My older brother, who joined DVC before me and ultimately persuaded me to join, owns several DVC contracts.
However, his family spends most of its time at the Riviera because it's become their favorite.
The ambiance here differentiates it from other Walt Disney World options.
In short, I could take or leave the Tower Studio, but I'm all about the Riviera itself.