Top 5 Ways DVC Changed Our Family's Life… or vacations at least
A lot has changed for my family since we bought into DVC. While there are, by far, more important events in our lives that changed us indefinitely, DVC still changed several things about the way my family of 4 does vacation and uses the time between visits. Since everyone brings different expectations and needs, your results may vary. With that stated, below are the Top 5 Ways DVC changed my family's life:
5. Preparation is half the fun.
We now spend hours watching Disney vlogs and news shows and reading Disney blogs, like this one. Well, maybe that first sentence should read "I now spend hours…" My husband is not as enthusiastic a DVC Fan as I am, but that's because he is not part of the cool kid club. Disney is my happy place and I can extend that happiness to any old Wednesday by simply watching someone's review of a restaurant or a resort. This is a much better way to spend my time on the internet than social media or silly games. This is real research for my next trip that will help the entire family. At least that is what I use to justify it. DVC isn't just a timeshare program, it is a hobby that has better side benefits than any stamp collection I ever had as a kid.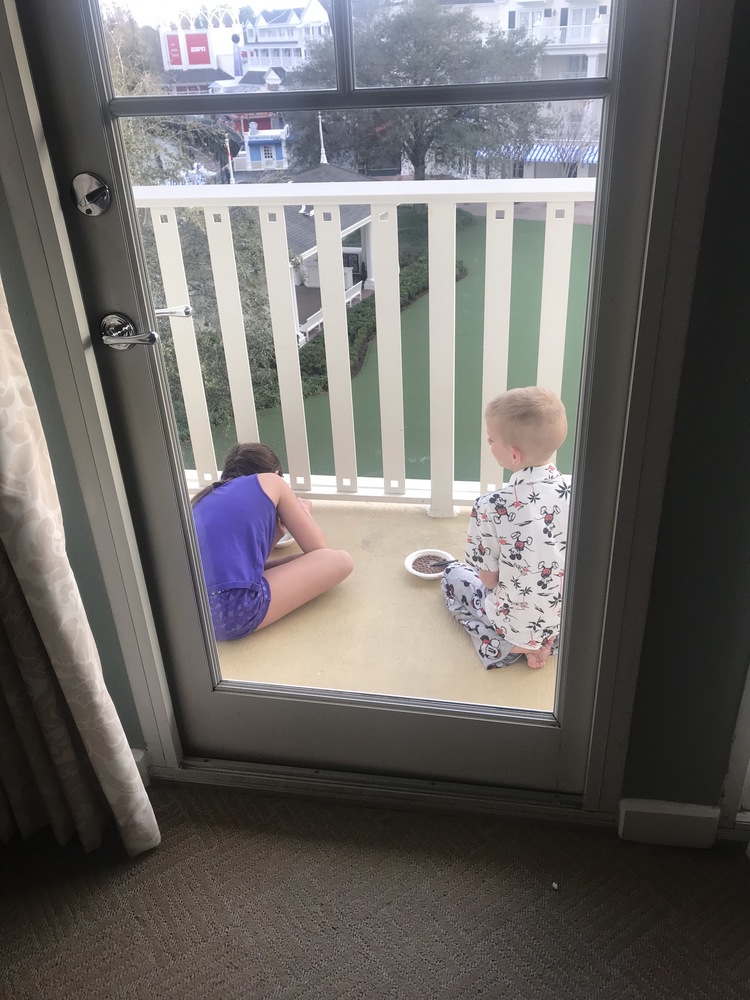 4. "Welcome Home!" may be marketing, but it works.
I feel like I am more comfortable in the resorts and parks because I am "home." I get giddy when my magicband turns the entrance Mickey purple; I like that the Cast Members at the resorts say "Welcome Home" when I ask my 15th question at the front desk. I have read my deed, so I am fully aware that my ownership is equal to 0.0025% of one room – or something minuscule along those lines. Quantity doesn't matter in this case to me (though I am always up to purchase more points if my husband and I find extra cash for it). What does matter is that we have accommodations with little touches that make our stay feel like home. Dirty clothes? No problem with the in-room washer/dryer in a 1 bedroom. Morning cup of coffee? Relax and drink it just the way you like it on your balcony. DVC makes these options available, which means Disney World feels like home – or a better version of it.
3. We have vacations tentatively planned until 2024.
No, seriously, I have a spreadsheet that reaches into 2024 with tentative point costs for potential trips. I realize this is extreme, but I also think it is a nice security blanket. I am a planner by nature (some, like my husband, believe the phrase "control issues" is a better description). Therefore, part of the thrill of owning DVC is that I get to release my inner event planner indefinitely (or at least until 2054 when my last contract runs out and I am in my mid-70s). I can always revise these plans in the future, but knowing that I have the path laid out for my family to go to the most magical place on Earth is comforting for the reasons laid out in #4. For someone like me, going to Disney is one of the few places where I can release my control because I know they can do it better than I can. So, my spreadsheet is a reminder that I have another visit scheduled to get some well-deserved R-n-R for my inner control freak – I mean, planner – all thanks to DVC.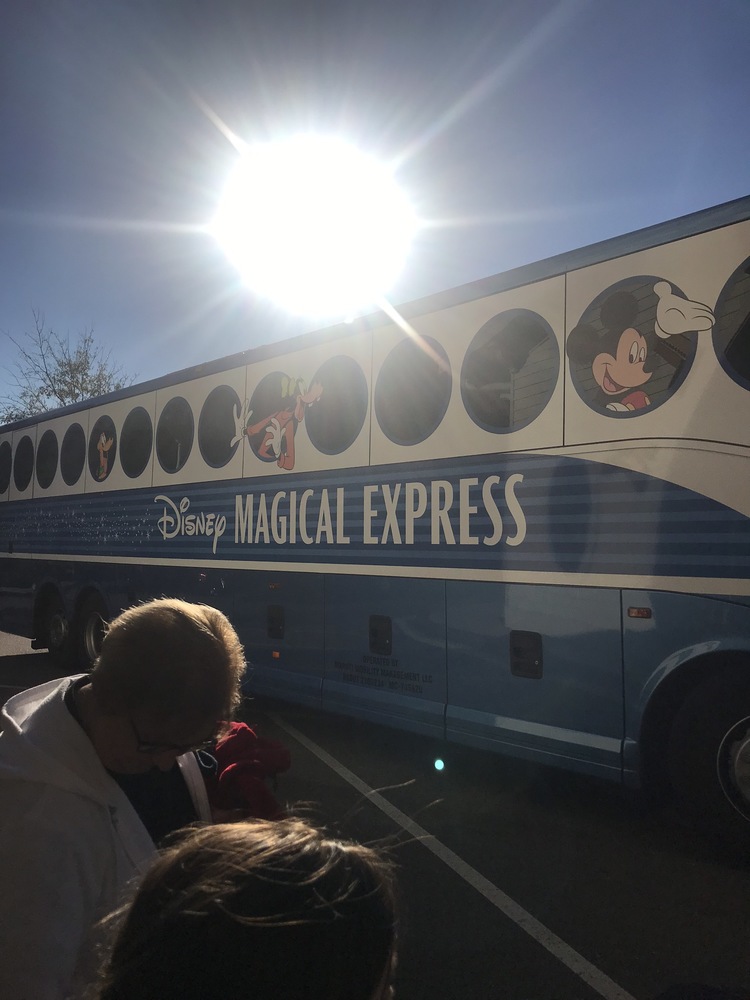 2. We will be back.
Like the Terminator: we no longer have a fear of missing out on something, because we know we will be back. When I see an announcement – and there are many – of a new attraction at Disney, I know I will get to see it in person. The new Tron Coaster? We'll ride it. Batuu? We'll walk in it. The replacement for Illuminations? We'll watch it. We'll do it all… eventually. So, when we didn't get to do Slinky Dog Dash last trip, we weren't sad. We WILL do it next trip, and due to #3 I have that trip and the 6 after already tentatively planned. So, we relax and take in the vacation the way we intended and we do it with ease due to #4. Prior to DVC, we would rush and jam in every last drop of Disney we could, for fear of not being able to do it ever again. It is thanks to DVC that we are able to leave room in our vacation to simply relax. This makes the Magical Express still magical when it whisks us away to the airport.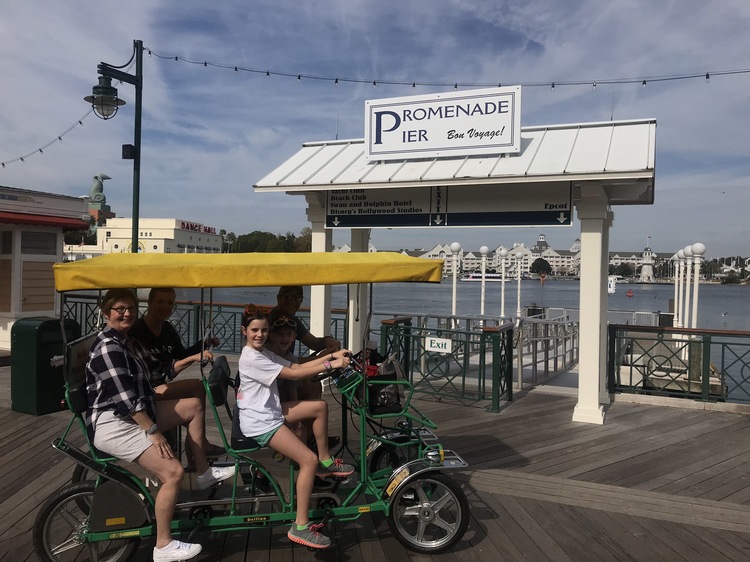 1.The Possibility is Endless (but my wallet still isn't).
Annual Passes are now a real possibility, so is Tables In Wonderland, so are after-hours events, and so are many other extra expenses. Disney World is a place where there aren't many limits; if you can think of it, Disney can probably provide it for a fee. Prior to DVC, I would plan our trips and see all these "add ons" to the main attractions that I would love to be able to try, but the overall expense of the original trip coupled with the restraints on time in our visit meant passing those up. I saw the pictures of the surrey bikes at the Boardwalk for families to simply ride around Crescent Lake, but who has time for that when you have to make it to the FastPass you fought hard to reserve 60 days ago? Now that we have the right mindset from #2, we have the time. Last trip we rode those surrey bikes until our legs couldn't pedal anymore (or maybe it was our wallet saying our rental time was up). So, DVC saves us money on the room, but opens the door to spending at the House of the Mouse in SO MANY OTHER WAYS. Highway in the Sky looked amazing but was out of reach before DVC, now I am saving my pennies for our next trip (which is adults only) so I can experience it myself and not just through all the vlogs I watch thanks to #5.
Whether it is preparing for the visit or finally doing one of the things on my Disney bucket list, DVC makes my family's life a little richer. And that's the point, right? That is what makes "Welcome Home" magical.