Welcome Aboard the Galactic Starcruiser
On March 1st, Star Wars fans around the world finally had their greatest wish fulfilled.
Disney Imagineers opened their new resort, one with unprecedented immersion.
The marketing team had promised an experience unlike any other in the tourism industry. Guests can now live out their own Star Wars adventures.
Does the hotel live up to the hype? Here are my early thoughts on Star Wars: Galactic Starcruiser. Spoiler: It's stunning.
What Happens on Galactic Starcruiser?
Disney went meta with its high concept hotel. At Galactic Starcruiser, you'll enter a concrete building owned and operated by the Chandrila Star Line.
The conceit is that you're a luxury traveler boarding the Star Wars equivalent of the Titanic, only without any fear of space icebergs.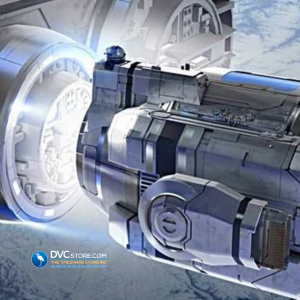 First, you must get there. So, you start at Chandrila's dully designed office. Then, you take a short starship trip to the magnificent Halcyon, the titular Galactic Starcruiser.
The quick trip mirrors the stellarvator experience at Space 220. You're in a small vestibule along with other hotel guests/cruise travelers.
The digital displays on both sides of the room show your departure from the space dock toward your destination, the gigantic cruise ship.
Digital projection proves integral to the overall Galactic Starcruiser experience.
You'll find digital monitors on the ship's bridge, in the dining hall, and your hotel room.
Each one reinforces the theme that you're traveling on a journey through space, heading toward your ultimate destination, exotic Batuu.
Yes, that's Star Wars: Galaxy's Edge at Disney's Hollywood Studios. As with one of our real Earth cruises at sea, you'll spend a day at port.
The port in question here is the theme park near the hotel. Before then, you'll spend a day on the ship, though.
After all, you cannot teleport to Batuu. It's not that kind of sci-fi story. So, you spend your first day on Galactic Starcruiser as a ship passenger.
You'll enter the hotel lobby, which is also the ship's main deck. Here, cast members will greet you. And that's when the experience begins.
How Is the Storytelling?
Some of these cast members look like humans in themed cast member costumes…because that's what they are.
However, others look like aliens from other parts of the Star Wars universe. You may recognize some of these characters from Star Wars movies and TV shows.
Disney has created other races just for Galactic Starcruiser. So even if you're not a Star Wars fan, you'll eventually figure out who is who.
I say this because your Star Wars adventure begins on the Halcyon's main deck. Those cast members will introduce themselves and explain who they are.
You should pay attention because the whole thing plays out like a murder mystery dinner party, only without the murder.
When you meet the Halcyon's captain, she'll relay information about her ship, her crew, the First Order, and The Resistance.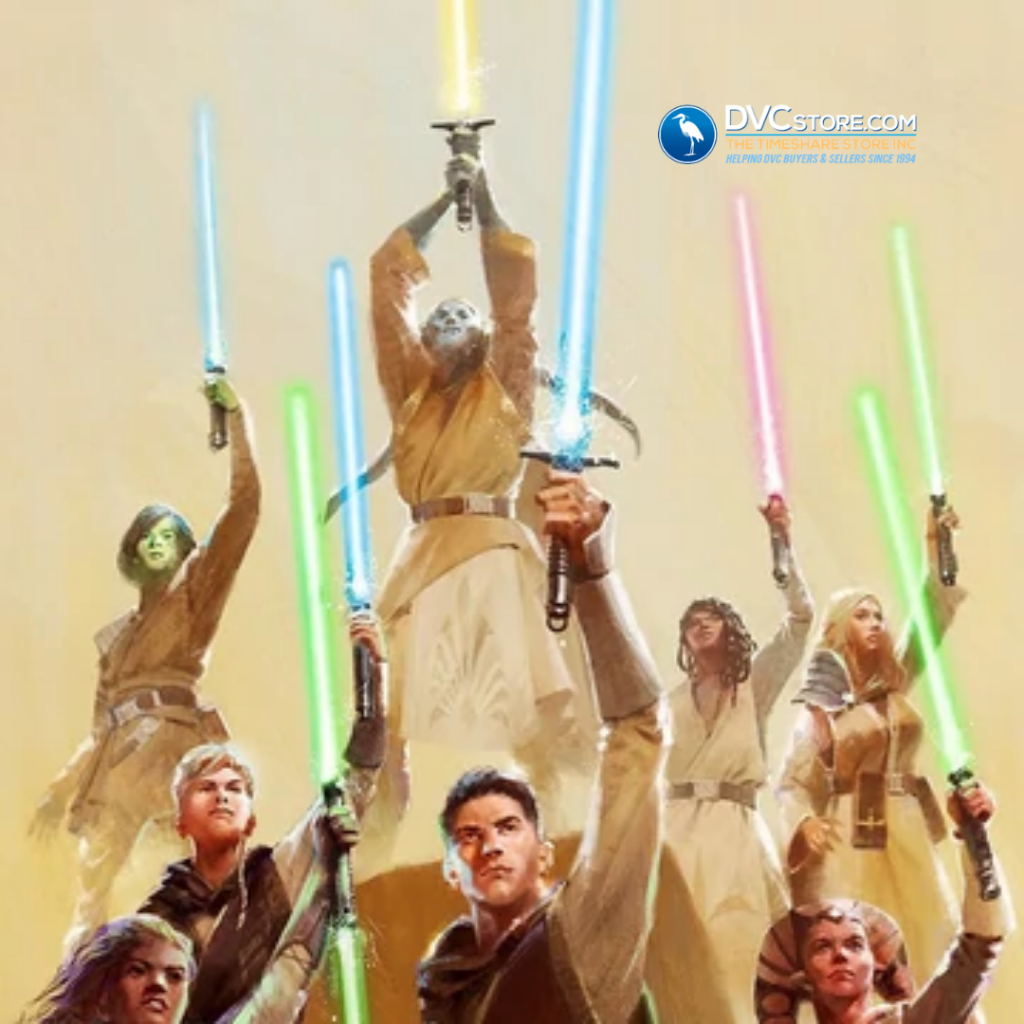 Eventually, you'll choose your adventure, deciding whether to fight with the Jedi or the Sith. Don't be a monster. Pick the Jedi.
You'll make your life choice via the Play Disney Parks app. It'll turn into a Galactic Starcruiser data pad during your trip. And it'll connect you to the story.
Various characters will message you with mission requests.
You can do things like hack computer consoles, run interference for Resistance members on the run, or even trap Stormtroopers.
Each choice you make comes with ripple effects on the rest of your story. Should you succeed in a quest, you'll earn the trust and respect of the characters.
Long story short, the "story" is whatever you make it. Each hotel stay will come with the same main story beats, but you're in charge of the specific details.
Here's a video of someone completing various tasks:
This storytelling environment includes persistent improvisation. It's a daring attempt at a new form of interactive entertainment.
How Are the Interactive Elements?
The answer to this question depends on how much of an extrovert you are and how much you enjoy spontaneous creativity.
In a way, Galactic Starcruiser is like a teacher calling on you in class, whether you're ready or not.
When you participate more in class, you'll get called on more. However, cast members have received training to keep everyone involved.
Otherwise, guests are paying thousands of dollars to stand and watch others. Some people WANT that, though. And Disney's fine with that!
Cast members will tell you that you can participate as much or as little as you want. So, introverts shouldn't feel stressed about their vacations.
You can let others do the heavy lifting if that's your preference. But is that worth the hefty dollars/DVC Points cost? Only you can determine that.
Still, you should know that interactive elements are everywhere. At one point, you'll leave the resort to travel to Batuu.
Even your vehicle includes interior theming to maintain the illusion that you're in outer space.
You'll enter through a private gate when you arrive at Hollywood Studios. Once there, you'll receive a metric ton of new missions to complete.
You may see Galaxy's Edge in an entirely different light, as you'll suddenly appreciate many of the interactive elements hidden in plain sight.
At the hotel, the interactive elements run the gamut. For example, you will train with a lightsaber, learn how to perform bridge duties, and even use The Force to move rocks.
Along the way, you'll watch cast members put on a show that lasts the whole trip!
The whole visit ends with a dramatic showdown between Star Wars characters you know from the movies. You'll even watch fireworks at the end!
For three days, you're a part of the Star Wars universe.
How Are the Hotel Rooms?
I don't want to make Galactic Starcruiser sound perfect for everyone. It's not.
People who don't like to be put on the spot will dislike some quests. These activities call for quick thinking.
Also, the whole experience gets pretty intense. So, if you want a relaxing vacation, this isn't the place.
Also, virtually all the action takes place indoors. You won't swim in a pool here because there isn't one.
You also won't stare out your hotel room window…because that's a projection monitor as well.
Disney maintains the illusion in the hotel rooms. They resemble the crew quarters you've noticed in sci-fi movies.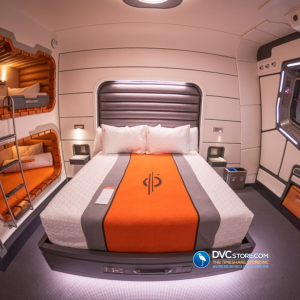 The space could feel tight and claustrophobic for some. However, the rooms are functional and efficient.
You'll find all the usual Disney hotel amenities like H20 products, hairdryers, and a mini-fridge.
Your room will just look like Captain Picard's quarters — Yes, I know that's Star Trek, not Star Wars, but it's true.
Disney claims that the rooms sleep five. The bunk beds will work well for anyone up to 6'2″, which is my height. Anybody taller than that may struggle to get comfortable.
Otherwise, the main things you'll notice involve the theming. Your "window" is another digital project. It's awe-inspiring and immersive.
Disney has designed it to show your travels throughout the galaxy. You'll even notice Batuu growing closer as you prepare for your port day.
The hotel TV works like cruise ships and air travel in that it shows your navigational course to Batuu.
You can adjust the setting to watch regular cable/network programming or Disney movies on demand.
Your decision depends on how willing you are to maintain the illusion of your Star Wars adventure.
Overall, you probably won't spend much time in your room anyway.
Final Thoughts
I know that Galactic Starcruiser faced massive negative buzz in recent weeks. Some people swore that it was dead on arrival.
Since then, I've watched early guests cry with joy as they delighted in the emotional resonance of the experience.
Questions remain about how large an audience this project will have. However, the hotel only includes 100 cabins anyway.
This place will maintain an outsized conversational footprint relative to the number of people who stay here.
Still, Disney deserves tons of credit for this achievement. The early reactions are GLOWINGLY positive.
Will that statement remain true in four months after all the diehards have visited? Unfortunately, that's impossible to answer.
What I can say is that if you were worried that this would be a debacle, you can breathe again.
Disney has somehow elevated immersion to an unprecedented level. You genuinely can live out a kind of Star Wars adventure during your stay.
Is that worth thousands of dollars or hundreds of DVC Points? You must decide that for yourself.
For diehard Star Wars fans, I believe that it is a dream come true thanks to the magic of Disney Imagineering and dedicated, tireless cast members.