What to Expect at Animal Kingdom Villas
One property earns diehard support whenever a debate occurs about the best Disney Vacation Club resort.
The evangelists for this place cannot differentiate between Walt Disney World vacations and the resort itself.
They've connected one with the other for many years, as many of their best family memories happened at the hotel.
So, what should you expect at Disney's Animal Kingdom Villas? The answer is one of the best Disney vacations of your life. Allow me to explain.
Arriving at Animal Kingdom Villas
The first thing to establish is that the Animal Kingdom area of Walt Disney World resides apart from nearly everything else.
When you look at a map of the Disney campus, you'll notice that the theme park and hotel reside in the southeastern corner.
In fact, the twin properties at Animal Kingdom Villas, Kidani Village and Jambo House, are so far southwest that they're nearly off Disney property.
For this reason, your arrival at Animal Kingdom Villas won't play out like most other DVC resorts.
You're not in the middle of nowhere by any means. However, you're definitely away from the other three Walt Disney World theme parks.
I'll provide specifics in a later section. But, for now, I want to emphasize that this isolation isn't a problem at all. On the contrary, for many guests, it's a blessing.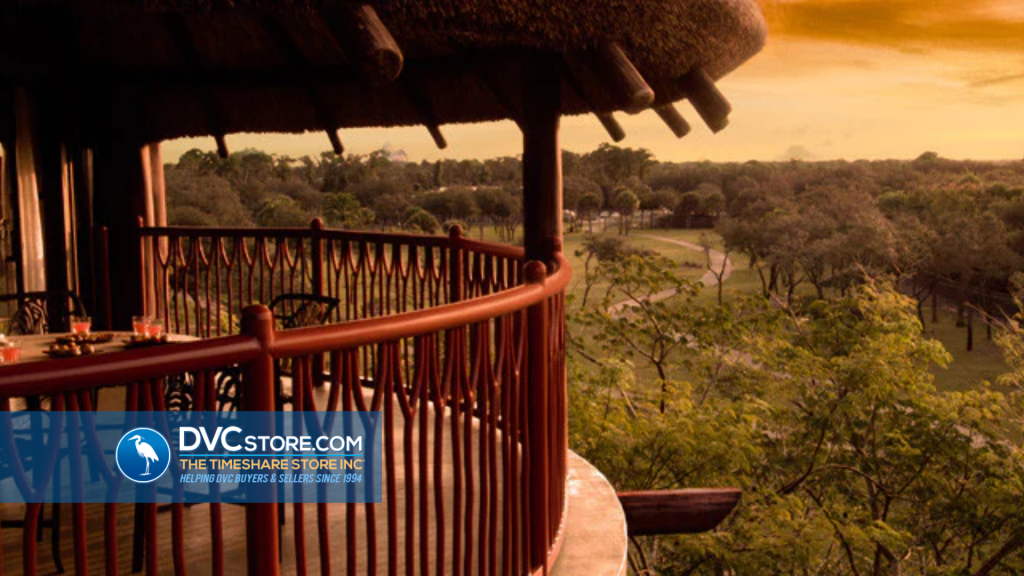 Seclusion and Walt Disney World vacations don't go together often. However, over the years, many folks have developed a taste for the serenity at Animal Kingdom Villas.
Still, you should allow for a few more minutes on your trip to/from Orlando International Airport, as it's 24 miles away. Most DVC resorts are closer.
Once you reach Animal Kingdom Villas, you'll forget the outside world exists.
The immaculate theming at the twin resorts will cause you to believe that you're on an African safari, not at Walt Disney World.
In fact, your hotel will contain multiple savannahs that function as "natural" habitats for several breeds of animals. It's the conceit of the resort that will keep you coming back.
You'll be hooked once you look out your window and watch giraffes frolicking outside.
Hanging Out at Animal Kingdom Villas
Realistically, the unforgettable parts of Animal Kingdom Villas' vacations stem from the animals.
Parents with small children never forget some of these magical moments. Kids believe that anything is possible when they're at Disney.
So, the thought of animals living close to the hotel lobby doesn't confuse or surprise them. It's just Disney doing the impossible again.
Still, the resort offers plenty beyond its animal residents. In fact, they're really just the tip of the iceberg.
Kidani Village and Jambo House host some of the best dining at Walt Disney World, and that's not hyperbole.
You can walk down the stairs at Jambo House and be at Boma – Flavors of Africa in a matter of seconds.
Here, you can eat one of the resort's signature dishes, the Zebra Domes.
This dessert combines chocolate, white chocolate, and Amarula Cream Liquor mousse. It's a fever dream of deliciousness.
Remarkably, you'll also find Zebra Domes for sale in packs at The Mara.
On day one, grab a batch and stick them in your mini-fridge/refrigerator for the rest of your trip.
Speaking of The Mara, it's in the conversation for the best Quick Service DVC restaurant in the world. Also, its breakfast menu is delicious.
Foodies and wine lovers are zealots for Jiko – The Cooking Place, a Signature Dining experience that's also a terrific romantic dinner for couples.
Jiko comes with a hidden benefit as well. Some of the seats overlook an animal savannah just past the restaurant's windows.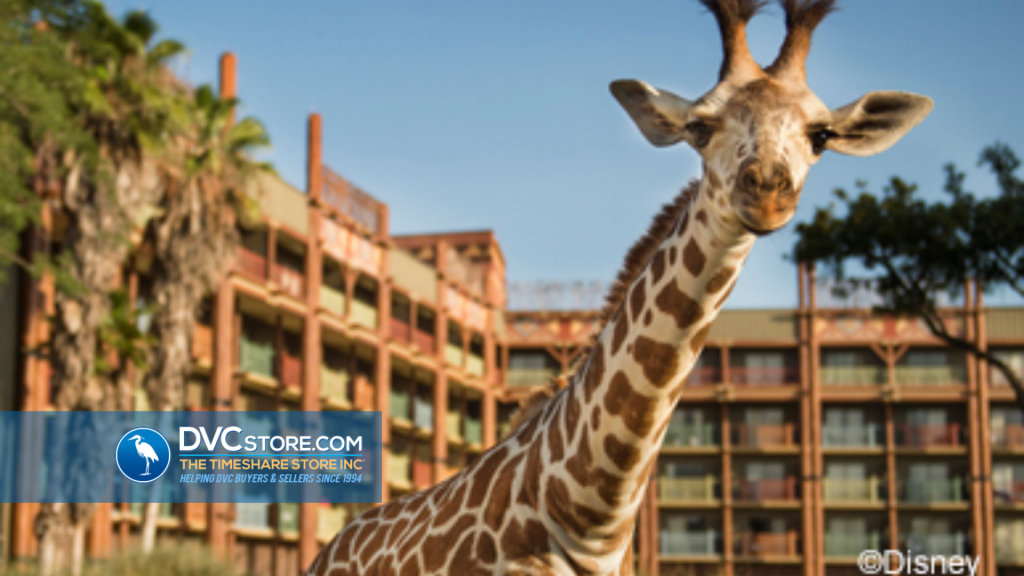 You can watch animals frolic while you eat, which is a spectacular side benefit.
By the way, I haven't even mentioned Sanaa yet. Some people believe it's the best restaurant at the hotel.
Stating the obvious, you will eat very well at Animal Kingdom Villas.
What's Close to Animal Kingdom Villas?
Due to its location, Animal Kingdom Villas does suffer some logistical issues.
I mentioned its distance from the airport. It's also not that close to three of the four theme parks at Walt Disney World.
Obviously, you're only a five-minute bus ride away from Disney's Animal Kingdom. Similarly, you're quite close to Disney's Blizzard Beach Water Park.
Beyond that, other Disney hotels are closest to Animal Kingdom Villas. We're talking about Disney's Coronado Beach Resort and the All-Stars locations.
Google suggests that Disney's Hollywood Studios is less than five miles away or an 11-minute bus ride.
Meanwhile, EPCOT lies 7.5 miles away, with Magic Kingdom in that ballpark as well.
For this reason, I stay at Animal Kingdom Villas most often when I'm doing a DVC split stay. So I pick this resort during the Animal Kingdom section of my trip.
This decision stems from a secondary factor at the resorts. Ride-sharing services don't always cover this area the way they do the rest of the Disney campus.
You may wait longer to find a driver since fewer drivers are staffing the area.
Still, that's a small price to pay in exchange for having animals in your backyard while you're on vacation.
What Else Should You Know about Animal Kingdom Villas?
I should explain the twin hotel concept. Jambo House opened first in 2001. Like Disney's Wilderness Lodge, it features the work of architect Peter Dominick.
So, Jambo House's lobby is massive in scope and truly a sight to behold. It's spacious and serene, and I love napping here, often unintentionally.
When you walk through the lobby and head outside, you're standing right by some of the animal savannahs as well. So, it's a wonderful hangout spot.
Kidani Village didn't debut until a while later in 2009. It features a smaller lobby, but the unmistakable, gorgeous African influences are everywhere.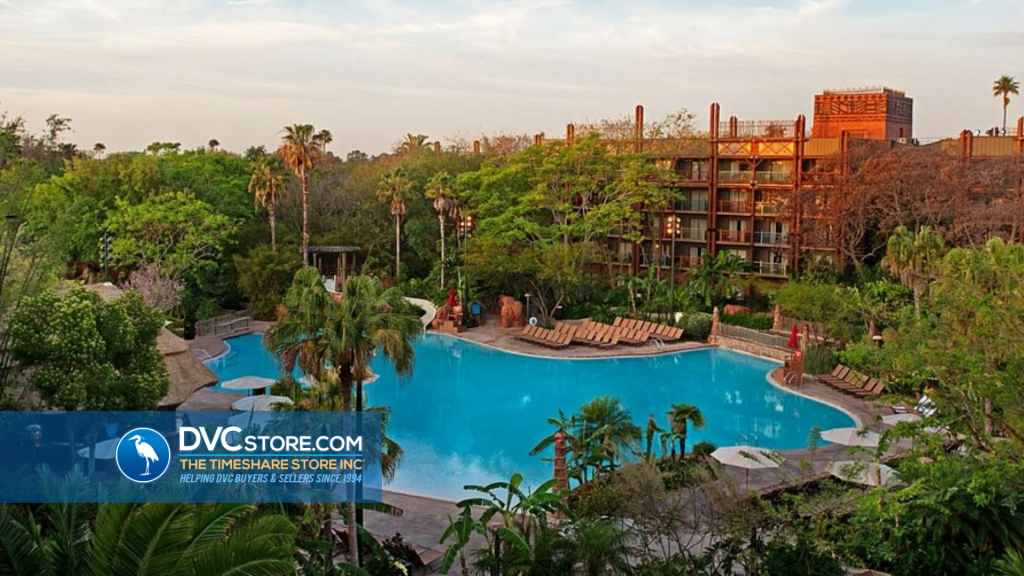 Frankly, you cannot go wrong with either of the resorts. I'm Team Jambo House, which I've always found quieter.
However, others swear that Kidani Village is the place to stay when you want a more relaxing vacation.
Either way, you'll want to pay attention to how you book this resort. The property offers three unique room types, each of which has its advantages.
The Value room type is basically a standard hotel room, which means it's smaller than the villas. We're only talking about 50 square feet less space, though.
Since these rooms are so cheap, they tend to book quite early. Similarly, you can reserve a room on the concierge floor at Animal Kingdom Villas.
The room type is the Kilimanjaro Club Concierge, and it'll entitle you to access to the concierge club lounge.
They serve the resort's beloved Jungle Juice here. So that's reason enough to book this room type occasionally.
Finally, the Savannah View is precisely what you would think. It provides in-room hotel views of the animal savannahs outside.
I'm devout in the belief that you should book Savannah View when you stay at Animal Kingdom Villas. Otherwise, what's the point?