What to Expect at Disney's Aulani
During the earliest days of the Disney Vacation Club, vacation strategists envisioned Disney hotels at tourist hotspots around the world.
Alas, that didn't happen due to some strange circumstances in California and some hostility from South Carolina locals.
Still, the DVC collection features three resorts that reside at tourist destinations. Today, I'm going to talk about the most unique of them.
What should you expect at Aulani, Disney Vacation Club Villas? In a word, paradise…
Arriving at Aulani
Unless you're in the Navy, odds are good that you'll reach the hotel by plane and then car.
You'll likely fly into Daniel K. Inouye International Airport in Honolulu. The airport code is HNL, and it's on the island of Oahu.
That's perfect because Aulani resides on the beaches of Ko Olina on the coast of Oahu!
Please note that you'll discover other airport options if you research some, but let's keep this simple. Otherwise, you'd get information overload.
Anyway, once you're at the airport, you'll discover a wealth of options for traveling to the resort. Disney recommends shuttle service via Hele Hele Shuttle.
You can also use cabs, ride-sharing services, car rentals (if you can book one), or even a limousine to take you to and from the hotel.
I don't have a dog in this fight other than to say that none of it is free. You can read the official details on Aulani's website.
Also, I should warn you that some members feel the Honolulu airport is dated. Thankfully, it's so small that you can't possibly get lost there.
Once you've chosen your ride, you'll spend about 30-35 minutes driving the 20 miles to the hotel.
You'll know you're at Aulani when the décor starts looking like something legendary former Imagineer Joe Rohde designed…because he did.
The lobby is immaculate, and you can exit one side to gain a sweeping view of the resort, the ocean, and the forestry. It's breathtaking.
I frequently watch Aulani videos while I'm working as a way to feel relaxed and happy. The place is stunning.
(PS: Parking is free for DVC members when staying on DVC points!)
Hanging Out at Aulani
You'll never lack entertainment at Aulani, especially if you're just there to relax, eat, and/or swim.
When you envision an exotic island vacation, the image in your head uncannily resembles the actuality of Aulani.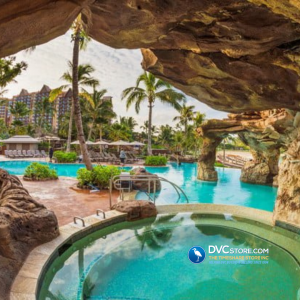 The official site lists six pools under its activities, but that's underselling the situation. For example, a pool just beyond the lobby features a lazy river that seems to run forever.
Of course, you can swim with the fish if you'd prefer. The ocean lies mere steps beyond the pool area. Please know that the currents are strong, though.
Yes, Aulani is a beachfront property, but that's again underselling it. Disney owns and maintains a private beach here that's absolutely breathtaking.
As part of the beach activities, you can do highly active stuff like snorkeling, renting a paddleboat, or just swimming in the ocean.
Disney lists "more than 30 complimentary activities" at Aulani. However, much of the ocean stuff will come at a cost. You can and should research specifics.
I'm devout in the belief that when you take a trip to Hawaii, you should just lie in the sun and bask in your surroundings in between feasts, but you do you!
Speaking of feasts, the food here is outrageously good. I generally describe the monorail resorts and Disney's Grand Californian Hotel & Spa as having the best cuisine.
Aulani would make that shortlist as well and deserves a better reputation for its restaurants.
Makahiki — The Bounty of the Islands offers three-course meals for breakfast, lunch, and dinner. Here are Ordinary Adventures dining there:
The even better eatery is 'Ama 'Ama, but it's unfortunately still closed due to the pandemic.
Then, you'll find several counter-service restaurants that are all overflowing with island flavors.
Oh, and Disney hosts character greetings throughout the hotel!
What's Close to Aulani?
The snarky answer is the ocean, but that leads to an essential mention. Many, if not most, first-time Aulani guests take a tour during their trips.
You can visit Pearl Harbor, and enough people do it that Aulani's site lists details. Currently, the cost is $51.77 per guest.
You should purchase this early because it can and sometimes does sell out.
Overall, Aulani works differently than other DVC resorts. How much you leave the hotel grounds is entirely up to you.
Some people stay in the warm embrace of a Disney resort the entire time. Others get a bit more adventurous and do the usual Hawaiian tourist stuff.
You can take a helicopter tour, visit a different island, or even spend time at the North Shore. Aulani resides about 26 miles away from the surfer's paradise.
As you might imagine, it's become quite the tourist destination as well. Also, the area close to Aulani may seem a bit strange.
You'll discover an odd combination of other luxury resort campuses and mom-and-pop shops that take advantage of the thriving tourist market.
So, your decision will come down to whether you want to take a standard Hawaiian vacation or a decidedly Disney one.
This choice will determine how much of your time you spend away from Aulani.
Nobody's right or wrong here, but I advise people to avoid the potential hurdles of leaving the Disney campus, at least on their first visit. It's less stressful that way.
Are There Special Room Types at the Hotel?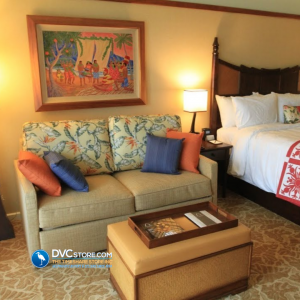 Oh yes! Aulani is among the most intriguing of all DVC properties in terms of its room options and DVC Points chart.
I often discuss how Disney has evolved into a system of "you get what you pay for." Aulani demonstrates this perfectly.
You can book a regular hotel room for as little as 16 points per night. No, I don't mean a studio. I'm referencing the same hotel room that anyone else would get.
So, for 112-147 points, you can spend a week at this hotel. That's…remarkable value for a Hawaiian vacation.
Seriously, I defy you to beat this offer on the open market, and you get Disney's high standards and amenities to boot.
However, you can do even better if you're willing to splash around your points a bit more.
For 117-168 points, you will upgrade to a studio. Please understand that the regular hotel rooms are bigger, possessing 382 square feet. The studios are 356 square feet.
Still, you get the expected DVC hotel room amenities in a studio. That's worth the extra points and square footage trade-offs for many.
Notably, that's only the start of studio pricing, though. Your basic studio or hotel room won't come with a view.
The DVC Points chart empowers you to determine your vacation perspective from your hotel room. For example, you can choose Island, Poolside Gardens, or Ocean View.
Island is synonymous with parking lot view. Island view represents a marginal upgrade wherein you're admiring the mountains more.
Poolside Gardens hints at the fact that the pool view isn't cut and dried here due to the design. You'll see more trees than water, but it's sooo lovely.
Finally, Ocean View means that you're staring out at the overwhelming beauty of the Pacific.
Should You Upgrade to a Better View?
I haven't even mentioned the suites yet. When you're taking a more extensive family vacation, those are also worth consideration.
However, the suites aren't as spacious as others in the DVC inventory. A one-bedroom is a reasonable 756 square feet, while a two-bedroom is 1,125 square feet.
Importantly, ALL suites come with the same room-type decisions. For example, even some three-bedroom Grand Villas include parking lot views.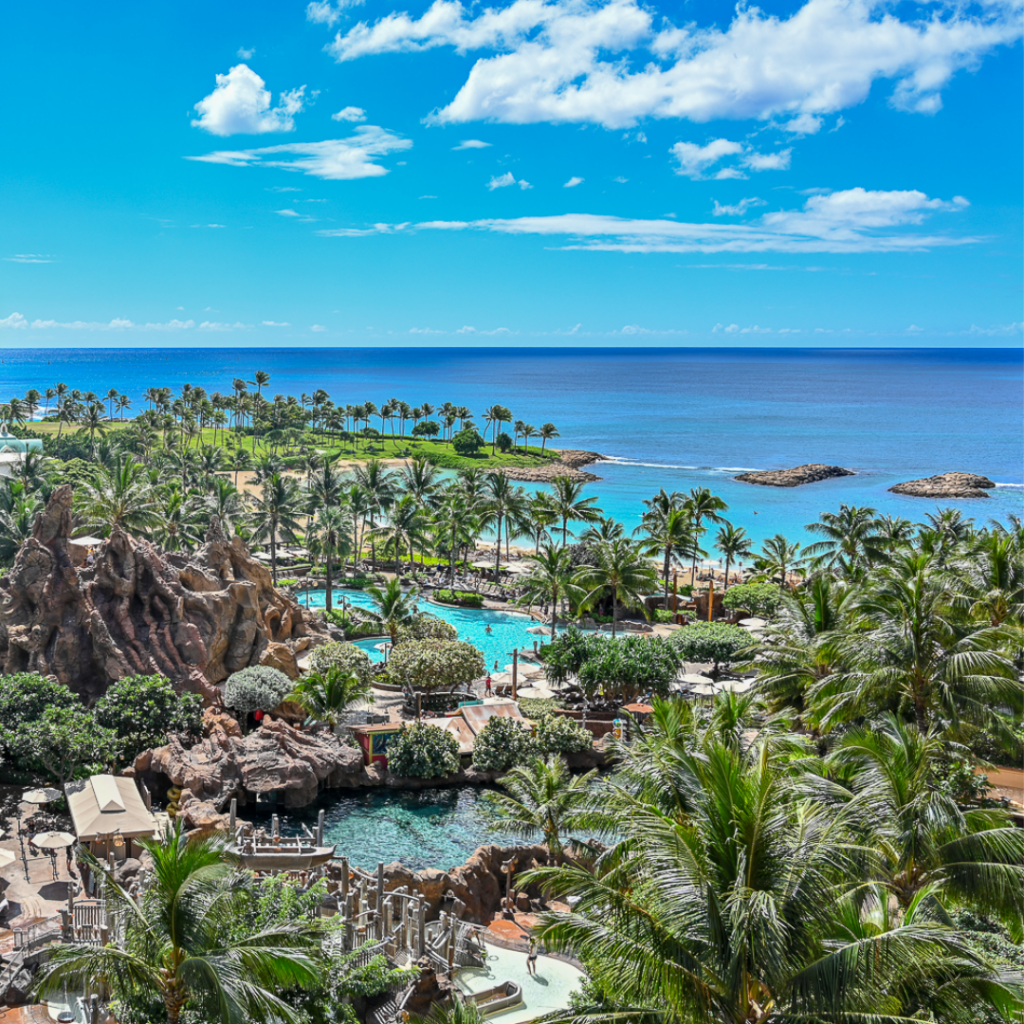 So, you must decide whether to spend more of your hard-earned DVC Points for a better view.
My recommendation is to communicate with your family about your travel goals/plans.
If you expect to spend plenty of time in your hotel room, ABSOLUTELY upgrade.
Realistically, most people will be out and about more than they'll hole in their hotel rooms.
As such, the room view upgrades aren't for them. Sure, it's nice to look out at the ocean each morning, but you'll probably admire it less than an hour per day.
Of course, I'm saying that as a pragmatist. Don't settle if this is your dream Hawaiian vacation, and you have the points! Go all out to make it unforgettable!
On the whole, Aulani represents the ultimate in DVC hotel stays. So when you want to escape and leave your daily struggles behind for a while, THIS is the place.