What to Expect at the Grand Californian
The Disney Vacation Club caters heavily to Walt Disney World fans.
However, you'll find one of the most luxurious resorts on the other side of the country.
Here's what you should expect during a stay at Disney's Grand Californian Hotel & Spa.
Arriving at Grand Californian
Central Floridians complain about I-4 a lot. Compared to Southern California traffic, it's like two bicycles on the same sidewalk, though.
I say this because reaching the Grand Californian will come with different challenges.
You'll likely fly into the greater Los Angeles area, arriving at either Los Angeles International Airport (LAX) or John Wayne Airport (SNA).
Not enough people Google this and pick LAX. John Wayne is actually closer, although LAX includes many more flights. So, you should research which one works best for your needs.
You'll pay for transportation from the airport to the hotel either way.
Walt Disney World used to have an advantage here, but Magical Express ends in less than two months. So from now on, you're in the same boat at either theme park resort.
The difference here is that Disneyland Resort includes much more congestion.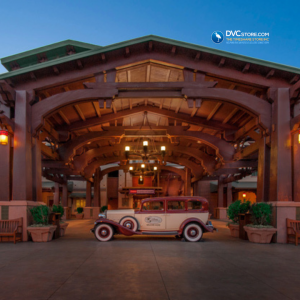 You'll face a difficult challenge in that you won't want to drive anywhere and won't need to do so at Disneyland.
Alas, the two parks here will only keep you thoroughly entertained for three or four days. After that, you'll drive everywhere else in Anaheim/Los Angeles. Go with God, my child. The freeways here are more intense than The Shining.
My point is that once you reach the Grand Californian, you won't want to leave. You'll get bored after a few days, though, and want to expand your horizons.
Once you're inside, you'll instantly recognize the architectural style. The same person designed this building as well as Disney's Wilderness Lodge and Disney's Animal Kingdom Lodge.
The familiarity will instill comfort. The Grand Californian feels like home.
Hanging Out at the Resort & Spa
This resort emphasizes the mid-century Craftsman style that Disney has favored over the years.
After all, when Disneyland opened in 1955, much of the surrounding landscape featured this architectural style.
Fittingly, the Grand Californian celebrates nature with a rustic look and plenty of foliage. This place would feel right at home near a California national park.
You'll relish the surroundings as you explore this luxury resort, winner of many awards, most recently the Forbes Travel Guide 2019 Star Award.
Outside, you'll discover three pools named the Fountain, the Mariposa, and the Redwood.
You'll understand the name of the Redwood when you use its water slide. It circles the trunk of a massive Redwood tree.
This pool counts as the main one, but the Mariposa and Fountain pools offer something you may like more. Both of them rent private cabanas!
These soft curtain enclosures will wall you off from the sun (or rain) when you want to spend private time with loved ones.
Disney has published a list of everything you'll find at the cabanas.
The other place you should visit during your stay is Tenaya Stone Spa. For a time, the Grand Californian lacked the spa it has in its name!
Then, this location finally opened in September of 2021 and has already proven quite popular.
Disney published this video tour of it:
Eating at Grand Californian
The dining at the Grand Californian will delight your palate and please your kids, too.
Napa Rose is arguably the most distinguished of all Disneyland Resort restaurants. Chef Andrew Sutton has won Chef of the Year in the Golden Foodie Awards.
His entrees focus on pairings with Napa Valley wines, providing exquisite flavors. Sutton has overseen Club 33's menu as well. That's how much Disney reveres him.
Sutton has anchored Napa Rose since the beginning, which explains why it's enjoyed such a glowing reputation for 20 years now.
Of course, you won't always want fine dining. That's when you'll appreciate Storytellers Café, a buffet-style restaurant with character interactions.
At breakfast, you'll love Mickey's Tales of Adventure Breakfast Buffet. It comes with the usual morning accouterments plus – I kid you not – pineapple juice baggies.
Disney understands that kids want meals to be fun! Speaking of which, Mickey & Minnie Mouse join Chip 'n' Dale and Pluto at this meal!
Obviously, Disney has modified this experience during the pandemic. It still offers a buffet, though.
Grab-and-go fans will also appreciate GCH Craftsman Grill, the Quick Service restaurant that accepts mobile orders.
Both Table Service restaurants book early. So, the GCH Craftsman Grill may turn into your default choice during an extended resort stay.
What's Close to the Resort?
Everything at Disneyland. Seriously, you're never more than a 20-minute walk from virtually everything on the campus.
The entire Disneyland Resort campus covers only 500 acres, which means both parks, Downtown Disney, AND the resorts are acres smaller than Disney's Animal Kingdom alone!
Walt Disney World fans who are used to walking a lot may experience a bit of culture shock due to the compressed nature of the two parks.
Still, the closest location to Grand Californian is inarguably the best. Disney officials learned from Disney's Contemporary Resort and Disney's Beach Club Resort.
Those properties reside within walking distance of Magic Kingdom and EPCOT. Yet, the Grand Californian somehow does even better.
When you exit the hotel lobby and turn left, you'll discover an alley that's actually the check-in area for Disney California Adventure (DCA).
That's right. The hotel lobby resides only a few steps away from a side entrance to DCA! After a few steps, you'll stare at Grizzly River Run!
If you turn left and walk down the path, you'll see the Soarin' Around the World ride building up ahead. So, you're a five-minute walk away from DCA's most famous attraction!
You're also only a ten-minute walk away from the entrance to Disney California Adventure. So by taking this approach, you can be inside Disneyland in less than 15 minutes!
As for Downtown Disney, it shares exterior features with the Grand Californian.
You exit the hotel and are right beside The Disney Dress Shop. You're also facing Salt & Straw.
This information may help you decide where you'll eat as well. You're not confined to the resort and park options!
What Else Should You Know about Grand Californian?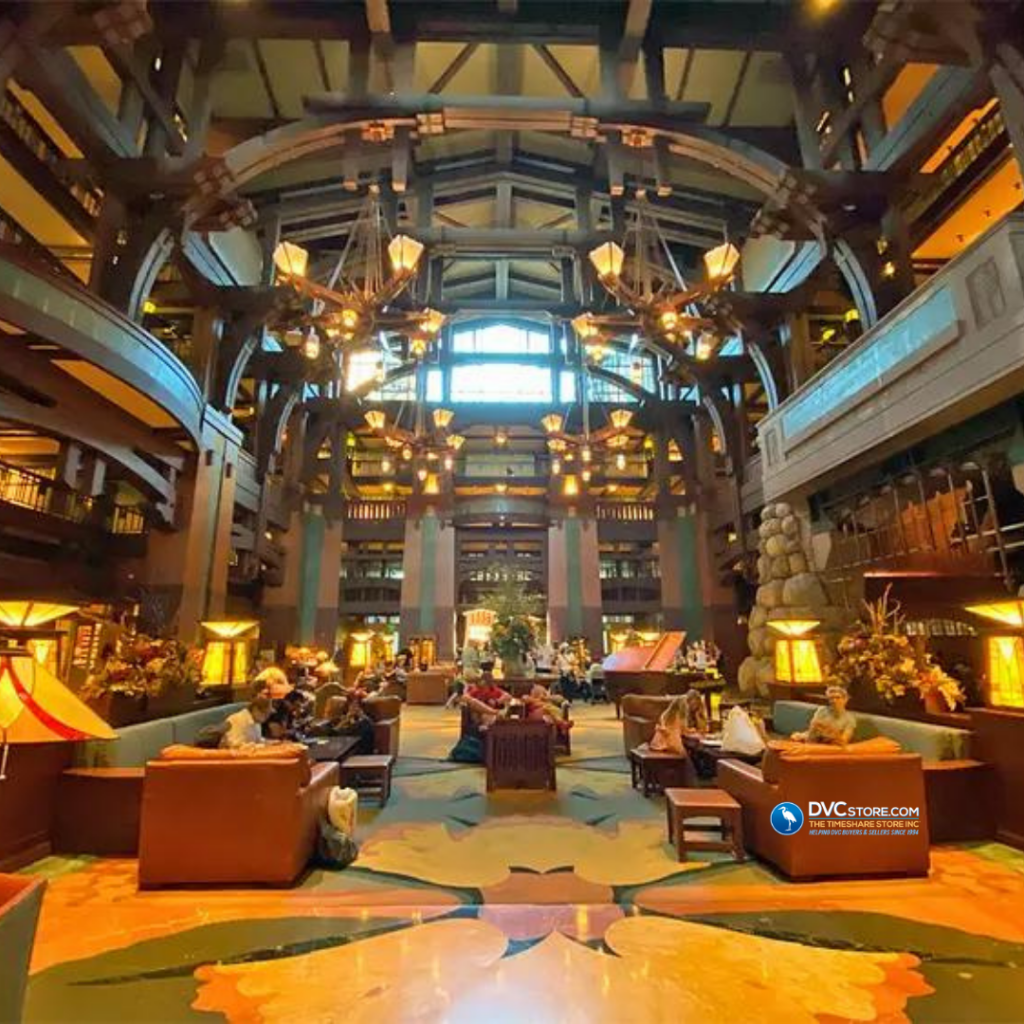 Let's address the pink elephant dancing in the living room.
If you want to stay at the Grand Californian regularly, you MUST buy a contract here.
Inventory remains tight at this hotel. The resort currently lists 48 units with a maximum of 71 available rooms.
Also, for at least another year or two, the Grand Californian remains the only choice for Disney Vacation Club members.
As such, competition remains fierce for rooms here throughout the year.
The impending expansion tower near Disneyland Hotel will help, but the pandemic has delayed that project.
For all these reasons, Grand Californian contracts generally list for some of the highest prices in the DVC Library. Even so, you must buy one if you plan to visit regularly.
On the plus side, the DVC Points Chart for the Grand Californian qualifies as reasonable.
For more than half the year, you can spend a week here for 148 points or less and sometimes as little as 129.
Contrast that to Disney's Grand Floridian Resort & Spa, which starts at 143 points and hangs in the 160s and 170s most of the time.
DVC could charge more points for these rooms but doesn't. So, when you do purchase a Grand Californian contract, you get your money's worth.
The onsite amenities, excellent logistics, and private access to Disney California Adventure make the Grand Californian a terrific place to stay.