What happened over the past month? I could talk for hours, as it was one of Disney's most eventful months ever.
We'll skim through the highlights in this month's DVC News!
The Disneyland News
First, we finally know when Splash Mountain will close. Disney has confirmed that Disneyland Park's final day of operation for the wet ride will be May 31st.
Park officials understandably wanted to wait until after Memorial Day Weekend.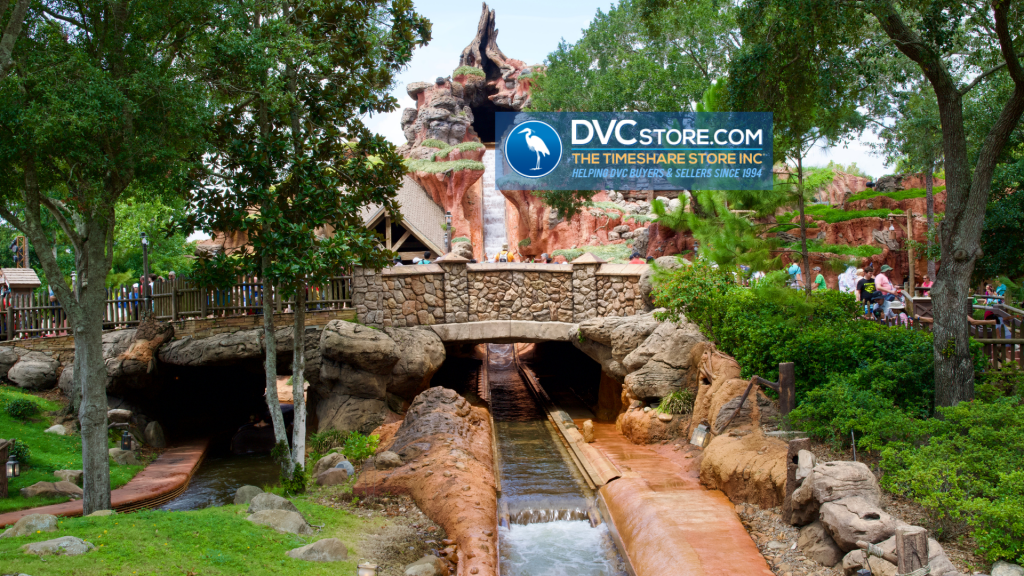 How will Disneyland Resort handle the loss in throughput? It'll start with a new show debuting at the Hyperion Theater on June 30th.
Yes, that's the official date for the arrival of Rogers: The Musical!
Before that, Disneyland will do something else fun in May. The Hyperspace Mountain ride overlay will return on May 1st and remain until June 4th.
Meanwhile, Mickey's Toontown has opened since we last spoke. Unsurprisingly, it's proven wildly popular.
More importantly, the updated themed land hints at the future of Disney theme park design.
Accessibility and inclusivity are on display everywhere. Park officials have redesigned the land so that all areas will feel comfortable.
There are even quiet areas for those who find theme parks too intense/disruptive at times.
Disney has also added a first. The former Sneaky Pete, now just Pete, is hosting a character greeting at Mickey's Toontown.
Pete's no longer a villain in Disney canon, and park officials have leaned into that fact.
Speaking of which, Disney has also announced character greetings for Moana and Mirabel from Encanto coming to Walt Disney World later this spring!
Character greetings provide an optimal way to siphon traffic away from attractions, thereby keeping the lines shorter and guests thoroughly entertained.
Speaking of rides, the revamped Indiana Jones Adventure has finally reopened! Here's a video that highlights the improvements:
By the way, Magic Key sales reopened on April 11th, but two tiers had sold out by the following day. All of them may be gone by now.
Disney's current annual pass strategies are confusing.
The DVC News
Okay, we've made forward progress on The Villas at Disneyland Resort…and I don't mean physically.
Sales are officially underway for the next entry in the DVC lineup. As you can tell, Disney has massive plans for the Happiest Place on Earth.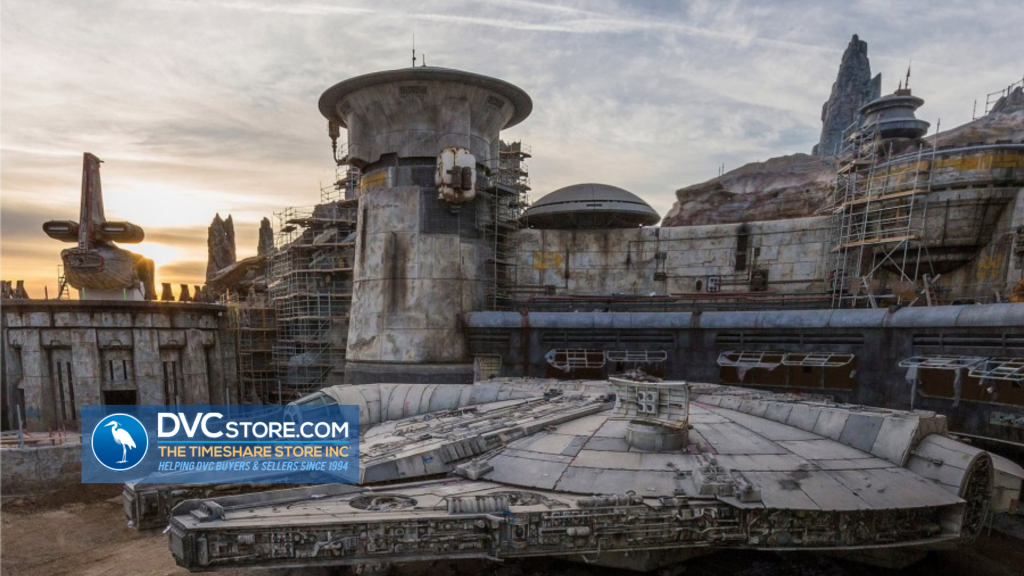 On top of the previously mentioned additions and enhancements, the new DVC Member Lounge opens this week.
Disney has built the new lounge in the former building for Walt Disney's Carousel of Progress.
The new space looks a lot like the old-school version of Space 220. What I mean is that it's like Disney replaced the digital screens at the restaurant with old props and drawings.
You'll find some fascinating Disney memorabilia, like a rocket ship used in some old 1950s television programming.
The wall art also honors drawing styles of Disney icons like Mary Blair. It's a beautiful space that will allow qualifying DVC members to rejuvenate during a hectic park day.
In other DVC news, Star Wars: Galactic Starcruiser definitely lacks the same level of demand in year two.
So, Disney has reduced the number of weekly cruises from three to two.
In restaurant news, Narcoossee's at Disney's Grand Floridian Resort & Spa has reopened with its new look. You can see some of it and new menu options here:
Finally, at Disney's Hilton Head Island Resort, you'll find some new friends. Chip 'n' Dale are greeting guests at the hotel!
The Walt Disney World News
Let's start with what will matter most when we look back in a few years.
Tron Lightcycle / Run has officially opened at Magic Kingdom. In the process, Tomorrowland has completed its multi-year transformation.
The arrival of Tron signifies an entirely new skyline plus an E-ticket roller coaster that has wowed fans.
Disney also opened the new Tron gift shop formerly known as Tomorrowland Light and Power Co. Now, it's Tomorrowland Launch Shop.
Remarkably, this place debuted the same day as Tron, April 4th, despite Disney's indication that the store would face a prolonged delay.
Friends happily relayed the news that they were playing with the TRON Identity Program.
This new experience allows you to turn yourself into an action figure in the Tron universe! Here's Tim Tracker demonstrating the process:
Speaking of the Tron coaster, you should know something. Disney is strictly enforcing return times for Lightning Lanes and Boarding Groups.
Historically, cast members would look the other way on this stuff. However, the popularity of Tron has forced more stringent deadlines.
So, when you own a Lightning Lane or Boarding Group, you should go as soon as Disney signals!
Also, you should be ready to book first thing in the morning. Virtual queues are selling out in 10 minutes or less, while Lightning Lanes aren't lasting much longer. Demand for Tron is incredible!
Speaking of Boarding Groups and Lightning Lanes, Guardians of the Galaxy: Cosmic Rewind will continue to use them, as will Seven Dwarfs Mine Train.
With the arrival of Tron, many guests wondered whether Disney would reduce the number of Lightning Lane attractions and virtual queues. They…did not.
The Walt Disney World News Part II
While we're talking EPCOT, management just announced the dates for the 2023 EPCOT International Food & Wine Festival. It's starting a bit later this year.
EPCOT's most popular festival opens on July 27th and remains until November 18th. Plan/adjust your DVC vacations accordingly.
Elsewhere at EPCOT, Garden Grill will bring back its popular breakfast offering on June 14th. That's a recurring theme at the park.
Akershus had previously announced the return of breakfast and lunch character meals starting on May 14th.
Meanwhile, Rodeo Roundup BBQ has finally opened at Disney's Hollywood Studios after a multi-year delay.
Here's how the Toy Story Land Table Service Restaurant looks inside:
I have yet to have the pleasure of dining here, but people I trust are absolutely raving about it.
Also, remember that urban legend about toys that freeze when someone shouts, "Andy!"? They really do that at this restaurant!
Disney has also brought back annual pass sales at Walt Disney World, as we discussed in a standalone article.
I was one of the people who purchased the Disney Sorcerer Pass early on April 14th.
As usual, Disney tech proved frustrating, but I've got an annual pass again. That's all that matters! The Sorcerer Pass is mostly equivalent to the old DVC Gold Pass we all used to love.
If you want one, you haven't missed your window. Sales don't open to the general public until April 20th.
At that point, you can theoretically buy any of the WDW annual passes, although park officials have warned of quick sellouts.
The other story of note at Walt Disney World involves Disney Genie+.
During Easter Week, Disney charged more than ever for the service, $35 plus tax per day. And it sold out faster than ever! Plan accordingly for holiday trips.
The Non-Park News
You can tell how much Disney has declared over the past five weeks, and I'm glossing over some big stuff.
Still, I'd be remiss if I failed to mention the labor agreement. Walt Disney World and its unions finally settled a labor dispute.
I'm happy to report that Disney and more than 40,000 cast members have agreed to a long-term salary plan that includes immediate raises for hourly workers plus backpay.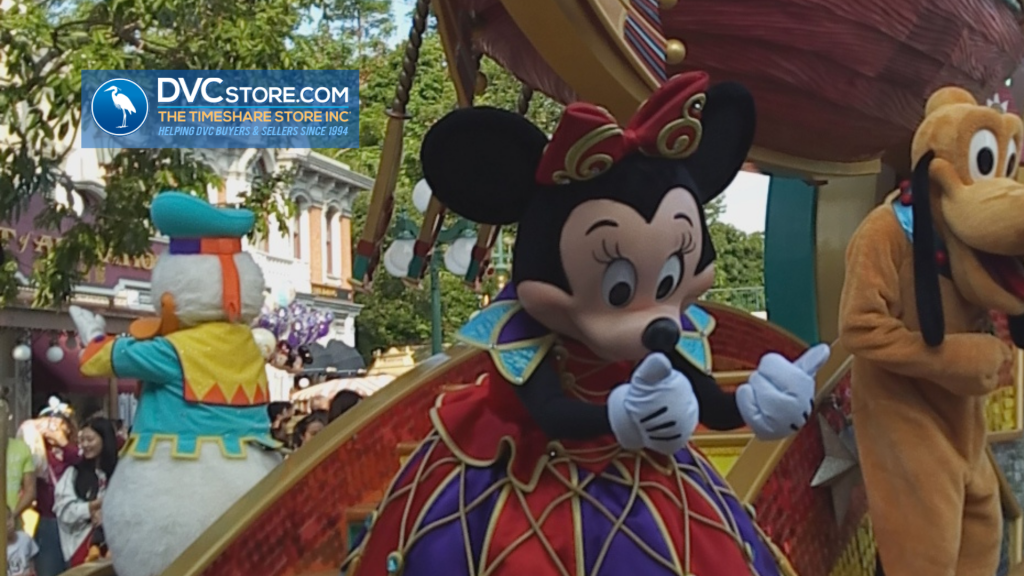 Given how much DVC members adore cast members, I'm confident this news thrills you.
In more convoluted news, we've suffered several twists and turns in the ongoing Reedy Creek Improvement District saga.
Leaving the politics out of this, what I'll say is that Disney anticipated interference from the new Central Florida Tourist Oversight District (CFTOD).
That district is really just the previous Reedy Creek with a new name, but Florida's governor has determined the five new board members.
Disney deftly sidestepped the aggravation by legally empowering itself to self-govern the Reedy Creek land for another 30 years.
In fact, the former Reedy Creek board of Disney loyalists worded the paperwork to say that Disney would maintain control until the last heir of King Charles III had died.
King Charles III's youngest grandchild is four. Disney could control this land for a while.
Obviously, the CFTOD board is apoplectic about this and plans to file paperwork that will claim governmental superiority.
Yes, we're heading to court, and the whole thing will somehow get messier than it has been. Still, nothing should impact DVC members for the foreseeable future.
Finally, here's our first glimpse of Minnie Mouse in her new outfit as captain of the Disney Treasure: