When you can't get the dates or type of villa you want, there is always an option to waitlist. This allows you to pick up the villa if a member cancels, and it becomes available. You can have up to two waitlists in place per contract. For example, if you have two contracts, you can have a total of four waitlists–two from each contract.
Anecdotes from other DVC members show pretty mixed results from waitlisting. Some find that their waitlist is never filled, and they end up finding what they need by stalking the resort availability tool; some never find a match at all. By contrast, some have found that the waitlist comes through and seamlessly merges with existing plans. I think the best strategy is a mix of the two: set your waitlists but keep searching for the villas and dates that you want. People change their plans all the time, and you never know what you will find in the resort availability tool, even for the busiest of seasons. It's also thrilling to finally find the villa that you've been searching for.
Being a relatively new DVC member, I submitted my very first waitlist in November after hearing that my fiancé had his heart set on staying at the Beach Club rather than our home resort, the BoardWalk. While there are no guarantees, and it was only 82 days out from the trip, I figured it wouldn't hurt to at least try. I went online, selected the modify feature for our January trip, and selected the Beach Club. I confirmed my details and also made sure to set it to replace my BoardWalk reservation. Even though you can set the waitlist for 31 days before your reservation, I set the waitlist to end 7 days before our trip since none of our points would go into holding from canceling our prior reservation; the points for the BoardWalk and Beach Club reservations happened to be equal. I have also been checking availability on my own every so often. I am really hoping to surprise my fiancé with the Beach Club since this trip would be for his birthday. If it doesn't all pan out, we love the BoardWalk too, so we won't be too disappointed.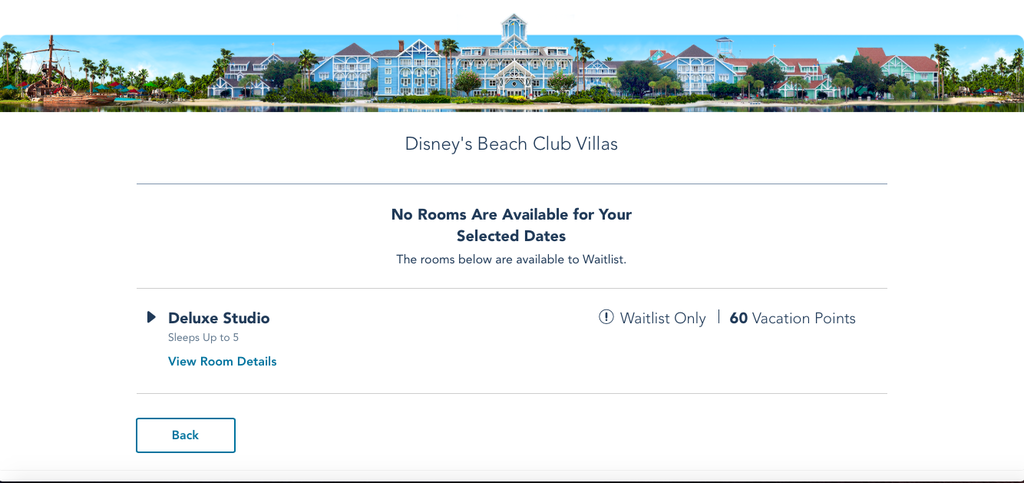 In other instances, stalking has proven fruitful for me. After checking the resort availability tool multiple times for our June 2020 trip, I was able to change our Bay Lake Tower trip to a split stay, which now also includes the BoardWalk Villas and Villas at the Grand Floridian. It really does pay to keep checking; neither of those resorts had Standard View studios available right at the 7-month mark, yet I was able to book them a matter of days later.
For those of you in the midst of stalking a reservation, you may want to join the DVC Fan Facebook group for cancelled reservations, so you can get a heads up on when someone is canceling a trip. It may increase your odds of finding what you want. It's also a good place to share when you have changed your plans in case someone else would like to pick up the days you released.
I'd love to know: what has your experience been with waitlisting or stalking?