Major Announcements from Disney Destination D23
When Bob Chapek, the CEO of The Walt Disney Company, announced he wouldn't attend Destination D23, fans lowered their expectations.
Few expected Josh D'Amaro, the Chairman of Disney Parks, Experiences and Products, to preside over a historic announcement like a new theme park or fifth gate.
So, the latest D23 parks presentation came with lowered expectations. But, amusingly, that may be why Disney managed to surprise its fans with some news.
Let's recap all the major announcements from D23.
The Disney Vacation Club News That Matters
Early in the event, D'Amaro invited Bhavna Mistry to join him on stage. She's currently the Senior Vice President of Design & Construction.
Mistry has a hand in many of the revamps and new projects we witness across the Disney Vacation Club resort lineup.
Her purpose at the Destination D23 event was to update DVC members and potential buyers about upcoming projects.
For example, the Senior VP displayed new photos of the Building Nine update at Disney's Grand Floridian Resort & Spa.
Disney is currently converting this place, Big Pine Key, into a DVC building. The other inventory at the Grand Floridian has sold out.
Meanwhile, executives have either paused or canceled Reflections: A Disney Lakeside Lodge. DVC needs new rooms for members to buy/book.
The Grand Floridian project should function as a short-term solution while Disney navigates the liquidity crunch it's experienced during the pandemic.
Mistry showed off these gorgeous, stately rooms: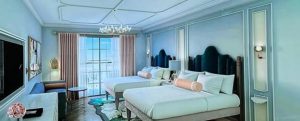 I know that many people are passionate about the current DVC rooms at the Grand Floridian, but I think the new style is even better.
Speaking of inventory crunch, Mistry updated us on the Disneyland Hotel Tower expansion coming to DVC.
She displayed several pictures, including this one: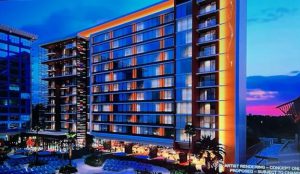 The side of that building shows Tinkerbell floating downward, spraying Pixie Dust along the way. So yes, it's some sort of digital projection display.
Imagineers are incredible.
Mistry also detailed how her team drew inspiration from Princess Aurora and Sleeping Beauty.
The room décor highlights both color schemes and storytelling elements from the fable. As a result, these rooms will feel like entering a fairytale.
Just as significantly, the tower's opening will exponentially increase DVC inventory at Disneyland Resort. Its opening will help more DVC members visit Disneyland.
The Other Huge Announcements
We didn't get an earth-shattering announcement like a new attraction, resort, or the like. However, Disney did have several tricks up its sleeve.
Perhaps the most unexpected announcement involved Disneyland Resort. Yes, when you're using your DVC Points at the new tower hotel, you'll feel right at home.
I say this because MagicBands are coming to the Happiest Place on Earth. Six months ago, nobody was sure whether Disney intended to stick with this technology.
Now, suddenly, Disneyland fans will finally get their wish…from 2014. Disney had previously announced the updated wearable, MagicBand+.
This device will feature a center display and glow in tandem with various triggers around the park.
So, the old Glow with the Show technology will return in a new form. Instead of wearing Mouse Ears or waving a wand, people's MagicBands will light up instead.
Here's a reminder of what Glow with the Show looked like in its earliest form:
Not coincidentally, World of Color will work with the MagicBands when it returns…and while I'm skipping ahead a bit, Disney did confirm that this show will come back in 2022.
Disneyland diehards had all but given up hope on MagicBands. Suffice to say that they're thrilled right now.
Disney must build out its infrastructure to make these viable, though. Longtime DVC members likely remember that the launch of MagicBands was kind of a mess.
The other shocker came straight from Josh D'Amaro's hands. He called the internet's bluff on Lightsabers. Disney had previously posted this video:
Critics had suggested it was a trick of special effects. Well, D'Amaro whipped out a Lightsaber during his presentation and showed it in action. It's real, and it's spectacular.
International Park News
Disney actually kicked off the event by discussing expansions at the international parks.
The most relevant one, at least in the short term, will debut at Disneyland Paris in a few months.
The second iteration of Avengers Campus arrives during the summer of 2022. It'll come with a new Iron Man roller coaster that had previously been Rock 'n' Roller Coaster Starring Aerosmith.
So, even Disneyland diehards will have a new reason to visit the Disneyland Paris version. Plus, there's the newly re-themed hotel, Disney's Hotel New York – The Art of Marvel.
Meanwhile, in Asia, three different Disney parks are constructing the next generation of themed lands.
Over the next two or three years, we'll watch the first iterations of Frozen and Zootopia themed lands, both of which are likely to come to the United States afterward.
Hong Kong Disneyland's version of Arendelle is closest to completion. Disney showed some pictures of its construction.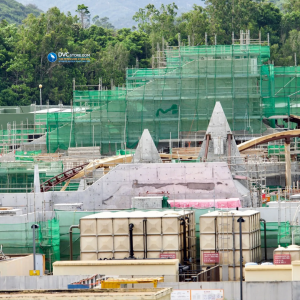 Ride tracks are readily apparent, and the structure of a mountain is nearly complete.
Meanwhile, Tokyo Disneyland is working on its largest expansion project to date. Fantasy Springs at Tokyo DisneySea should open in 2023.
This new location, the eighth port at the park, will cost $2.5 billion to construct. It'll include Frozen, Tangled, and Peter Pan areas. Yes, you can visit Neverland!
Shanghai Disneyland is where guests will find the first themed land based on Zootopia.
Park officials showed off an Audio-Animatronic of the Yax, the yoga yack from the movie. It's almost too lifelike.
Finally, in semi-international news, Disney Wish revealed its shows. You'll watch Disney The Little Mermaid and Disney Seas the Adventure on this cruise ship.
Other Park Updates from Destination D23
I suspect that Disney executives knew they were light on content for this D23 event.
As such, the company emphasized everything that has come back to the parks or will return soon.
I previously mentioned World of Color. But, remarkably, that's not even the most significant returning presentation.
Fantasmic! will come back in 2022 as well. In fact, Disneyland and Walt Disney World will both restore their versions of the show.
Disney has promised a new scene as well, although that may just be for the Fantasmic! show at Disney's Hollywood Studios. I'll update when Disney clarifies.
Fittingly, the Main Street Electrical Parade will return to Disneyland's Main Street, U.S.A. for its 50th anniversary.
Yes, the parks have passed this parade back and forth since 1972, and now it's Disneyland's turn again.
Not to be left out, Magic Kingdom will have the Festival of Fantasy again in 2022.
Disneyland officials also delved into detail about the upcoming closure of Mickey's Toontown. When it reopens in 2023, it'll feature two new interactive play areas, including a fountain.
Also, the new version of Toontown will tie into the upcoming attraction, Mickey & Minnie's Runaway Railway.
At EPCOT, Disney will open a new restaurant called Connections Café and Eatery in World Celebration.
With Club Cool and Creations Shop already open, this area of the park will look entirely different on your next visit.
Just as importantly, all those construction walls will vanish, making park navigation easy once again.
Disney also revealed that Guardians of the Galaxy: Cosmic Rewind will open during the summer of 2022. Here's Glenn Close (!) discussing it:
Unfortunately, Disney didn't confirm a timeline for Tron Lightcycle Power Run, but the other news here is universally positive.
The parks are finally returning to full strength by 2022. We made it!