Reasons You'll Love Riviera…and One Reason You Might Not
Deciding where you should buy a Disney Vacation Club contract or spend a Disney vacation is challenging.
You won't find anything other than stellar options in the DVC portfolio, which can lead to analysis paralysis.
The FOMO is real when you join the DVC program and book a vacation. Naturally, you want the best possible stay.
So, we're starting a new series today to help you choose the perfect location for you and your family.
Here are five reasons you'll love Disney's Riviera Resort…and one reason you might not.
The Theming
Technically, the theme at the Riviera is precisely what it sounds like.
Imagineers have lovingly recreated the European Riviera that the Disney family adored.
As you may know, Walt Disney, his wife, and his brother frequently traveled to the Riviera. Sometimes they traveled for business, but it was often for pleasure.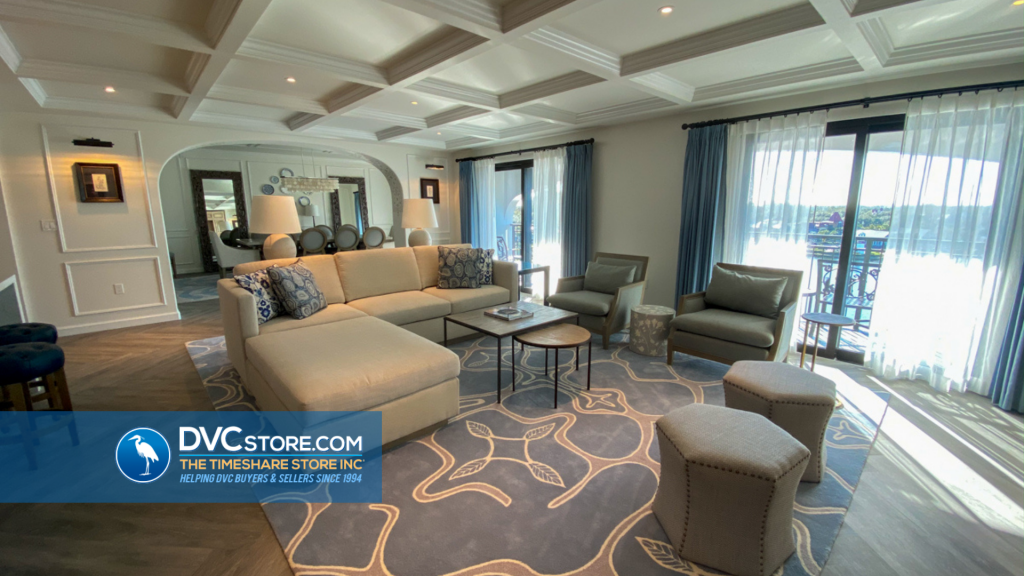 You'll know this when you stay here because photos from their vacations adorn the walls.
When you roam the halls of the Riviera, you'll feel like you're walking in the footsteps of Walt, Lillian, and Roy Disney. Somehow, it makes a Disney vacation that much better.
The Disney Skyliner
Not all Disney hotel amenities are created equal. When you own at DVC and visit Disney, you'll learn one thing quickly.
Riding the buses is an exercise in chaos. You never know when one will arrive or whether it'll even have room for you.
Also, you cannot control who's sitting around you and how they'll behave. A bratty kid or drunken guest can ruin your park visit.
That's why the Riviera features arguably the best amenity of all. You can ride the Disney Skyliner to two different Disney parks when you stay here.
EPCOT and Hollywood Studios operate gondola stations. So, you're 5-15 minutes away from the entrance gate at both parks.
You can also ride the Disney Skyliner to other resorts. That's good, too, because it expands your dining, shopping, and swimming options.
You can even ask to have a gondola to yourself, at least when there's no line at the station. By doing so, you avoid the perils of other potentially obnoxious guests.
Luckily, Disney doesn't have many of those, but it only takes one to change your mood from sunny to cloudy.
The Dining Options
A long time ago, Disney's Contemporary Resort hit on a masterful idea. The resort opened a rooftop restaurant with a view of the park's nighttime presentations.
I'm surprised by how long Disney waited to duplicate the idea. However, two other rooftop restaurants have opened in recent years.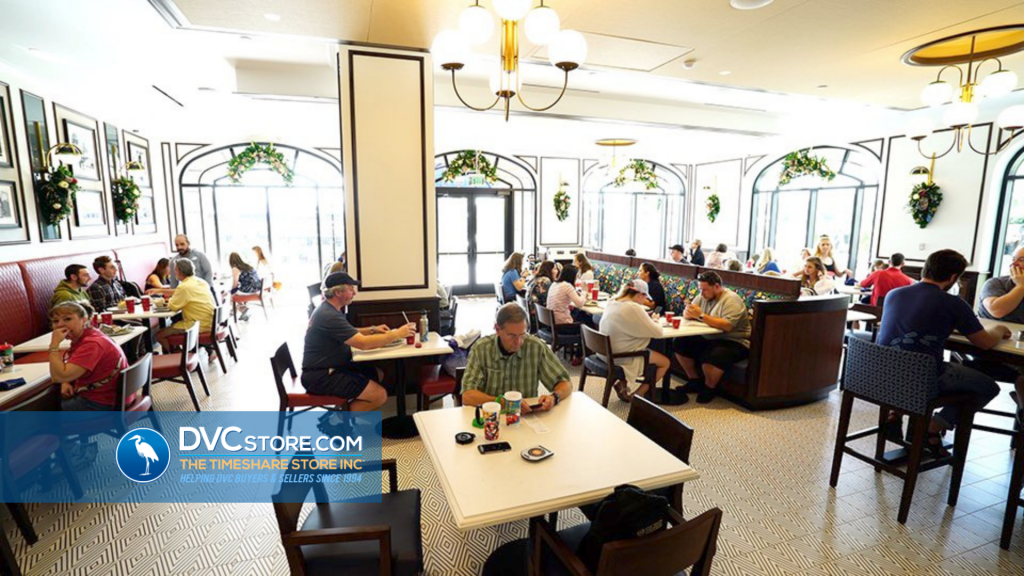 At the Riviera, you'll love dining at Topolino's Terrace – Flavors of the Riviera. Its cuisine rivals anything in Spain, France, or Italy.
Even better, the rooftop setting provides views of the nighttime presentations at EPCOT and Hollywood Studios.
Remarkably, that's only one dining option here. You'll also adore the coffee shops and cafes here. They serve authentic European dishes and beverages.
You'll never go hungry or thirsty when you stay at the Riviera!
The Tower Studios
Admittedly, this option won't work for everybody. Still, it's ideal for single travelers and couples who are very much in love.
The Riviera has introduced a new room type, the Tower Studio. It's a much smaller room that also costs fewer DVC Points to book.
So, you give a little and get a little when you book here. The tradeoff is that your room consists of only 255 square feet.
Also, you won't even find a permanent bed in the room. Instead, it's a pulldown, so you'll have walking room when you're not sleeping.
Many DVC members don't spend much time in the room. For this reason, they'll happily book Tower Studios.
Now, this option isn't for everyone, especially families. However, if you want a romantic Disney getaway or are going it alone, you'll LOVE the DVC Points cost of a Tower Studio.
The Pool Areas
I recently got a text from my brother while he was at Disney. I asked him what he had done that day, and his answer surprised me.
His family skipped the parks that morning and spent the whole time at the main pool at the Riviera. He's far from the only one I know who has done so.
Imagineers have designed an exquisite main pool here. Perhaps the most memorable part is the S'il Vous Play interactive water play area.
You can look at it here:
Friends, that's a LOT of ways for kids to splash around…and adults, too! The winding wheel provides brief moments of drippage.
Children love trying to time a jump through this spot without getting wet. Meanwhile, you'll also find a feature like the one at Disney's Grand Floridian Resort & Spa.
An elephant gradually fills a vat with water. Once it reaches a certain level, the water's weight causes the vat to tip over, dousing anyone below it. Yes, that's just like the Mad Hatter play area!
As for the pool, it looks like an infinity pool, but it's not. Somehow, it's every bit as stylish but more functional.
I especially like the waterslide, which provides a panoramic view of the hotel.
Just before you go down the slide, make sure to take a moment to appreciate the sights! It's majestic.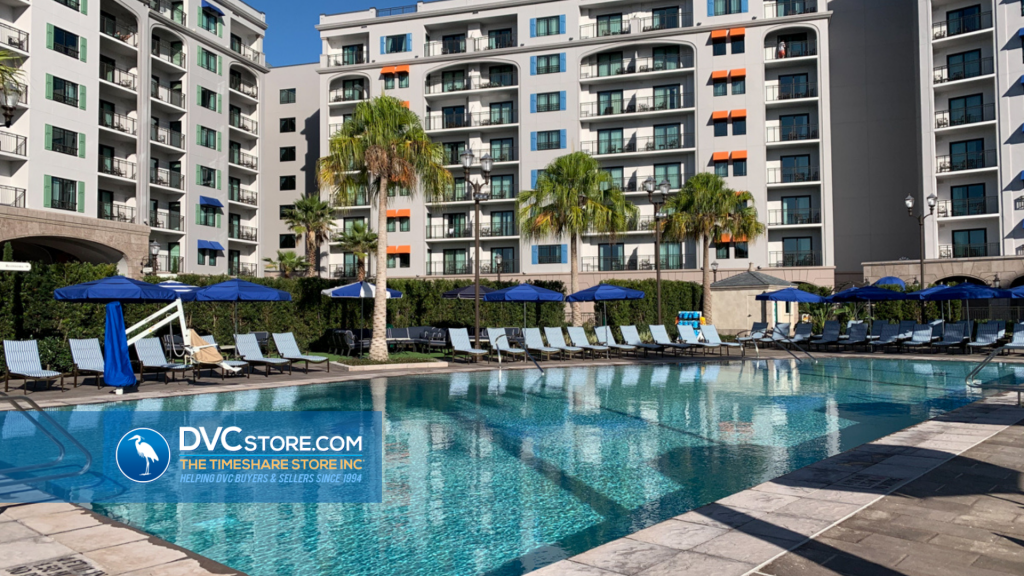 Of course, the inverse is true, as many hotel rooms overlook the main pool.
By the way, the quiet pool here is aptly named. Even though it's easily accessible, it somehow feels remote and isolated.
You'll love that when you're taking a break from the parks.
The One Con: The Sales Restrictions
For some reason, DVC changed its purchase rules a few years ago…but only at one resort.
The Riviera comes with sales restrictions that you won't find at any other property in the DVC portfolio.
At the time, Disney experimented with the idea of creating a new class of resorts, a kind of DVC II.
I suspect the pandemic ended those plans, as Disney's recent/upcoming projects are expansions at existing resorts.
Based on how DVC approached the Grand Floridian expansion, it seems likely to leave the Riviera as the only restricted property for a while.
What's the clause here? You may only use your DVC Points to stay at the Riviera when you purchase a contract here.
In other words, when you own at the Riviera, you must stay at the Riviera. That's different from literally every other DVC property.
If you buy a contract at any other resort, your DVC Points work at all resorts. So, there's a limitation at the Riviera that may cause you to reconsider owning here.
If you have any questions about the restrictions, please contact one of our salespeople to learn more about the matter and decide which DVC property is right for you!