What's Happening for the WDW 50th Anniversary?
Walt Disney World just turned 50 years old, and management couldn't wait to throw a celebratory party.
In fact, this party will last through March of 2023! So, you've got plenty of time to make your way to Orlando, Florida.
Before you go, you should know about all the special events occurring as part of this 18-month event.
Here is everything happening at Walt Disney World for its 50th anniversary.
The New Ride and Restaurant
Walt Disney Studios Park comes with an unfortunate reputation as the least popular Disney theme park in the world.
However, in 2014, the park suddenly became the envy of all other parks when it introduced Remy's Ratatouille Adventure.
On October 1st, EPCOT opened its version of the attraction at the France pavilion. It's nearly identical but includes superior-tech developed over the past seven years.
This marvelous attraction shrinks guests down to the size of Remy the rat. Then, they zoom away on a grand culinary adventure.
You explore the skylines of Paris before entering the hallowed grounds of Gusteau's Restaurant.
At this point, a scene will play out that's eerily similar to one from the movie. You, the rat-sized trespasser, must avoid a series of dangerous pitfalls.
Remy's Ratatouille Adventure almost single-handedly boosted park attendance at Walt Disney Studios Park 16 percent after its debut.
The attraction is that good, and you will love it. Please be aware that it will use a Boarding Group queue similar to Star Wars: Rise of the Resistance, though.
If you cannot book a Boarding Group, you will have another option that I will explain in a bit.
By the way, the France pavilion added something else on October 1st. La Crêperie de Paris specializes in sweet treats, especially crepes. You can read the full menu here.
The New Presentations
Since the 1950s, Disney theme parks have sustained a sterling reputation for their dazzling gala presentations.
Park officials weren't about to host a 50th birthday party without a new one. So, they went the other way instead, offering three new presentations.
The daytime one is Disney KiteTails at Disney's Animal Kingdom. It's pretty much what it sounds like, a kite-based show at the old location for Rivers of Light.
Several times a day, cast members will break out massive kites, some of which are 30 feet in size.
Imagine the Snoopy parade floating only with Disney characters, and you get the idea.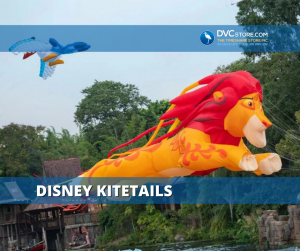 Disney has exhibited two versions of KiteTails thus far. One focuses on The Jungle Book, and the other includes characters from The Lion King.
Thus far, the show has suffered through a couple of high-profile incidents, including a jet ski crash and a kite – I swear to you – getting stuck in a tree.
So, the jury's still out on whether Disney KiteTails will do any better than the late Rivers of Light.
The situation seems quite different at EPCOT, where EPCOT Forever ended in late September. Its replacement, Harmonious, comes with all the bells and whistles Disney fans could want.
Five barges utilize fireworks, lights, and water to form digital projections from your favorite Disney stories.
A remarkable Disney soundtrack accompanies the proceedings, and that's not the best part. It's multi-lingual! So, it's the perfect complement for the World Showcase.
At Magic Kingdom, Disney Enchantment has succeeded Happily Ever After.
The replacement includes some of the features that Disneyland fans would recognize from Mickey's Mix Magic.
Most of the show takes place as digital projections on Cinderella Castle. However, some go straight on the walls of buildings at Main Street, U.S.A. It's magical. Speaking of which…
Pixie Dust Aplenty
Even the most grizzled of Disney veterans won't lack new stuff to do at Walt Disney World.
The fun starts at the various park landmarks. For example, at Magic Kingdom's Cinderella Castle, Imagineers have created a Pixie Dust effect that you'll notice.
At Animal Kingdom's Tree of Life, glittering fireflies glow in the dark as one of the Beacons of Magic.
You'll find the other biggie at EPCOT, where Spaceship Earth has gained a new special effect.
This landmark radiates with a nighttime glowing reflection that's permanent, not just for the anniversary.
At Hollywood Studios, the feature is similar to ones we've seen during the holiday season. It's a series of digital projections on the side of the Hollywood Tower Hotel.
Here's a video with all four Beacons of Magic:
The Electrical Water Pageant has also added new scenes to commemorate the event!
Honestly, these extras represent only the tip of the iceberg. Disney really has gone all out with its preparations for the 50th-anniversary event.
You'll find a total of 50 gold statues around the parks. Disney calls them the Fab50 and encourages you to take pictures with them.
At some point in 2022, new MagicBand+ devices will allow you to interact with them as well.
Food, Merchandise, and Miscellany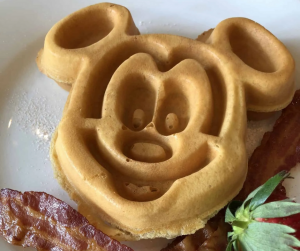 As for the foods, park officials indicate that more than 150 (!) new food items are available on various menus.
These foods range from Walt Disney's favorite chili recipe on cheese fries to a Mission to Mars burger at Cosmic Ray's Starlight Café.
Yes, cocktails represent part of the updated menus as well. Please understand that many of these items will only be available during the anniversary, though.
Similarly, Disney has added more than 100 new pieces of 50th-anniversary merchandise for the event.
Basically, if Disney manufacturers could stick a 50 on something, they did.
Of course, that's not all. Disney already made quite the fuss about the EARidescent new outfits that Mickey and Minnie Mouse would wear.
Several Disney characters are dressed in their Sunday best for the event. Also, some special processionals are available for the next 18 months, too.
Watch your favorites in various parades, Cavalcades, and the like!
The Other Stuff
Disney opened two new restaurants in time for the 50th-anniversary event.
One was an old place, The Wave… of American Flavors, that Disney turned into Steakhouse 71.
Along the way, management redesigned many elements of Disney's Contemporary Resort.
You'll find the lobby much brighter now, and the décor celebrates the opening day heritage of this hotel. So, monorail imagery abounds.
On the top floor of the Contemporary, California Grill has switched to a limited-time menu that highlights previous classics at this restaurant.
You may not know this, but a rooftop restaurant has resided at the Contemporary since its opening day in 1971! The current menu reflects its history.
At EPCOT, Spaceship 220 has just introduced the world to the Stellarvator.
This remarkable special effect will make you believe you've left the Earth's atmosphere and traveled to outer space.
Spaceship 220 offers a Prix Fixe menu that isn't cheap, but the novel menu and glow drinks have earned glowing reviews thus far.
The New Tech
Finally, the last new amenity we're receiving in 2021 will arrive on October 19th. That's the date when Disney Genie finally debuts.
This virtual assistant will transform the way that you visit Disney theme parks. It'll offer immediate itineraries based on detailed park information.
You will only need to input a few preferences before Disney Genie shows you the best possible plan for your day.
Along with this app, Disney Genie+ and Lightning Lane will debut on October 19th as well.
Think of Disney Genie+ as paid FastPass or, more accurately, MaxPass for all parks.
Lightning Lane is something new, a way to pay to enter the shorter line at Disney attractions.
I mentioned Ratatouille earlier in discussing Boarding Groups. For a fee of $7-$15, you can enter the Lightning Lane even when you don't have a Boarding Group.
You're paying for the privilege of skipping the line, which is a divisive concept, I know.
At Walt Disney World, each theme park will have two Lightning Lane options. Disney Genie+ users will have their choice of more than 40 attractions.
So, you do get what you pay for, presuming you don't mind the price tag.
As you can tell, Disney officials have gone all out to ensure that the 50th-anniversary celebration will be one you never forget.