Five Reasons You'll Love BoardWalk and One Reason to Keep Looking
Deciding where to buy and stay at Disney Vacation Club resorts is never easy. All the properties in the DVC lineup will dazzle you with their amenities.
You can't go wrong with any of your choices, but you still want to make an informed decision. The best way to do that involves talking through the pros and cons.
Here are five reasons you'll love Disney's BoardWalk Villas, along with one reason to keep looking.
The BoardWalk
Let's start with the obvious one. Distinguishing between BoardWalk Villas and Disney's BoardWalk is a matter of semantics.
The hotel lobby exits to the BoardWalk, and some of the hotel rooms overlook this entertainment district.
In fact, when you're standing on the BoardWalk, you'll regularly notice people sitting above you on the various hotel balconies.
Those are often DVC members enjoying a bit of people-watching. It's a specific booking type we'll discuss in a bit.
On the BoardWalk, hotel guests may shop and dine to their heart's content.
Disney is currently reinventing this area for a new generation, but it remains a destination dining location.
Beloved restaurants like Flying Fish and Trattoria al Forno provide intimate settings, while the BoardWalk Pizza Window allows you to grab a slice and go.
You'll even find dancing and live entertainment on the BoardWalk due to Atlantic Dance Hall and Jellyrolls.
In short, this vibrant action spot provides guests with innumerable entertainment options just beyond the front door of the hotel lobby.
The Disney Skyliner
Sometimes, you'll want to leave the hotel and explore the Walt Disney World campus.
While many DVC resorts feature tremendous logistics, BoardWalk is legitimately among the best.
The hotel resides a short walk from Disney's Skyliner. This transportation service connects guests to Disney's Hollywood Studios.
You can leave your resort and find yourself standing in line at Hollywood Studios in 15-20 minutes.
This sort of transportation certainty is rare during a Disney vacation. You can plan your itinerary around precise arrival times rather than guesstimates.
Similarly, the Disney Skyliner connects other Disney hotels like Disney's Caribbean Beach Resort, Disney's Riviera Resort, and Disney's Pop Century Resort.
So, you expand your dining and entertainment options that much more when you stay here.
The International Gateway
I'm addicted to this particular benefit, the International Gateway.
For those of you unfamiliar with the term, the International Gateway is what Disney calls the back entrance to EPCOT's World Showcase.
When you stay at BoardWalk Villas, you're about four hundred steps away from this back entrance. I know this because I checked back in the days when Fitbits were popular.
Basically, you leave your hotel room, walk toward the hotel lobby, exit to the BoardWalk, cross a bridge, and turn right. You can already almost see the International Gateway.
Along the way, you'll conveniently pass the Disney Skyliner, too. So, this fact reinforces how terrific the logistics are at BoardWalk Villas.
At the International Gateway, you should face smaller crowds at EPCOT's entrance gates.
Once you're inside the park, you're steps away from the France pavilion.
This convenience proves so addictive that it's the reason why many DVC members choose BoardWalk Villas as their Home Resort.
You'll appreciate the location even more on nights when EPCOT hosts its various.
Let's say you enjoy your food and drinks a bit too much. You're only a short walk from your hotel!
The Room Types
This resort features the most distinctive room type in the DVC library, and I swear by it.
You can book BoardWalk View as a room type, albeit at a sometimes hefty price.
For example, a weekday stay in a BoardWalk Studio in early December costs 10 points for a standard view. Disney charges 16 points for BoardWalk View.
Is the room worth the 60 percent markup? Well, that's an admittedly extreme example, and you must decide for yourself how to spend your points.
Still, BoardWalk View provides an inimitable perspective. Your hotel room overlooks Disney's BoardWalk itself.
You can sit on your balcony and watch the tourists interact at the various shops and restaurants beneath you.
Noise occasionally becomes a factor here, as drunken revelry can be a thing on some nights.
Other than that, BoardWalk View represents the pinnacle of people-watching for DVC members. It's like Savannah View at Disney's Animal Kingdom Villas, only with humans rather than gazelles!
The Theme
A century ago, a previous generation of vacationers spent their free time at various boardwalks on the East Coast.
Families would pack their bags and head to these spots and spend a week or long weekend by the water.
At the BoardWalk Resort, you'll experience a kind of vacation lost to history. Disney plays up this aspect with the décor as well.
Many of the display items in the hotel lobby were standard at boardwalks a century ago.
When you explore the hotel grounds, you'll encounter numerous relics from a lost era of vacation history.
In recent years, Disney has cleverly added a bit of a modern touch. A formerly divisive pool element, a creepy clown, is no longer on display.
In its place, Disney has added a bit of symmetry with the Disney Skyliner. The new design ties into the current Mickey Mouse cartoons with its colorful look.
The modern Mickey & Minnie Mouse appear on the walls of the water slide…and they're riding the water slide!
So, the resort's overall theme is kitschy throwback with modern Disney touches. You'll love it!
A Lack of Restaurants at the Resort
Okay, you may consider the knock against BoardWalk as nitpicky. I totally understand why that's the case.
Still, when I discuss BoardWalk with friends and family members, one drawback comes up repeatedly.
Specifically, BoardWalk Villas only offers a limited set of dining options. They're largely grab-and-go snacks, deli items, and coffee.
Yes, when you exit the hotel, you'll find several options at Disney's BoardWalk. Still, you're facing more of a crowd there than you would within the resort.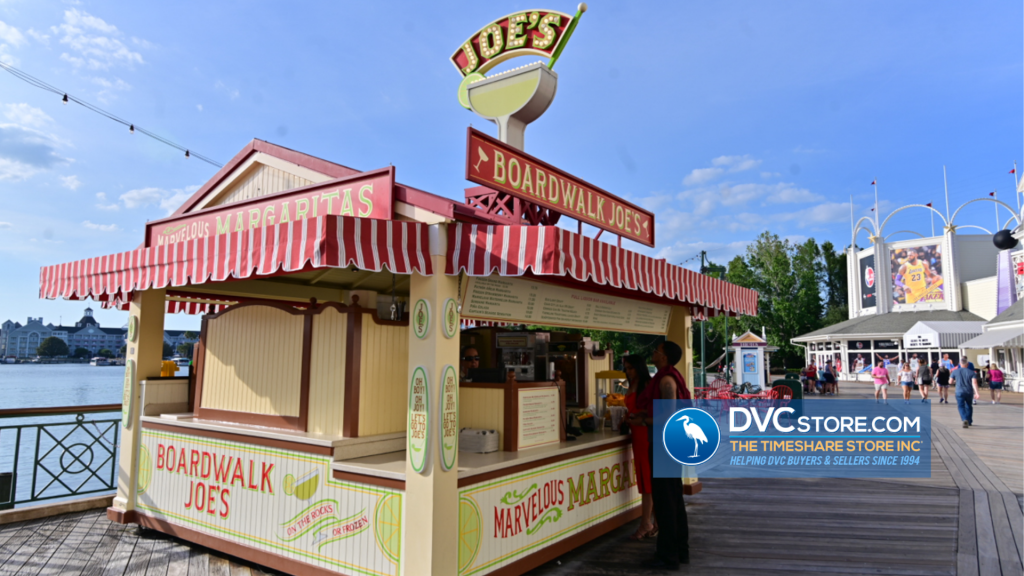 One of the best benefits of DVC hotel stays is that non-DVC members don't know about many of the hidden gems of Disney dining.
You can eat at these places and experience maximum pleasure for minimal effort.
At BoardWalk Villas, you must become a face in the crowd to dine. As far as negatives go, this one isn't bad, but it is a problem.