Top Five Reasons To Plan A "Resort Only" Vacation at Kidani Village
My husband and I booked a "couples stay" for early July 2020 at Kidani Village. We know the Walt Disney World theme parks will not be officially opened yet. Truthfully – that's one of the reasons we chose to take a "time out" to enjoy Kidani Village.
Here are the other four reasons we decided to take a resort-only vacation:
African Architecture & Art
We won't be traveling to Africa anytime soon. The chance to "live" for a few days in a fancy thatched-roofed African lodge on the Sunset or Pemba Savanna is welcome.
In my past "hustle and bustle" mode of heading off to the parks or whisking through the lobby to get to the pool, I usually rush right by the artifacts on display. The Kidani Village lobby is more of a museum than a lobby. The architect was the late Peter Dominick who designed the Great Platte River Road Archway museum. He wove themes of fabric, art, and proverbs throughout Kidani Village.
Peter Dominick also designed Disney's Wilderness Lodge, inspired by our historic National Parks lodges and the Californian Arts and Crafts movement, as well as the Grand Californian in Anaheim. He also helped redevelop and preserve the city of Denver's urban historic areas. Respecting tradition, soaking up philosophy, and building something fitting is what the architect again achieved at Kidani Village. The resort was designed in the shape of a Cape buffalo's horn. The Cape buffalo is the only member of the cattle tribe naturally occurring in Africa. Truly fitting!
A cultural representative on a past visit told me "Kidani" means "necklace" in Swahili. I also found out the fabric patterns on display are from the kente cloths of Ghana and Kuba cloths of the Congo. Colorful "beads" of the "necklace" enhance the resort's design components. The more I think about it, the more I feel Kidani Village is indeed the "necklace" enhancing the entire Animal Kingdom Resort Area comprising the park, Jambo House, and their savannas. Hopefully, the cultural representative program will start again soon when travel restrictions from their countries are lifted.
Even Johari Treasures, the hotel's gift shop, lends itself to the necklace reference. "Johari" means "jewel" in Swahili. (I've found African-inspired gifts, traditional Disney Parks snacks groceries, and other necessities here.)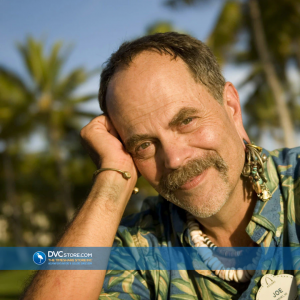 During a few of my stays, I was fortunate enough to see Joe Rohde, (portfolio creative executive for Walt Disney Imagineering and the lead designer of Animal Kingdom Park.) As a Disney Parks fan, it was a treat to have met him. (I do realize the selfie days with Disney cast members may be on hold for now.)
Joe Rohde is known for his passion for preserving eclectic treasures for future generations. If you've read his Instagram or Disney Parks Blog posts, you know he instills a sense of appreciation for history, storytelling, and meticulous detail. The details at Kidani Village are found around every corner – whether in the painted African proverbs on the walls, the glass cases enclosing wood and metal carvings, or the blown glass chandeliers representing fire.
Savanna View Room Category
I've stayed at Animal Kingdom Lodge's Kidani Village a handful of times over the past five years since becoming a DVC member. Each time I've booked a savanna view room.
Handcrafted African shields adorn every guest room entrance. The shields were carved by commissioned Maasi and Mokande artists. The shields were inspired by those used by the Maasi tribes of Kenya and Tanzania.
Close to 30 species of mammals and birds found on Kilimanjaro Safaris attraction at Disney's Animal Kingdom Park also roam the savannas at Animal Kingdom Lodge. My favorite animals (often gazed at from my bed) are the reticulated giraffe, Grant's Zebra, Ankole Cattle, Waterbuck, Greater Flamingo, and the elusive Eland. The wildlife field guides in guest rooms make it easy to know which animals are roaming right off my balcony.
Dr. Mark Penning, Vice President of Disney's Animals, Science and Environment team (@DrMarkAtDisney on Instagram,) has assured us he and his team have been continuing to provide care to the animals during the temporary closure. (Dr. Mark and his team also work to make an impact on habitats and environments all over our planet – not just Kidani Village.)
One of the Best Foodie DVC Resorts
"Sanaa" is a girl's name is Swahili, meaning "work of art: shining light."
Sanaa is the restaurant with an adjoining lounge on the bottom floor of Kidani Village. I crave the African/Indian fusion dishes – especially the bread service.
Where else in the United States could we dine on traditional naan bread (with nine accompaniments,) butter chicken, and a spice trade candy bar (cashew bar with chai cream, pistachio crumb, and apricot gelee) while watching the giraffes gracefully saunter by outside?
Samawati Springs Pool
"Samawati" means "sky blue" in Swahili.
Samawati Pool is one of the most lushly landscaped and relaxing pool areas of any DVC resort. My husband and I plan to plop down in a shady secluded corner of this oasis and meditate on the African proverbs surrounding us.
"Life Is Like A Ballet Performance Danced Only Once" – Mali
Are you planning a resort-only stay in the coming months? Which DVC resort appeals to you most for a "time out" from the parks?