Staying at Bay Lake Tower
Not all Disney Vacation Resorts are created equal. By their very nature, some surpass the rest in terms of amenities.
Today, we'll talk about one of the crown jewels of the DVC program.
Here's what you need to know about staying at Bay Lake Tower at Disney's Contemporary Resort.
Arriving at Bay Lake Tower
You'll have the easiest time finding Bay Lake Tower of any Walt Disney World resort.
You just head to Magic Kingdom and then take a right at the last minute. I'm not even joking.
You should know something about Disney's history to understand how this happened.
In 1955, Walt Disney lacked the money to build an accompanying resort for his dream project, Disneyland.
Disney sought a wealthy person to finance the project in his stead. An oil baron and Hollywood producer named Jack Wrather recognized the opportunity.
So, from 1955 through 1987, The Walt Disney World Company didn't own the hotel with Disneyland in the name.
Park officials weren't about to allow history to repeat itself in planning Walt Disney World.
When Magic Kingdom opened in 1971, Disney's Contemporary Resort and Disney's Polynesian Resort debuted alongside it.
The so-called monorail resorts have anchored Walt Disney World vacations since the very beginning.
Bay Lake Tower is technically its own thing, but that's a matter of semantics. The Bay Lake Tower building connects to the Contemporary Resort via a bridge.
The fifth floor of Bay Lake Tower leads directly to the Grand Canyon Concourse on the Contemporary's fourth floor.
Crossing this bridge takes 20 seconds. Ergo, it's the same place in all but the technical sense.
You'll arrive at the hotel lobby of Bay Lake Tower, which consists of DVC cast members only. That's really the only difference in the hotel experiences.
About Bay Lake Tower
The theming of the Contemporary is right there in the name. It's a modern design, one that Disney updates every few years.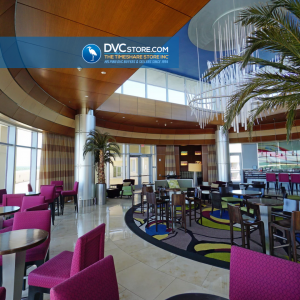 In fact, as I type this, the most recent refurbishment isn't even finished yet.
Imagineers changed the hotel lobby for the 50th anniversary of Walt Disney World. It's brighter now with more seating.
Also, you'll find a new restaurant that we'll discuss in a bit. However, some of the changes remain incomplete.
In fact, Disney just added new circular hotel check-in desks 96 hours before I typed this. So the changes are that fresh.
Still, one of the chief complaints about the Contemporary stems from its theming. It's an upscale but aesthetically generic design.
Disney fans expect immersive theming at the hotels. Unfortunately, this place is actually toward the bottom of DVC facilities in terms of theming.
That statement applies to the Contemporary and Bay Lake Tower alike. You're staying more for the logistics and amenities than the theming here.
Hanging Out at Bay Lake Tower
I believe that the amenities at the Contemporary rival anything else in the DVC program.
On the first floor of the resort, Disney just added a new restaurant, Steakhouse 71. It serves delicious steaks at reasonable prices, a rarity at Disney.
On the second floor, you can check-in for an elevator trip to the top floor. That's where you'll find California Grill, one of the most iconic Disney restaurants.
On the fourth floor, the place right across the bridge from Bay Lake Tower, you'll discover two other restaurants worthy of your time.
One is the beloved character meal at Chef Mickey's. Mickey Mouse and other members of the Sensational Six roam around and provide entertainment during your meal.
Right beside Chef Mickey's is the Contempo Café, one of the best Quick Service restaurants at any DVC resort.
The best part of eating at both places is that monorail trams drive through the space above the restaurants. So you get dinner and a show!
Bay Lake Tower also features a private pool shaped like a Hidden Mickey. There's a restaurant at the pool as well.
By the way, you can also use the Contemporary's main pool if so inclined. Personally, I like that pool better, but Bay Lake Tower's waterslide crushes it.
Finally, I should mention the stores on the fourth floor.
Fantasia sells Disney merchandise and collectibles, while the nearby Fantasia Market works as the general store here. Don't miss the Disney quiz here, either!
Across the way, you'll find Bayview Gifts, one of the best stores at any Disney resort on the planet. This place's size makes it a viable substitute for World of Disney.
Whether you've got the munchies, want to purchase some art, or need new clothing, you'll find it all at Bayview Gifts.
What's Close to Bay Lake Tower?
The only theme park that isn't close to Bay Lake Tower is Disney's Animal Kingdom.
Google suggests that the park resides 6.5 miles away from the resort, which is an 11-minute bus ride.
Of course, Google can be a bit wonky about this stuff. For example, a search result indicates that Bay Lake Tower requires a 3.4-mile trip to Magic Kingdom.
If that's the case, I can walk a one-minute mile. Seriously, when you catch the "Walt/Don't Walk" light when it's green, you can be at Magic Kingdom's entrance in five minutes.
Even the Contemporary technically isn't as close as Bay Lake Tower. You legitimately walk out of the hotel lobby and follow the path until you're tapping your MagicBand at Magic Kingdom.
Then again, you may want to visit EPCOT. That's easy, too! You simply walk across the bridge to the Contemporary.
Once you enter the building, you're about 50 steps from the resort monorail station. You ride this monorail to the Transportation and Ticket Center.
Then, you swap here to take the monorail to EPCOT. You should reach your destination in a matter of minutes!
By the way, you can also take a bus here, but monorails are much more Disney, in my opinion.
At the International Gateway at EPCOT, you can ride the Disney Skyliner to Disney's Hollywood Studios. It's all connected, my friends!
What Else Should You Know about Bay Lake Tower?
The rooms are small. I don't want to sugarcoat this fact.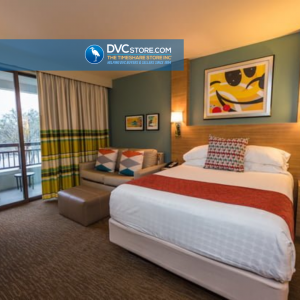 A studio at Bay Lake Tower contains only 339 square feet. That's the second-smallest studio in the DVC library and only surpasses the smallest by one square foot.
Will you mind such a tight space relative? If I hadn't stayed here many times, I might have said yes.
I'm a very large mountain man, and I'm perfectly comfortable at Bay Lake Tower.
In truth, we stay here more than anywhere else in the DVC library, even my beloved Disney's Polynesian Village Resort.
If I were claustrophobic or uncomfortable at Bay Lake Tower, I'd have no problem telling you, but it's been a non-issue for me.
If anything, I admire the efficiency of the modular design of these rooms.
Imagineers subdivided them into bathrooms, kitchen, and bedroom/living room spaces. It works and also feels right.
I cannot really explain the why of it, but the sectional structure feels more logical than in some places.
As an example, I'm a massive fan of Disney's Hilton Head Island Resort. Those two sinks when I enter the room kinda break my brain, though.
If you worry about the space or have a larger traveling party, the one- and two-bedroom villas at Bay Lake Tower will fit your needs.
The one-bedroom is more than twice as large as the studio. The villa covers 803 square feet of space, while the two-bedroom provides 1,152 square feet.
You can find a hotel room here that will fit your needs. What you won't find anywhere else is a hotel room a five-minute walk away from Magic Kingdom.
That's the x-factor differentiating Bay Lake Tower from any other DVC property, even Disney's Grand Floridian Resort & Spa.