Eight Underrated DVC Restaurants
Almost all Disney Vacation Club resorts will overwhelm you with dining choices.
The hotels near the themed parks often offer three or more restaurants, all of which are worth your time.
Over the years, your DVC membership allows you the free time to try them all. However, you'll likely prioritize the hot spots during your earliest visits.
I'm talking about the places that all the Disney fan sites suggest, like 'Ohana, Olivia's Cafe, and Beaches & Cream Soda Shop. And that's fantastic!
You'll love all those places, but there are a few others you should also consider. Here are eight underrated DVC restaurants that you will love.
Contempo Café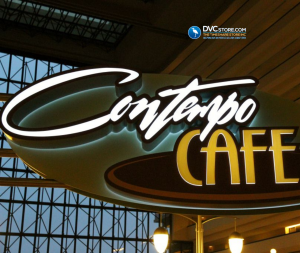 This restaurant resides in a spot where it's easy to get overlooked.
After all, the bottom floor of Disney's Contemporary Resort features its newest restaurant, Steakhouse 71.
The top floor provides exclusive access via a private elevator. You can only visit here when you're dining at California Grill.
Even on the fourth floor, the spot near the monorail station, Contempo Café, cannot catch a break. The adjoining eatery, Chef Mickey's, casts a long shadow.
Families loooove eating here since it's a character meal starring Mickey and Minnie Mouse and their friends.
So, you might overlook Contempo Café at first. Frequent hotel guests know that it's a lifesaver, though.
In the morning, you can grab a Bounty Platter on your way to the monorail. It's the ideal early morning meal.
Later, you can try one of those decadent cupcakes that management cleverly leaves in plain view of monorail guests.
Plus, Contempo Café works perfectly when you leave the park and want to have some food waiting for you at your hotel!
Grand Floridian Café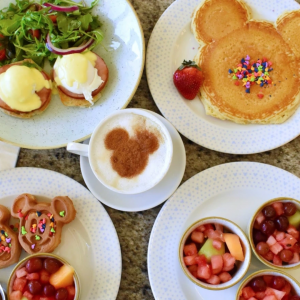 I almost feel bad for this place. The Grand Floridian Café resides near the hotel lobby at Disney's Grand Floridian Resort & Spa.
Unfortunately, several other eateries such as 1900 Park Fare (currently closed), Citricos, and Narcoossee's do as well. And they get all the hype.
Then, there's the best of all dining experiences at Walt Disney World, Victoria & Albert's (also currently closed).
So, you can understand how Grand Floridian Café could get lost in the shuffle.
When 1900 Park Fare is open, I've watched people walk right in without ever glancing at Grand Floridian Café, which is literally right beside it!
That's a shame because the dining at Grand Floridian Café embodies the best of Grand Floridian.
Notably, the prices here are better than those other places, too! It's a bargain!
Kona Café
What a difference 50 feet can make.
You'll find two restaurants at the Great Ceremonial House at Disney's Polynesian Village Resort.
One of them, 'Ohana, receives all the hype and books up immediately. The other, Kona Café, stands in the shadows each day.
This fact frustrates me because I prefer Kona Café for lunch and dinner. I mean, 'Ohana doesn't serve lunch, but you get the point.
Kona Café delivers rich island flavors, some of which come with a coffee tinge. Of course, that's because Kona Coffee is a thing…a VERY popular thing.
The menu here changes every so often, but it's always tremendous. Also, you can get a reservation here without a struggle, unlike 'Ohana.
Finally, the special touch that makes Kona Café a hidden gem involves its seating. You'll find some couches here that overlook the lobby's second floor.
You can people-watch people getting on and off the nearby monorail or shop at Moana Mercantile Souvenir Shop. It's a kinetic backdrop that meshes well with a tranquil meal experience.
The Mara
Which restaurant do you prefer at Disney's Animal Kingdom Lodge? Most people would answer Jiko – The Cooking Place or Sanaa. Meanwhile, I'm partial to Boma — Flavors of Africa.
Still, the one answer you won't hear anybody give is The Mara, and that's unfortunate.
The Mara qualifies as one of the best Quick Service restaurants at Walt Disney World. People just don't know this because it gets lost in the shuffle a bit.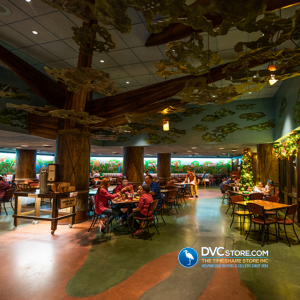 Not many people visit Animal Kingdom Lodge, to begin with, as Disney's Animal Kingdom resides away from the other three parks.
When guests do hang out at the hotel, they head toward the three beloved Table Service/Signature Dining options.
Meanwhile, The Mara is waiting to serve guests some delicious international cuisine like a Tamarind Barbecue Pork Sandwich or a Marrakesh Falafel Platter.
The Mara also serves one of the best breakfasts at any DVC Quick Service establishment. I adore the Savannah Platter here. But I'm not a foodie.
If you are, you should try the Bacon and Gruyère Quiche. Gruyère really is the tastiest cheese, at least when a chef prepares it correctly. Try it in a grilled cheese sandwich sometime!
Primo Piatto
By now, you can identify the recurring theme on this list. Unfortunately, most of these places lack the hype of other restaurants in the same area.
At Disney's Riviera Resort, you enter the hotel lobby, and you're right beside Le Petit Café. It's perfect for small bites, coffees, and wines.
On the hotel's top floor, Topolino's Terrace – Flavors of the Riviera literally towers above the other dining options.
So, Primo Piatto on the first floor isn't a place you'll hear about often, and that's frustrating.
The European menu here rivals anything else at the hotel…or even at the World Showcase! Moreover, the Croque Monsieur is superior to the one at Be Our Guest Restaurant.
This restaurant's plant-based option, the Grilled Vegetable Skewer, is also among the best DVC dining locales.
Storytellers Café
Disney's Grand Californian Hotel & Spa features several solid dining options. Also, the insular nature of Disneyland Resort means you're never far from anything.
Still, you shouldn't overlook Storytellers Café, the rarest of rare buffet meals available during the pandemic.
You'll also fill your belly since it's All You Care to Enjoy. You really want to visit first thing in the morning, though.
Storytellers Café hosts Mickey's Tales of Adventure Breakfast Buffet. It's probably the most popular meal for kids at Disneyland.
Ulu Café
Aulani, A Disney Resort & Spa, serves some of the tastiest island cuisines of any DVC resort. But, of course, that's me stating the obvious right there.
Many of the options involve heavy meals that double as prolonged affairs. Sure, the scenery's lovely. So, you won't mind stretching out the meal.
Sometimes, you just want to grab and go, though. That's where Ulu Café shines. It's like an old-school cafeteria service meal.
In fact, the nearest Walt Disney World equivalent is Sunshine Seasons. At both places, you grab a tray, fill it out with goodies, and then pay a cashier at the end.
Well, Disney discourages cash register transactions these days, but you get the point.
Ulu Café's seating area resides just outside the checkout area. You'll enjoy a panoramic view of the entire resort campus while you dine.
Of course, when you're in a hurry, you can just snag a sausage biscuit and fruit and be on your way. It's the purest form of grab-and-go at the resort.
That makes this restaurant perfect for those mornings when you have big plans, like spending the day at Pearl Harbor or playing water sports.
Whispering Canyon Cafe
If I had written this article a few years ago, I would have written this in reverse.
Back then, DVC fans knowingly nodded and smiled at the mention of Artist Point, the hidden gem of all Walt Disney World resort restaurants.
Then, Disney changed this place to a character meal. Now, Storybook Dining at Artist Point with Snow White has evolved into the hottest ticket in town.
In the process, Whispering Canyon Café has switched to the underrated, less popular restaurant near the lobby of Disney's Wilderness Lodge. And that's tragic.
For many of us longtime DVC members, memories of Whispering Canyon Café fill our hearts. This place is loud, brash, and over the top, and everything that's great about Disney vacations.
That's on top of the fact that the bottomless skillets here are quite possibly the tastiest meal service at Walt Disney World…and I include 'Ohana in that.
Whispering Canyon Café even thoughtfully added a plant-based skillet that my wife swears is one of the best vegan options anywhere at Disney.
This place is pure joy. You'll never go wrong by eating here or at any of the other restaurants on this list!