What DVC Members Can Expect at the Polynesian
Every Walt Disney World resort comes with pros and cons, and each Disney Vacation Club member has their favorites.
Like many of you, I purchased my first contract at Disney's Old Key West, the original DVC resort.
However, my favorite DVC resort BY FAR is the one we'll discuss today. Here's what you should do while staying at Disney's Polynesian Village Resort.
Arriving at the Polynesian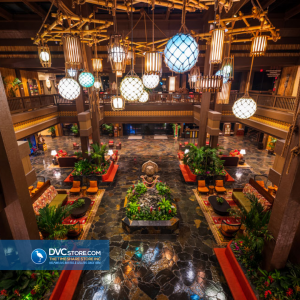 Since the end of Magical Express, all DVC resort arrivals have changed a bit.
You're responsible for your own transportation to and from the hotel.
Interestingly, The Walt Disney Travel Company recently started booking private ground transportation.
Imagine a luxury sedan service, and you get the idea about Disney's approach. We're talking black and stylish limousines, sedans, and SUVs.
This program is still brand new, so I, unfortunately, don't know the pricing for any of these offerings. I'd suspect they're more expensive than non-Disney options, though.
You can also book via Mears Connect, Sunshine Flyer, or any of the many ride-sharing services or rental cars.
You'll know that you're at the Polynesian due to the theming. Even outside the hotel lobby, the exotic foliage sets the tone.
You're visiting an island paradise, only you're doing it within the sightline of Magic Kingdom!
Now, thanks to the magic of My Disney Experience, you no longer need to enter through the hotel lobby.
In fact, during recent construction, Disney had temporarily moved the check-in section to the Pago Pago building. That wouldn't have been possible five years ago.
While Disney will email and text you the room number, you should still start your vacation at the Great Ceremonial House. Allow me to explain why…
Hanging Out at the Polynesian
When guests check in at the Great Ceremonial House, they immediately enjoy some island hospitality. Cast members hand out leis!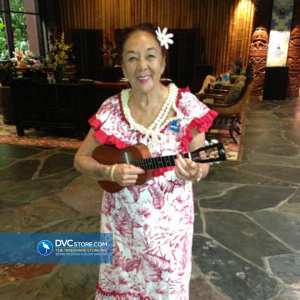 Before her death, Aunty Kai'I herself would place them on the necks of guests.
Due to the pandemic, cast members don't do that now, but you'll still receive a lei as a gift. When you wear it, you're identifying your resort of choice!
This little flower necklace sets the tone for the Great Ceremonial House, a place overflowing with remarkable amenities.
On the first floor, you can shop at BouTiki, one of the best DVC stores overall.
When you walk out the side door of BouTiki and follow the path, you'll come across Capt. Cook's, one of the best DVC Quick Service restaurants.
Are you noticing a pattern yet? For whatever reason, the Polynesian's amenities are superior to those of almost all other Disney hotels.
I haven't even mentioned arguably the best part of the first floor! Between BouTiki and Capt. Cook's, you'll find Trader Sam's Grog Grotto, the best bar at Disney!
This place is so stacked with options that you can exit the lobby and find a shack that sells Dole Whip! And all that is just on the first floor!
On the second floor, DVC fans can make great use of Moana Mercantile, the general store that also features a ton of Disney merch on one side!
Beside Moana Mercantile is 'Ohana, arguably THE most popular of all DVC resort restaurants.
Across from the store is Kona Café, one of the most underrated Disney restaurants.
Oh, and the monorail station resides on the second floor as well! All this stuff is available at the Great Ceremonial House!
What's Close to the Polynesian
Short answer: everything. You're staying at a monorail resort, but that's not the only form of transportation available.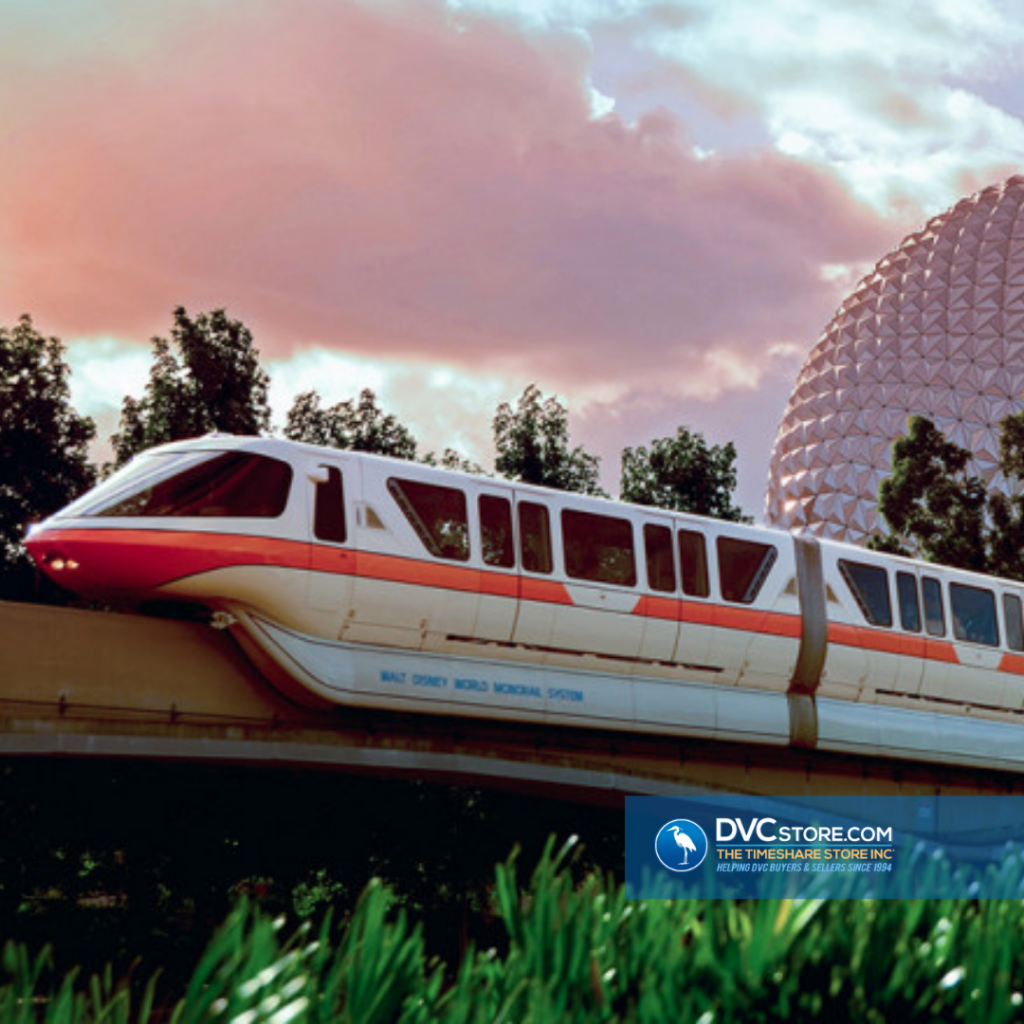 When you take the monorail, you can hop on board and be at Magic Kingdom in 10 minutes.
You can also switch stations at the Transportation and Ticket Center. That monorail will take you straight to EPCOT's front gate.
Sometimes, you may want serene transportation, though. Disney runs boats to and from the Polynesian to Magic Kingdom.
I speak from experience when I say that this boat ride can be magical. On multiple occasions, I've watched the nighttime fireworks during my return trip to the hotel.
The only boat rides I've found more magical are the ones where the captain leads the guests in a chorus of Disney songs.
Seriously, riding a boat from Magic Kingdom to the Polynesian is a magical experience.
Still, you cannot avoid bus rides at Walt Disney World, even at a monorail resort.
Google indicates that the Polynesian resides 5.8 miles away from Animal Kingdom and estimates an 8-minute bus ride.
For what it's worth, I would expect the trip to take longer than eight minutes, though. Please don't tattle on me to Google. It's scary.
Anyway, Disney's Hollywood Studios shows as slightly longer at nine minutes/6.5 miles.
Again, if the bus from the Polynesian takes less than 10 minutes to get you to Hollywood Studios, you've done VERY well. That hasn't been my experience.
As for Disney Springs, Google indicates 5.4 miles or 10 minutes, which sounds fairly accurate.
Something you'll love about the Polynesian is that you can pick and choose your transportation depending on your mood.
As a lifelong Disney fan, I'm a sucker for the monorail. So, that's my preference, but I still take boats sometimes. You should expect to do the same.
What Else Should You Know about the Polynesian?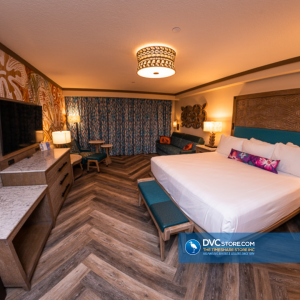 The regular hotel rooms have received a Moana theme. When you book via DVC, you could feasibly get one of these rooms if Disney needs to move you.
That happened quite a bit in 2021 due to the renovations. I suspect it's substantially less likely in 2022, though.
The DVC studios come with a standard view, which could be a literal parking lot at Pago Pago.
For a few points more, you can upgrade to Lake View. You may get a view of Cinderella Castle if you're lucky, but it's far from guaranteed.
Also, I should alert you to noise concerns with Lake View rooms. You're close to the Transportation and Ticket Center here.
So, the sounds of the ferryboats and Electrical Water Pageant may prove disruptive, especially for light sleepers or people with frequent migraines.
Notably, the Polynesian doesn't offer one-bedroom or two-bedroom villas. Instead, your options are studios or Bungalows.
You likely know about the Bungalow already. Just in case, it's a two-bedroom shack that resides in the water by the shore.
Disney has decked out the Bungalows with unique amenities like an outdoor deck and plunge pool. Yes, you can sit in your hotel room's private pool and stare at Space Mountain!
Bungalows join Treehouse Villas and Cabins as the most unique booking options for DVC members at Walt Disney World.
You should have a stay in a Bungalow on your Disney bucket list for sure!
As for the studios, I want to stress that they're quite large at 465 square feet.
Also, these rooms feature a full bathroom and a second rain shower area with dual sinks. They're among the most intimate DVC rooms for this reason. I love them, and I'm confident you will as well.